Return to Magazine Home Page
---
EVENTS
---
Exhibitions
Plane/Structure: A New Spectrum of California "Light and Space" Artists, through December 30. The featured artists represent the current prevalent approach to art in Los Angeles, and their works share much of the extreme concentration and visual subtlety of the original California "Light and Space" artists of the late '60s and early '70s. The exhibit is organized by Los Angeles Times art critic David Pagel. The Renaissance Society; call 702-8670.

Ayla: Art and Industry in the Early Islamic Port of Aqaba, through February 12. The exhibition presents some of the most spectacular finds from the ongoing archaeological investigation of the city of Ayla, which flourished from the mid-seventh century until the arrival of the Crusaders some 450 years later. Oriental Institute; call 702-9520.

Texts and Their Transformations, through February 20. Editions of works by Homer, Virgil, Sophocles, and others, as well as their translations, are featured. Adaptations of the classics from the medieval, Renaissance, and modern eras and artwork are also on display, including works by Cervantes and Joyce and artwork by Picasso and Matisse. Department of Special Collections; call 702-8705.

Visions of a Nation: Images of Mexico by Mexican and American Photographers, through March 5. Exploring multiple "visions" of Mexico, this exhibit examines both photography's role in the representation of a Mexican national identity and the images North American photographers take as outsiders. Drawn from the Smart Museum's collection, the 20 images on display include works by Mexican photographers Manuel Alvarez Bravo and Marianne Yampolsky Urbach and North American photographers Danny Lyon, AB'63, Aaron Siskind, and Paul Strand. Smart Museum; call 702-0200.

Eugene Field and His Books, through March 20. Marking the centenary of Eugene Field's death and the founding of Chicago's Caxton Club, the exhibition includes manuscripts, correspondence, and limited editions from the private collection of Frank J. Pichl and the University of Chicago Library and focuses on Field as author, collector, and promoter of books and the book arts. Department of Special Collections; call 702-8705.

Jewish Music and Jewish Culture in Germany, 1918-1938, through May 15. Drawing upon publications in music and the arts in the Ludwig Rosenberger Library of Judaica, the displayed works narrate the transformation of the German-Jewish community on the eve of the Holocaust, as Jewish music provided a powerful voice for new expressions of Jewishness in modern, cosmopolitan contexts. Department of Special Collections; call 702-8705. (See "Center Stage.")

Luc Tuymans, January 15-February 26. The U.S. premiere of Flemish artist Luc Tuymans presents 50 paintings spanning 15 years of the artist's career. Tuymans explores the human condition after World War II, examing the proliferation of media images of global bloodshed and disaster that, his works suggest, have pushed humanity into numbness. The exhibition was organized in cooperation with the Art Gallery of York University. The Renaissance Society; call 702-8670.

From the Ocean of Painting: India's Popular Painting Tradition, 1589 to the Present, January 19-March 12. Characterized by bold design, bright colors, and the use of both text and imagery, the 100 works displayed include examples of more than 20 Indian folk, tribal, and popular urban painting traditions. The exhibition, organized by the University of Iowa Museum of Art, displays scroll paintings, book illustrations, puppets, dolls, fortune-telling cards, and religious altars. Smart Museum; call 702-0200.

Lectures
Works of the Mind Lecture, January 22 at 2 p.m. Raymond Ciacci, AM'84, PhD'90, Basic Program staff member and College humanities lecturer, speaks on "St. Augustine's Confessions: The Limits of Introspection." Judd Hall; call 702-1722.

John M. Olin Center Lecture, February 1 at 4 p.m. George Will, syndicated columnist and author. Mandel Hall; call 702-3423.

Music
Chicago Children's Choir, December 17 at 8 p.m. As part of the Chapel's Advent concert series, the Chicago Children's Choir performs works by Praetorius and Mendelssohn and traditional seasonal songs. The choir will be conducted by artistic director William Chin and associate conductors Joy Hague and Dennis Northway. Rockefeller Memorial Chapel; call 849-8300.

Advent Organ Recital, December 18 at 5 p.m. Rockefeller Memorial Chapel organist Wolfgang Rübsam performs works by Bach, Vivaldi, Fro-berger, Mozart, and Widor. Rockefeller Memorial Chapel; call 753-1191.

Winter Music Festival, January 13-14 and January 20-21 at 8 p.m. University Theater, the Major Activities Board, the Womyn's Union, and WHPK present two weekends of music: The first, Showcase of the Bands, includes new South Side groups and established student bands, while the second, Roll Over Rockefeller, features two nights of a cappella music. F. X. Kinahan Theater; call 702-3414.

Winter Carnival Concert, January 28 at 8 p.m. Conducted by Barbara Schubert, the University Symphony Orchestra plays Dvo§ák's Carnival Overture and Piston's The Incredible Flutist. Mandel Hall; call 702-8069.

University Chamber Orchestra, February 11 at 8 p.m. Antoinette Arnold conducts the orchestra. Goodspeed Hall; call 702-8069.

Da Capo Chamber Players, February 12 at 3 p.m. In the third concert of the Chamber Music Series, the group-featuring guest soprano Lucy Shelton-performs works by Haydn, Schoenberg, Adolphe, and Schubert. Mandel Hall; call 702-8068.

New Music Ensemble, February 18-19 at 8 p.m. Barbara Schubert conducts a program of 20th-century chamber music. Sunday's performance, and possibly Saturday's, includes a staged production of William Walton's Façade (based on the poems of Edith Sitwell), presented in conjunction with University Theater. Goodspeed Hall; call 702-8069.

On the Quads
35th Annual Folk Festival, February 3-5. The long-running festival features folk music and crafts, workshops, and performances. Mandel Hall and Ida Noyes Hall; call 702-9554.

Martin Luther King Birthday Commemoration, January 16 at 12 p.m. This event, cosponsored by the Coordinating Council on Minority Affairs, Rockefeller Memorial Chapel, and the Martin Luther King Day Committee, celebrates the life of Dr. King. Rockefeller Chapel; call 753-1191.

Theater
Sleuth, Wednesdays and Thursdays at 7:30 p.m., Fridays and Saturdays at 8 p.m., Sundays at 2:30 p.m. and 7:30 p.m., January 6-February 12. Anthony Shaffer's mystery thriller tells the story of a love triangle involving a handsome young man, a mystery writer, and the writer's wife. Court Theatre; call 753-4472.

Off-Off-Campus: Winter Quarter Revue, Fridays at 9 p.m., January 27-March 3. University Theater's improvisational group presents original sketches and new improv games. University Church, second-floor theater; call 702-3414.

Star Distance, February 3-4 at 8 p.m. This student-written work by Vijay Mathew focuses on the lives of four college students dealing with life-and-death choices and the impact HIV can have on friendship. Reynolds Club First Floor Theater; call 702-3414.

A Company of Wayward Saints, February 8-11 at 8 p.m. UT presents George Herman's play about a travel-weary commedia dell'arte troupe whose members no longer enjoy performing-until they act out "the life of man" and come closer to understanding the meaning of human relationships, life, and death. F. X. Kinahan Theater; call 702-3414.

Top Girls, February 15-18 at 8 p.m. Beginning as a conversation between remarkable women from different points in history, Caryl Churchill's play, staged by University Theater, proceeds to examine women's roles in Thatcherite England. Reynolds Club First Floor Theater; call 702-3414.

An Evening of One-Acts, February 24-25 at 8 p.m. UT presents No Exit by Jean-Paul Sartre and Dreamlost by Robert E. Johnson. F. X. Kinahan Theater; call 702-3414.

In The City
First Friday Lecture Series, First Friday of every month at 12:15 p.m. Basic Program staff member Ilse Mueller, AM'92, lectures January 6 on "Lust and Greed, Murder and Mayhem-Everyday Life in a Small Italian Town: Some Reflections on Cicero's Aulus Cluentius Habitus and Roman Judicial Procedure." On February 3, Basic Program director Cynthia Rutz, AM'94, lectures on "Shakespeare and Fairy Tales: Yet Further Considerations." Chicago Cultural Center; call 702-1722.
---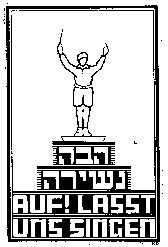 Center Stage
C ulture in Flux: In the years between World Wars I and II, Jewish-German music, art, and literature flourished-the culmination of a century in which Jewish intellectuals had a profound influence on German cultural life. But there was an ominous undercurrent to that swell: With the rise of National Socialism in the 1930s, Jewish music and culture became more and more a form of reaction and resistance. The interwar burst of creativity ended in Germany with the onslaught of the Holocaust, but it has been preserved in print.
Featuring books, journals, and pamphlets from the Ludwig Rosenberger Library of Judaica, Jewish Music and Jewish Culture in Germany, 1918-1938, which runs through May 15 at the Regenstein Library Department of Special Collections, commemorates the peak period in Jewish-German culture.
Music from the interwar era "represents not only the ways in which these communities interpreted their past and reckoned with the present," writes exhibit coordinator Philip Bohlman, associate professor in the music department and the College, "but also the growing awareness of a need to confront an uncertain and destructive future." Composers began using modern Hebrew texts to write Zionist music that looked to the future; at the same time, the publication of sacred music, folklore, and essays on religious holidays reminded Jews of their traditions and customs in a world that was becoming increasingly hostile toward them. Journals, which often included songs and debates over the nature of Jewish music, provided a means of discussing pressing issues, both public and private, in Jewish culture.
As the Nazis forced Jews from public cultural institutions, the Jews turned toward those in their community. Religious philosopher Franz Rosenzweig, for example, advocated a new Jewish educational system, one that would combine religious and secular subjects. The resulting Jewish evening academies also became centers for cultural activities that includ-ed the entire community, as Jewish publishing houses made the literature and music produced by the new organizations available to a still-wider public.-K.S.
ARISE! LET US SING! The blocky typeface-like the title given in both Hebrew and German-clearly marks Hawa Nashira! Auf! Laßt uns singen! as a Jewish-German songbook. The 1935 collection, edited by Joseph Jacobsen and Erwin Jospe, evokes images of labor in Palestine and draws on Hebrew, Yiddish, and German repertories.

---
Continue on to COURSE WORK
---
Go to LETTERS
---
Go to INVESTIGATIONS
---
Go to CHICAGO JOURNAL
---
Go to feature, "Virtual TV," about a campus theater group that blends improv and situation comedy.
---
Go to feature, "Doctor, Lawyer, Agency Chief," a profile of FDA Head David Kessler, JD'78
---
Go to feature, "The University Goes Downtown," a photo portrait and day-in-the-life of the new Downtown Center
---
Go to feature, "Will the real McKeon please stand up," about philosopher Richard McKeon.
---
Go to CLASS NEWS
---
Return to Magazine Home Page