Return to Magazine Home Page
---
CHICAGO JOURNAL
---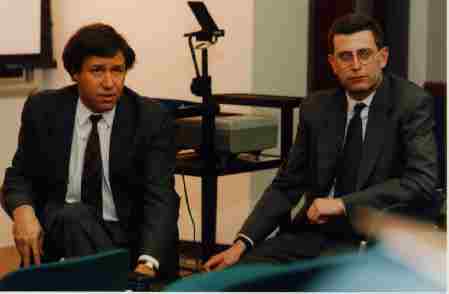 Facing facts: Stone (left) and Furnstahl discuss the deficit at a recent campus forum.
---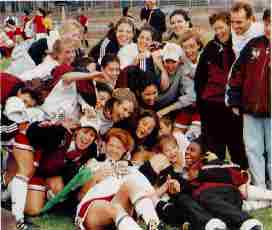 To the victors: The women's soccer team rollicks after vanquishing Carnegie Mellon to capture its first-ever UAA championship. With a league record of 5-1, the team tied Emory for the top UAA spot.
---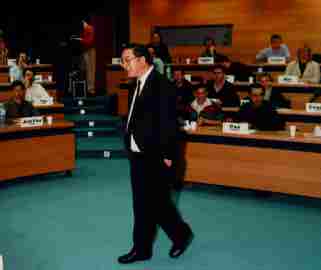 Spanish steps: GSB Dean Robert Hamada visits students at the school's new International Executive M.B.A. program in Barcelona. Officially opened in October, the program is one of several global GSB efforts.
---
Return to CHICAGO JOURNAL
---
Go to INVESTIGATIONS
---
Go to feature, "Virtual TV," about a campus theater group that blends improv and situation comedy.
---
Go to feature, "Doctor, Lawyer, Agency Chief," a profile of FDA Head David Kessler, JD'78
---
Go to feature, "The University Goes Downtown," a photo portrait and day-in-the-life of the new Downtown Center
---
Go to feature, "Will the real McKeon please stand up," about philosopher Richard McKeon.
---
Go to CLASS NEWS
---
Return to Magazine Home Page