An `ironical' conclusion to portrait theft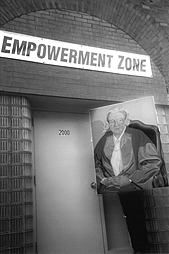 Shades of Gray: The thief sent snapshots of the painting taken at various city locations.
Considered a felony by some and a consummate campus prank by others, the theft of a portrait of former U of C President Hanna Gray--found July 3, benignly resting next to an alley dumpster--remains unsolved.
A College student chanced upon the painting behind a Hyde Park apartment building. An attached note advised the finder to take the portrait to police and collect the $500 reward being offered for its safe return. Although a quote from the Book of Revelations, along with a doodle of a horn (an allusion to novelist Thomas Pynchon?), was scribbled on its back, the portrait itself was unharmed.
The oil painting by Philip Pearlstein--with a value estimated in the "five figures" range--was installed above a Hutchinson Commons fireplace last summer. While typical of Pearlstein's work in its use of effulgent colors and large brush strokes, its appearance next to more traditional portraits of past U of C presidents struck some observers as incongruous--an opinion apparently shared by the portrait's hijacker.
In the first of a series of "manifestos" received by the Chicago Maroon, the thief declared that the larceny had more to do with the painting's aesthetics--its "garish colors" and "neo-post Raphaelite" style--than with its subject. Proclaiming the liberation of Hanna Gray's "doppelganger," one that left "an empty frame, that ironical, logical conclusion of all Western art," the letter's parody of academic writing was a first clue to the pilferer's prankish intent. This and later notes were accompanied by snapshots of the portrait at various city locations.
The Unabomber-like manifestos also inspired the sobriquet"Unabandit" for the kidnapper, used in some of many media accounts of the incident. The Chicago Tribune was especially keen on the story, recounting the painting's safe return on page one of its July 4 edition. Reaction on campus was more disenchanted; as a Maroon editor told the Tribune, the 66-day-old prank had gone on "way too long."
In fact, the theft was the second time that the Gray portrait had been removed from Hutchinson Commons. The first larceny was on April 6, with the painting found a few days later beneath the Mandel Hall stage. Given its propensity for disappearing, pranked-out University administrators said a new security system had already been installed to safeguard the presidential portrait.
---
In this department:
Plus items For the Record.
---
---
Go to:
Return to August 1996 Table of Contents