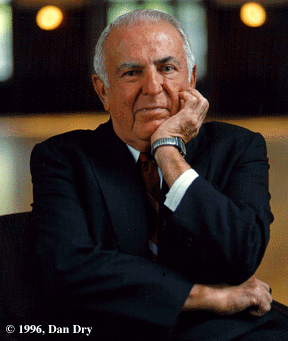 He's spent 40 years as a state legislator, a congressman, a federal judge, and White House counsel. From Watergate to Whitewater, Alumni Medalist Abner Mikva hasn't lost his faith in government's ability to do good.
By R. Bruce Dold
Portrait by Dan Dry

Society in every state is a blessing, but Government, even in its best state, is but a necessary evil; in its worst state, an intolerable one.

homas Paine expressed that profound sense of distrust toward government in his seminal 1776 pamphlet, "Common Sense." Two centuries later, the writer P. J. O'Rourke offered a similar, if more graphic, sentiment: "Giving money and power to government is like giving whiskey and car keys to teenage boys."
There's never been a shortfall of cynicism toward government, but for the last quarter-century in the United States it has been an exceptionally strong market. Even those who stand at the top of the heap contribute--it was Ronald Reagan who in 1974 said, "In too many instances, government does not solve problems; it subsidizes them."
From Watergate to Whitewater, a host of real and perceived cases of mendacious behavior on the part of America's political leaders has just about dismantled public trust, which makes it all the more remarkable that Abner Mikva, JD'51, whose life has turned on many of those events, remains an evangelist with a creed that government is not just necessary, it is a compelling force for good.
Mikva, 70, has had an extraordinary vantage point from which to forge his faith. He is one of a small group in the nation's history to have served in high positions in all three branches of the federal government: as a Democratic member of Congress; as chief justice of the U.S. Court of Appeals for Washington, D.C.; and as chief counsel to the president. He retired from the White House post last fall and he's coming home now, having received the University's Alumni Medal in June and returning as a visiting professor and the Walter Schaefer fellow at the Law School this fall.
He returns unbowed by the prevailing cynicism--indeed, as someone who believes the need for government is greater than it has ever been. "Government is incredibly efficient," Mikva says. "The problem is there's no newsworthiness in that, no reason why television or the press would write about the successful program.
"The closer we live together, cheek and jowl, the more we need government," he argues. "I hope it's not Pollyannaish optimism. I just think there's no way that this many people can survive together without government."

Mikva's introduction to government, Chicago style, was a curt message that it could survive without him. It's a story that has become part of the city's political lore.
He was a U of C law student when he stopped in the 8th Ward
Continue reading "Dissenting Opinion"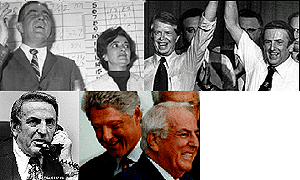 In the public eye: Mikva, with wife Zoe, concedes his 1966 race for Congress; campaigns with President Jimmy Carter in 1978; accepts congratulations on his judgeship; is named White House counsel in 1995.
---
R. Bruce Dold, winner of the 1994 Pulitzer Prize for editorial writing, is deputy editorial-page editor of the Chicago Tribune and covered Abner Mikva's last congressional race.
---
Go to:
Return to August 1996 Table of Contents