Continuation of "Dissenting Opinion"
---
Young again in the Republican debacle of 1974, the first election after Richard Nixon resigned the presidency in disgrace. Had Watergate turned out to be nothing more than a third-rate burglary, Mikva's congressional career probably would have ended right then.
It was, in many ways, an unlikely match: Mikva would be representing a suburban district that, while having liberal pockets, was largely wealthy, conservative, and populated with business executives--yet his agenda was considered quite liberal. He was, after all, one of the first Illinois Democrats to endorse George McGovern in 1972, and he had emerged as the nation's leading proponent of gun control, once calling the National Rifle Association the "street-crime lobby in Washington." But he won the 1974 race and survived on the North Shore, even occasionally garnering praise from unexpected places. Mikva's work on the House Ways and Means Committee was extolled by the Wall Street
Journal, no less, which called him "intellectually gifted" and "probably the liberals' leading straight strategist."
"He stood up for what he believed in and forcefully advocated for it," says U.S. Representative John Porter, who lost to Mikva in 1978. "People respected him for it." In fact, Porter believes the NRA unwittingly cost him that election. Porter led in the polls by 10 points with just a few weeks left in the campaign when the NRA announced it was gunning for Mikva. Even though Mikva and Porter shared similar views on gun control, Mikva spent the final days campaigning against the NRA, and it worked like a charm.
But every election was a war. In 1976, his third match against Young, Mikva won by just 201 votes. After he barely beat Porter, Mikva decided he had had enough of life on the political edge. He sent word to President Jimmy Carter that he would like to be considered for the bench.
Carter obliged, in 1979 nominating Mikva for the federal appeals court in the District of Columbia, considered the most important court in the country after the Supreme Court. But the nomination touched off a brawl with Mikva's nemesis, the NRA, which spent more than $1 million in a six-month lobbying effort to block his Senate confirmation. "Mr. Mikva will go to any length to get your guns and my guns," Senator James McClure of Idaho declared. The heavy lobbying forced some professed Mikva supporters, including Senator Bob Dole, to vote against him, but in the end he barely squeaked out of the Judiciary Committee and was confirmed on a 58-31 vote, a vote he is sure he'd lose today.
Mikva won largely because conservative Republican friends such as then House Minority Leader Bob Michel stood by him under the pressure. "There's no way a prominent Republican leader could testify for me today," he says. "That kind of bipartisanship just has gone by the boards. It's too bad." As it was, the confirmation fight dogged him even after he went on the bench. On the day of the confirmation, McClure filed a lawsuit challenging the appointment's legality--a suit that hung over the new judge for two years, until it was rejected by the Supreme Court.
Mikva spent 16 years on the bench, serving with such jurists as Robert Bork, AB'48, JD'53; Clarence Thomas; Antonin Scalia; and Ruth Bader Ginsburg. He rose to chief judge in 1991, and he authored more than 300 opinions. Among the notable rulings he wrote were several defending constitutional protections for free speech, including one decision that stopped the Federal Aviation Administration from banning political ads in Washington, D.C., airports.
His most controversial opinion curtailed the Reagan administration's efforts to deregulate without congressional approval: The Supreme Court upheld the ruling that the National Highway Transportation and Safety Administration had exceeded its authority by revoking rules for automobile air bags. Mikva also points with considerable pride to an opinion that struck down a Defense Department regulation against gays serving in the military, even though his ruling was ultimately reversed.
As U of C Law School Dean Douglas Baird wrote in nominating Mikva for the Alumni Medal, his "work on the bench evidences not only his commitment to free speech and other civil liberties, but also his acute awareness of the role of the judiciary under our Constitution and its relationship to both the executive and the legislative branches."
While making legal history, Mikva didn't exactly hide behind his robes. He had a small role as the chief justice swearing in the president in the 1993 movie Dave, and he once wrote a piece for TV Guide that ripped The People's Court. The show, Mikva opined, was "doing for the law what Dynasty does for monogamy.'"

Mikva was often mentioned as a candidate, but 12 years of Republican rule in the White House thwarted any hopes of a seat on the Supreme Court. By the time President Bill Clinton
Continue reading "Dissenting Opinion"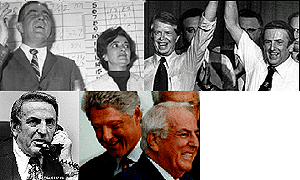 In the public eye: Mikva, with wife Zoe, concedes his 1966 race for Congress; campaigns with President Jimmy Carter in 1978; accepts congratulations on his judgeship; is named White House counsel in 1995.
---
Go to:
Return to August 1996 Table of Contents