First Heisman winner dies
John Jay Berwanger, AB'36, the University's original football star and the first Heisman Trophy winner, died June 26 at age 88. Berwanger was a halfback for the Maroons when Chicago belonged to the Big Ten Conference and before President Robert Maynard Hutchins abolished varsity football in 1939. (Division III football came to Chicago in 1969.)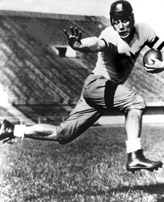 The "Genius of the Gridiron"
In November 1935 Berwanger was notified by Manhattan's Downtown Athletic Club that he had won a trophy as the "most valuable football player east of the Mississippi" and a trip for two to New York. "It wasn't really a big deal when I got it," Berwanger recalled in 1985. "I was more excited about the trip than the trophy because it was my first flight." The following year the prize was renamed the John W. Heisman Memorial Trophy, for the club's athletic director.
Who served as the trophy's model is the subject of much controversy. According to Heisman. com, the official Web site, "To create this trophy, a well-known sculptor and National Academy prize winner, Frank Eliscu, was engaged. He set to work at once selecting Ed Smith, a leading player on the 1934 New York University football team, as his model." However, sports mythology says that the prototype was Berwanger-his New York Times obituary reported this to be the case, and Berwanger himself believed he was the model.
Berwanger's trophy was too deep for a mantel and too large for a coffee table. His Aunt Gussie used it as a doorstop for years before he gave the trophy to the University. Previously displayed in Bartlett Gymnasium, it is in storage until the Gerald Ratner Athletic Center is completed, when it will become a centerpiece of the U of C's soon-to-be-inaugurated Athletics Hall of Fame.
Though he was drafted by the Philadelphia Eagles during the first-ever NFL draft in 1936, Berwanger's career didn't end in football. After serving as a World War II naval officer, he founded Jay Berwanger, Inc., a plastic and sponge-rubber manufacturer in Downers Grove, Illinois.
-Carrie Golus, AB'91, AM'93