For the record
Sun shines on U of C

Sun Microsystems has named the University a Sun Center of Excellence in bioinformatics, computational biology, and medical informatics-fields that require storing and analyzing large amounts of information, including human genome, patient, and clinical data. The University will receive Sun hardware and software for a data warehouse.
New chief financial officer
Donald Julian Reaves becomes the University's vice president for administration and chief financial officer August 15. Reaves, who holds a Ph.D. in political science and public administration from Kent State University, was previously CFO at Brown University.
GSB relocation program
Construction of the GSB's new home (below), to be completed in autumn 2004, began with a May 18 groundbreaking. The $125 million facility, designed by Rafael Viñoly, will be located at 58th and Woodlawn. With classrooms, group-study areas, a student lounge, outdoor terraces, and a winter-garden atrium, the complex is designed to promote collaboration and interaction.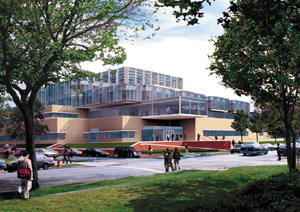 GSB's new home.
Unified science
Physicists and astronomers from around the country-headed by Michael Turner, chair of astronomy & astrophysics-have outlined the needs and direction for 21st-century physics and astronomy research. Their main recommendation: combined initiatives between the Department of Energy, NASA, and the National Science Foundation. The group presented its report, "Connecting Quarks with the Cosmos: Eleven Science Questions for the New Century," at a joint April meeting of the American Physical Society and the American Astronomical Society.
Assisting research
Keith Moffat, the Louis Block professor of biochemistry & molecular biology, has been named deputy provost for research. Moffat oversees research and serves on the new Science Council, which sets priorities and develops strategies for scientific research at the University and Argonne National Laboratory.
Spring's Quantrell crop
The 2002 recipients of the Llewellyn John and Harriet Manchester Quantrell Award for excellence in undergraduate teaching were Jean Comaroff, the Bernard E. & Ellen C. Sunny distinguished service professor of anthropology; John Comaroff, the Harold H. Swift distinguished service professor of anthropology; Benjamin Glick, associate professor in molecular genetics & cell biology; Gary Herrigel, associate professor of political science; Mario Santana, associate professor of romance languages & literature; and Douglas MacAyeal, professor of geophysical sciences.
Student teaching
The Wayne C. Booth Graduate Student Prize for excellence in teaching went to four graduate students: Jonathan Hand, AM'91, PhD'02, Social Thought; Justine Lee, immunology; Mridul Mehta, SM'98, math; and James Reid, philosophy.
Environmental addition
The Environmental Protection Agency has awarded the U of C more than $6.25 million to establish the Center for Integrating Statistical and Environmental Science. Researchers from Chicago, Argonne, and other universities will study global warming and weather, air pollution and respiratory illnesses, and complex ecological systems.
GSB-ball
MBA student Eric Zhang and John Huizinga, the Walter David ("Bud") Fackler professor of economics, have found a new way to combine work and play. They helped Yao Ming, a 7'5" center from China, get out of his Chinese Basketball Association contract and into the NBA. Ming-who is Zhang's distant cousin-was the Houston Rockets' No. 1 pick in this summer's NBA draft.