Setting the scene
The rhythmic clatter of presses and typesetting equipment that once filled the Cornell Building are gone, replaced by the staccato pop of air nailers, the whine of table saws, and the frying-bacon crackle of MIG welders.

This is the new University Theater scene shop, where students have vastly increased opportunities to get their hands on the backstage side of show business.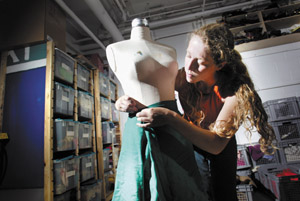 Costumer Leah Marthinsen at work on the UT's Tempest project.

"We were in a tiny, tiny little shop on the third floor of Mitchell Tower," says Mark Lohman, the production manager of the University's student theater. "It was a problem in a big way because we had no room to build and we couldn't work during classes because of the noise." Scenery design was limited, and anyone working on designs was condemned to lots of late-night and weekend work.

The new shop features many large rooms, each stocked with tools and equipment and devoted to a specific backstage craft: woodworking, metalworking, painting, electrical, and costume/fabric-drop construction. Lohman-along with UT technical director Dan Stearns, AB'91, AM'93, and their loyal student helpers-built several tool cribs to protect the investment, and in the new wood shop they installed a raised wood floor. A few inches above the original concrete, the floor allows them to screw temporary assemblies into it and protects workers and tools from ricochets off the concrete.

The Cornell building, at Cornell near 51st Street, became available when the printing department moved to a larger space in the Back of the Yards neighborhood in June 2001. "The facilities department knew we were looking for new quarters for the shop," says Lohman, who managed the move's logistics after UT director Heidi Coleman convinced the provost and dean it was good idea. College dean John W. Boyer, AM'69, PhD'75, also lobbied for the new shop and helped secure funding for renovation and tools. UT moved in August 2001, and the old Mitchell Tower shop became a lighting-design studio and classroom.

Although an industrial-zoning designation means the building can't be used as a classroom, it is something of a laboratory for students taking any of 35 undergraduate classes in theater, particularly five technical-theater classes. In addition to solving scheduling and space problems, the shop offers students more design and building opportunities, which in turns creates onstage possibilities. Recent UT productions using the shop include The Bacchae, The Skin of Our Teeth, and Edmund.

"The new facilities are so much closer to a professional scene shop," says David Unger, AB'02, a technical director on several UT shows. "The fact that you can now do so much more technically will also open things creatively, which is another huge difference."

The quality of design and construction, notes UT director Coleman, has also increased. "In our summer production of The Tempest, for example, we have some students who are really talented painters, and the new shop gave them the chance to transfer some Da Vinci sketches to large drops," says Coleman. "Plus we can complete builds earlier, which means that rehearsals can be done on the set, and that makes design a part of production and not a tacked-on, last-minute thing."

A quiet benefit of the new UT shop is that it has opened the eyes of many in the University to the need for such facilities and the opportunities they offer-reinforcing the plan to build a performing-arts center near Midway Studios. Notes Coleman: "This will be a great way to experiment with things that we could do when the arts center is built."
-Mark Johnson, AB'83