Why is there no Gap in Hyde Park? Neighborhood retail options are limited to Walgreens T-shirts, dressy duds from Mystique Boutique or Cohn and Stern, and a few other outlets, none near campus and none of which I've ever heard a fellow student mention. To buy a pair of jeans or an interview get-up, carless students must take the 55 bus to the Red Line or the 6 to the Loop. (The 173 runs only in the evenings.) It's at least a half hour each way.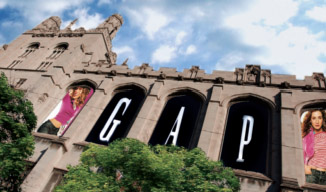 Would a Hyde Park Gap ruin the U of C's intellectual spirit?
Last summer I brought up Hyde Park's lack of amenities on my blog, whatwouldphoebedo.blogspot.com, theorizing that locals are afraid clothing stores would destroy the University's intellectual atmosphere. It's assumed, I argued, that "real" Chicago students wear their grandfather's tweed jacket or sweatshirts from eighth-grade gym. A trip to the Michigan Avenue H&M is not brought up in Classics Cafe.
It's not that a Gap—perhaps the quintessential college retailer—couldn't open here, I wrote, but that U of C students wouldn't demand one. Indeed, peers I spoke with this winter were adamant about not wanting a Gap or similar store in the area. Some noted that they were, in fact, wearing Gap clothes. "But," pleaded Libby Pearson, '05, at the Pub, "don't judge." On the quads Sam Goldfarb, '05, also was against a local Gap, though he'd like one to open for a day so he could buy a hat. "I like Hyde Park the way it is," said Goldfarb, who'd prefer an independent business.
As always at Chicago, there were opposing views. Ilana Emmett, '06, in the Cobb Coffee Shop, said a Gap would be "useful" and "successful." At the Pub Jennifer Barnes, '05, who worked at a Massachusetts Gap in high school, said anyone against one "has clearly not seen the guy with his pants way above his ankles."
Responding to my online discussion on his own blog, crescatsententia.org, Will Baude, SB'04, suggested that "keeping Hyde Park's shopping scene dismal keeps at bay people to whom convenient blue jeans are more important than intellectual rigor—not because Chicago students don't shop but because Chicago wants people for whom shopping is of secondary importance."
So is there no Gap in Hyde Park because students would be ashamed to shop openly, or is the U of C simply not meant for people who shop? While both may be true, neither, it turns out, has much to do with why Hyde Park is Gap-free.
Political science assistant professor Jacob Levy stepped into the Web debate. "It's the zoning," wrote Levy on the academic group blog Volokh Conspiracy. "There's market demand for more commerce in Hyde Park," he said. "But commerce can't get in the door."
This winter Levy talked further about "the commercial weirdness of Hyde Park," where he's lived for six years. "Something has gone very strange when this many students are in one place and there isn't a Gap," he conjectured. "It's tempting but wrong to exaggerate the importance of campus culture. [It's more] politics, planning, and economics."
Vice president of community affairs Henry Webber and director of real estate operations Ilene Jo Reizner likewise did not see the roots of Hyde Park's Gaplessness in an anti-shopping student body. They explained the neighborhood's market situation from the retailers' perspective. Stores like the Gap, Reizner said, "just look at demographics, not attitudes."
The Gap in particular, she noted, "was interested in Hyde Park in 2000," but "that deal tanked when the Gap tanked," losing money and closing stores. Even when offered a low-rent space back in the 1990s, the store didn't think a Hyde Park branch would be profitable. Other factors, Webber said, include the competition it would face from downtown shopping (several students also pointed out that the University is in, if not at the center of, a major city) and the fact that Hyde Park "is characterized by relatively small spaces." The neighborhood, Reizner added, doesn't have the parking to support large retail stores. That's not to say that a convenient source of jeans and T-shirts will never arrive. A casual clothing store, Webber said, "would clearly be advantageous to the University and the neighborhood."
So, according to the folks who help decide such things, an anti-shopping bias doesn't seem to matter. Hyde Parkers, Webber said, have "a positive goal" that "we maintain our set of local institutions and local stores" rather than a negative goal of keeping new businesses out.