Actress, playwright, and NYU professor Anna Deveare Smith performs her one-woman show as the first Presidential Fellow in the Arts.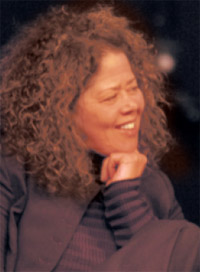 Smith at a Reynolds Club discussion.
It was the last question of the night. At the microphone a woman sporting a long, red, knit scarf introduced herself as a College fourth-year. She told Anna Deveare Smith that she had grown up in an "elite" New Jersey community where she didn't learn "about the world around us." She and other students "walk around the South Side in fear," she said. "What can we do?"
The Mandel Hall audience—University administrators, faculty, students, Hyde Parkers, other Chicago residents—giggled, groaned, cringed. But Smith, who in the preceding one-woman performance, Snapshots: Glimpses of America in Change, had played characters as diverse as journalist Studs Terkel, PhB'32, JD'34, an African American woman on the second Rodney King jury, and a Korean American shopkeeper, held up her hand in a "stop" motion. "This is why I do this," she reprimanded the crowd. "She said the most important words: 'what can we do?'"
Smith tried turning the question back to the audience but got only a vague response, shouted by a woman in the balcony, to "fight as hard as possible" against preconceived stereotypes. So Smith, on campus as the first Presidential Fellow in the Arts, took over. "I suggest you walk in the South Side not with a sense of fear but with an openness for whoever might want to talk to you," she said, adding that people must "stand outside their houses," out of their comfort zones, to engage in real dialogue with people different from themselves.
Such dialogue is something Smith has been doing for years. Best known for playing West Wing National Security Adviser Nancy McNally but also a tenured New York University professor and a MacArthur "genius" grant winner, she's interviewed thousands of people for her art. She listens to the taped conversations; memorizes her subjects' words, accents, and speech patterns; then mimics them perfectly onstage, exhibiting intelligence and humor. Her Obie–award winning plays—Fires in the Mirror, about the violence that erupted in Crown Heights, Brooklyn, after a Hasidic Jewish driver hit and killed a 7-year-old black boy, and Twilight, about the 1992 Los Angeles riots—feature characters based on the interviews.
On March 1 the dialogue continued. Besides her performance (she also played an incarcerated woman who stood by while her boyfriend beat her daughter to death, and a drawling cowboy) and subsequent Q&A, that afternoon Smith talked with about 40 students and faculty members in the Reynolds Club third-floor theater about acting and race. Unlike many black artists, she said, she didn't write about "my kitchen" from her Baltimore childhood or growing up in segregation. Because her work hasn't followed the traditional black artist's path, she said, black audiences and media have been ambivalent toward her. She believes African American intellectuals, rather than drifting to area studies or "the black table," should "make it hard for people to find you."
It was the kind of conversation the Presidential Fellowship in the Arts organizers had in mind. A joint effort by the Arts Planning Council and President Don M. Randel, the series brings artists "whose work intersects with work on campus," says German film and theater scholar David Levin, who helped launch the program while on the council. During their stay the artists are assigned a campus home and faculty sponsor—in Smith's case, the Center for the Study for Race, Politics, and Culture and associate professor of English Jacqueline Stewart, AM'93, PhD'99. The next fellow, writer and illustrator Neil Gaiman, is on campus April 19.