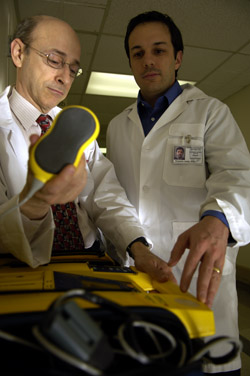 It's "like a new speedometer," Lance Becker, professor of emergency medicine and director of the University's Emergency Resuscitation Research Center, says of a machine being used by Chicago doctors to monitor cardiopulmonary resuscitation (CPR). The common procedure is often performed improperly, even in hospitals, Becker (left) and researcher Benjamin Abella (right) report in the January 19 Journal of the American Medical Association. Before this tool, the first of its kind in the United States, there was no way to measure CPR quality.
The technology—a pad with sensors connected to a tracking device and taped to a patient's chest—takes out the guesswork by recording the rate and depth of compressions, as well as the frequency of breaths. In CPR rescuers stimulate the heart by pushing down on the chest and provide oxygen by blowing into the mouth. With the machine, the Chicago team identified mistakes, such as inadequate compressions, made during actual rescues at the Hospitals.
The researchers are now adding features, Becker says, including "alarms that talk to the rescuer," offering instructions such as "deeper compressions." While it is not yet known how much the technology will improve CPR, "some pretty nice improvements" have been seen in Europe, where similar equipment has been tested.
According to Becker, the tool will probably be FDA-approved and in use this summer in hospitals nationwide.