Gothic cutting edge
The glassy central atrium of the Samuel Kersten Jr. Physics Teaching Center acts as the building's spine, unifying the floors below and visually connecting the building's two facades. The hallway's Gothic peaks echo the traditional Ellis Avenue exterior, with its limestone blocks and recessed windows, while its modern lines mirror Kersten's angled western side, which looks onto the science quadrangle (now a construction site as the IRB nears completion).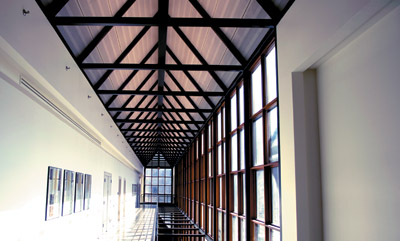 Kersten's narrow third-floor hallway (above) and an open north-end skylight provide "clear sailing up to the [atrium's] roof," says director of labs and lecture facilities Van D. Bistro, allowing natural light to filter down.
Built in 1985, Kersten also houses a rooftop observatory, with a heliostat, a radio telescope, and an optical Dunham telescope.