A Daily Show producer since Day 1, Kahane Corn still finds time to document another cult phenomenon.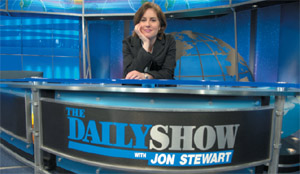 Corn, usually behind the scenes, at Jon Stewart's desk.
To answer a question that Daily Show supervising producer Kahane Corn, AB'84, is often asked, "That's a real person, and it's really the question we asked." When requesting interviews "we never lie about who we are or what we're doing. And we have surprisingly few people angry with us after the piece airs." After the 2000 and 2004 elections gave the spoof-news Comedy Central program a higher profile, she says, "in a way it has become harder to book stories. Sometimes people's kids know the show and tell their parents not to talk to us."
A field producer when the show debuted in 1996—Craig Kilborn was host—Corn advanced to senior and then supervising producer. Along the way she's won two Emmys (2003 and 2004) and even a Peabody Award for broadcast journalism, though host Jon Stewart insists the show isn't news.
In upper management, Corn, age 42, also keeps a hand in her original section, the field department, where the show films stories out in the world and turns them on their heads. "Our first goal is comedy," she says. To keep the material from growing tired, the staff changes the formula now and then. "For a while," she says, "we'd do a search and replace." Building on a news story, for example, that people were stealing the herb Echinacea from other people's gardens, "we looked at it as an epidemic, people stealing this drug," she explains. "So we talked to a pharmacist, the pusher; people who had it stolen, the suppliers; people who took it because they had the flu, but we presented it like an addiction." When such stories became "rote," Corn says, "we became more playful, had a stronger point of view."
Stewart's 1999 arrival helped the show move away from lighter fare. "With Jon as host and executive producer it gained a new vision," Corn says. The goal now is to be "as funny as possible and simultaneously comment on the world around us."
The field department's journalistic style suits Corn's background. Studying English at Chicago, she earned an MFA in film at Columbia University, making a 16-minute documentary, Cool Water, about two young ice sculptors in love. The piece made it to the Sundance film festival, where Corn met Hollywood executives who helped open some doors. Moving to Los Angeles, she worked on an FX program called Lost and Found and made a feature-length documentary, Heidi Fleiss: Hollywood Madame. At Sundance she also met Richard Linklater, who let her follow along with a 16-mm camera as he made a small Austin flick—Dazed and Confused.
But the Maryland native wasn't enjoying L.A. and wanted to move back to New York. "I interviewed for this show that was maybe going to be on Comedy Central, maybe going to be called the Daily Planet." Six weeks later she got the field-producing job.
In her current position, she arrives at the show's 513 West 54th St. headquarters from her New Jersey home at 10 a.m. Mondays through Thursdays, when the show airs. She attends three meetings, including "the Jon meeting" with Stewart, head writer David Javerbaum, coexecutive Stewart Bailey, and executive producer Ben Karlin. Stewart, Corn says, "is very hands-on [and] involved at every level."
When not in meetings Corn is "a liaison between the whole staff and Jon and Ben. Is our rehearsal going to be on time today? If not, why?" She smooths staff troubles. "I deal with office dynamics, try to iron out bumpy situations." Part of her value is her institutional knowledge. "I know the shorthand for almost everything here," she says. "If we desperately need an image of Las Vegas at night, I can remember that seven years ago we did a piece and there is b-roll of Las Vegas at night."
Ever since she and husband Jeff Cooperman had a son, Lucas, four years ago she's had Fridays off, phoning in for meetings. And while she used to leave work around 7:30 or 8 p.m., she now leaves at 5, before rehearsal. The flexibility, she admits, is "very unusual for a TV show."
Her schedule, perhaps, is a sign of her value to the show—as is testimony from Daily Show writer and correspondent Stephen Colbert. Beyond providing logistics and organization, "she's a great storyteller," says Colbert. "She's a documentarian, so she knows how to tell a story with the footage that you have."
Those skills came in handy when Corn recently returned to her documentary roots. She'd never done anything with the Dazed and Confused project. In spring 2003 Linklater invited her to shoot a ten-year-anniversary reunion. "Next thing I knew I was going back to Austin." More than 2,000 people showed up. When she returned Corn took both sets of footage, "went into edit, and made a sample of what this film could be." She and L.A. filmmaker R. J. Cutler sold the idea to the cable channel AMC. "So I got a budget to finish the film, including additional interviews like Ben Affleck and other cast members who didn't attend the reunion." Making Dazed will likely air on AMC this fall.
Though both the Daily Show and Dazed and Confused are cult phenomena, Corn considers herself more lucky than having a nose for success. "I'm not a pop-culture aficionado," she says. "If I watched the Grammys I wouldn't know who 75 percent of the people were." The Emmys, on the other hand, are a different story.