Migrating to the Movies: Cinema and Black Urban Modernity, by Jacqueline Najuma Stewart, AM'93, PhD'99, University of California Press, 2005. Long before Jamie Foxx won an Oscar for his performance in Ray, blacks played a role in the cinema. Stewart, a U of C associate professor, explores how cinema and urban African Americans shaped each other as blacks moved into the audience, behind the camera, and onto the silver screen during the silent era.
All American Yemeni Girls: Being Muslim in a Public School, by Loukia K. Sarroub, AB'94, University of Pennsylvania Press, 2005. It's not easy being Yemeni—and American. Based on fieldwork in a southeastern Michigan Yemeni community, Sarroub's study examines how Yemeni girls reconcile their religious culture with their experiences in an American high school, finding that they often perceive themselves as failing on both ends.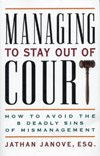 Managing to Stay Out of Court: How to Avoid the Eight Deadly Sins of Mismanagement, by Jathan Janove, JD'82, Berrett-Koehler Publishers, 2004. Janove got his start in employment law while working in the Law School's Mandel Legal Aid Clinic. Back then he represented the employee; today he represents the employer. His new guide to avoiding common employment lawsuits pairs each sin (from "Managing Like a Beginning Skier" to "Front-of-the-Nose") with a corresponding virtue ("Weight Forward on Skis" and "The Big Picture").
The Death of Sardanapalus and Other Poems of the Iraq Wars, by David Ray, AB'52, AM'57, Howling Dog Press, 2004. A two-time winner of the William Carlos Williams Award, David Ray was a cofounder (with Robert Bly) of American Writers Against the Vietnam War. Ray, who wrote these poems between 2000 and 2004, took his title from Delacroix's painting of an Assyrian massacre, using the image and others to protest the Iraq wars.
Heinous Crime: Cases, Causes, and Consequences, by Frederic G. Reamer, AM'75, PhD'78, Columbia University Press, 2005. How should society respond to violent criminals like the BTK murderer? Reamer considers specific cases and offers strategies for prevention and rehabilitation, drawing on his experience as a member of the Rhode Island parole board and as a prison social worker. He argues that a fuller understanding of offenders is crucial to finding successful answers to the problem of heinous crime.
The Genesis of Animal Play: Testing the Limits, by Gordon M. Burghardt, SB'63, PhD'66, MIT Press, 2005. While an owner might delight in the frolicking of a beloved pet, what's in it for the animal? Burghardt, editor of the Journal of Comparative Psychology, reviews the animal kingdom's playtime habits (from human babies to kangaroos, birds, lizards, and fish), arguing that although play may be essential in developing behavior, it's not always beneficial or adaptive. Some animals, it seems, have to pay to play.
The Long Arc of Justice: Lesbian and Gay Marriage, Equality, and Rights, by Richard D. Mohr, AB'72, Columbia University Press, 2005. Mohr takes the ethical and religious arguments often used to limit gay rights and turns them upside down. He then builds a case for those rights, addressing AIDS, sexual privacy, same-sex marriage, civil rights, the military, and gay politics.