Objects of History: The Boone Collection of Japanese Art
April 9–June 12. Smart Museum of Art, 773/702-0200.
Drawing from more than 3,500 objects in the Field Museum's Boone collection, this exhibition examines pieces of Japanese material culture, including books, ceramics, and furniture, from the late Edo and early Showa periods (18th–20th century). The collection will also be the focus of a spring quarter class. (See "Object Lessons," October/04).
Sacred Spirit of the Night in Song and Verse
May 21. Rockefeller Chapel, 773/702-7059.
The Rockefeller Chapel Choir and the Motet Choir team up in words and music inspired by "the mystical and sacred powers of the night."
Eine Kleine Alte Musik
May 6. The University of Chicago Presents, 773/702-8068.
In its Chicago debut, Berlin's Akademie für Alte Musik will perform a program of works by Veracini, Vivaldi, Geminiani, and Bach.
Endgame
June 2–26. Court Theatre, 773/753-4472.
Director Christopher Bayes reinterprets Samuel Beckett's apocalyptic tale.
You Are What You Eat: Nutrition and Health
Through June 11. John Crerar Library, 773/702-8717.
With a feast of old cookbooks and guides, contemporary magazines and diet fads, You Are What You Eat looks at Americans' eating habits from the 19th century to the modern day.
Michael Fried reading and lecture
May 4 and 6. Poem Present, 773/834-8524.
An art critic and historian, Fried will read from his poetry on Wednesday. Then on Friday he will participate in a lecture and discussion.


May 21. Photo credit: Courtesy Rockefeller Memorial Chapel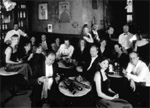 May 6. Photo credit: University of Chicago Presents