Standing outside her Lakeview shoe store, Shawna Spencer-Kendall remembers signing the lease in September 2001. The former vintage resale shop was a "hot mess," she says. Holding her thumb and forefinger an inch apart, she adds, "There was this much dirt on the toilet. But when I saw it, I saw way beyond the dirt." Now smelling sweet, as if the Berber carpet were marinated in floral cleaners, Alyse's Shoe Salon is a far cry from its previous incarnation. The showroom boasts a lace-draped Ionic pedestal, an Oriental rug at the cash register, and three walls of imported Italian shoes. Below a worn Bible on the sales counter is a poster that reads, "Italia, life in I style."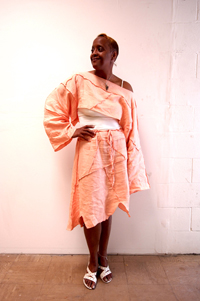 Spencer-Kendall in her new Hyde Park store.

Recently, the I-style life has not been treating Spencer-Kendall well. After an eight-week stint this summer with no sales and going from "a good-credit score to no-credit score," she is leaving her North Side store, with its homemade pillows and glittered blue paint. In a last-ditch effort to save her business, Spencer-Kendall, who grew up in a row house next door to Chicago's Henry Horner housing projects, is moving to Hyde Park, where she estimates 75 percent of her customers live. The Lakeview location has become a high-rent district where her customers, driving from the South Side, can't find parking.
Spencer-Kendall is not making the move alone. Since 2001 the Institute for Justice Clinic on Entrepreneurship (IJ), a nonprofit legal clinic created by a Washington, DC–based, libertarian law firm in partnership with the University's Law School, has guided her through legal matters, setting up her corporation and negotiating leases. Launched in 1997, the organization, staffed by two attorneys and a rotating group of Law School students, offers free services to low- and moderate-income entrepreneurs. According to director Elizabeth Milnikel, the group's work is founded on the belief that entrepreneurs "are the engines that create change in the economy and therefore in the culture and in the city."
The IJ has entrepreneurial intentions of its own. The only program in the country to support small businesses without relying on government programs or contracts, IJ hopes to serve as a model for other schools.
Maintaining about 15 active clients at a time, the clinic represents a mélange of activities, including a carpentry business and a home-cleaning service, so its lawyers have broad expertise. "We're business lawyers and we represent entrepreneurs, but since entrepreneurs interact with so many different fields of law, we have to be kind of generalists," says Milnikel, "just like an internist does with a patient." If a question too specific arises, the staffers consult with Law School faculty and outside attorneys.
Before the clinic could answer Spencer-Kendall's questions, she had to find a way into the shoe business. Five years ago she "knew nothing about shoes," except that she wanted to sell them. After helping a friend open a shop in New York, she wrangled her way into the 2000 World Shoe Association's international show in Las Vegas.
Under the alias of a Montgomery Ward employee, Spencer-Kendall stepped into a booth selling upscale Mezlan shoes and into a scene reminiscent of Pretty Woman. "The man said, 'Excuse me, ma'am, you can't afford our shoes. I'm sorry, but Montgomery Ward carries a lower line. You have to leave," she recalls. "I was devastated. I stood outside in the hallway for two hours and smoked about 15 cigarettes."
Determined, she got back in line and registered her own name and fictitious business, finagling her way back into the show. "The next two days I went around the whole show and didn't say a word. I started to understand the price points, and by the third day I was talking my business, like, 'I'm Alyse's,'" she says, snapping her fingers. "Mind you," she adds with a smirk, "I wasn't open."
She bought 84 pairs of shoes at closeout prices, then drove home, heading straight to Old Orchard mall and filling out applications at every shoe department there. In a week the single mother of two was working in Marshall Field's shoe department—on top of her full-time work as an accounts payable supervisor at the Council for Jewish Elderly in Skokie. Nine months later she decided to strike out on her own. Assured by a women's small-business support organization that she would receive a loan, she signed the Lakeview lease. Yet ten banks turned her down. "I had good credit. I had a job. And I couldn't get funding. So now I had this space and I had no money."
She mortgaged her Evanston condominium and started the business with $40,000 to her name. Two weeks later, September 11 softened the market for imported Italian shoes. Nevertheless, on September 23, her daughter's birthday, Spencer-Kendall officially opened Alyse's.
Rolling down Lake Shore Drive to her new South Side digs, she grips the steering wheel as she remembers the store's early days. "I loved it," she says, crying. "I wish I could kind of go back to it, cause that's when it was really exciting." In a sense, with this move she is starting over again. As when she opened Alyse's, she couldn't secure financing and has invested all of her personal savings into the new store.
Things aren't exactly like the early days. Now Spencer-Kendall can reel off legalese and business-support acronyms like a veteran—"LACC-SBDC," "WBDC," "disclosure statements." She attributes her legal acumen to the IJ clinic. "Everything that I've done legally, they have done with me," she says. "I'm very careful with anything legal."
At the Harper Court location, Spencer-Kendall scans the former Sunflower Seeds Health Food Store. The walls form a quilt of cement block, dry wall, wood paneling, and yellow-painted brick, unified by a layer of dirt and dust. The floor tiles are stained and torn, marking the spots where for 20 years shelves held groceries. An old metal refrigerator stands before the big picture window that frames Spencer-Kendall, who flutters around inspecting the space, hugs the electrician, and brushes a spider off her accompanying friend's shoulder.
By September 18 she hopes to have the storefront transformed, with the help of two students from Harrington College of Design. "Entrepreneurs, we just keep going. We just keep believing. Our faith is greater than the reality." Spencer-Kendall's vision of a profitable, upscale shoe boutique in the tired food store doesn't seem like a stretch to the clinic's Milnikel, who has seen other entrepreneurial feats. One IJ client—Tasty Delite, which makes meat seasonings—went "from trying to recreate a family recipe in a mixer at home," she says, "to having a plant in Blue Island and [selling the product] in grocery stores all over the country."
Noting the sun filtering through the dirt-filmed skylight, Spencer-Kendall exclaims, "Can you believe there aren't any lights on in here?" If not the light at the end of the tunnel, at least she can see the light pouring through the roof.