The Bulletin of the Atomic Scientists is a magazine with a mission: providing global security news and analysis. For 60 years, its focus has been serious, its attitude hopeful.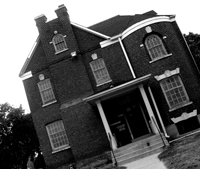 The three-story brick house at 6042 South Kimbark Avenue stands between two University parking lots on the west side of a dead-end block, just south of the Midway Plaisance. Coats of creamy yellow paint don't hide the metal grates protecting the building's first- and second-story windows, and the eerie green of a security light glowing on a gray afternoon adds to the sense of impending disaster. Late in a particularly dry Chicago summer, even the weed-scarred lawn whispers of a coming winter: "Our days are like the grass."
The phrases on the sign to the left of the weathered door offer only slightly more encouragement to the passerby. "Educational Foundation for Nuclear Science" and "Bulletin of the Atomic Scientists" echo with a slightly alarming, slightly retro ring. Open the door and proceed through the vestibule, where a waiting snow shovel suggests the occupants' belief in constant preparedness. In what was once a foyer and is now a reception area and workroom, anxiety transforms into action, and visitors can help themselves to a plastic-wrapped Atomic Fireball, the official candy of the Bulletin of the Atomic Scientists.
Like the red-hot jawbreakers introduced in 1953 by the Ferrara Pan Candy Company of Forest Park, Illinois, the Bulletin is a product of postwar Chicago. It premiered 60 years ago—on December 10, 1945, four months after the bombings of Hiroshima and Nagasaki—as the Bulletin of the Atomic Scientists of Chicago. Designed to be the public voice of the newly formed Atomic Scientists of Chicago, a group of Manhattan Project researchers troubled by the sudden reality of nuclear weapons and the prospect of nuclear war, the Bulletin was financed in part by a $10,000 gift from University Chancellor Robert Maynard Hutchins. The story goes that coeditors Hyman H. Goldsmith and Eugene Rabinowitch hatched the Bulletin at a 57th Street drugstore, and the inaugural issue was a six-page, mimeographed newsletter reporting on the Senate Atomic Legislation Committee hearings, related actions by national and international scientific organizations, and on local assignments and events; the December 12 general meeting was to include a "talk by Prof. E. Levi [Edward Hirsch Levi, PhB'32, JD'35, later the University's eighth president] on 'Desirable National Legislation.'"
An editorial in the same issue made clear its publishers' far wider aim: an "appeal to the American people to work unceasingly for the establishment of international control of atomic weapons, as a first step towards permanent peace." As Linda S. Rothstein, AB'61, a Bulletin staffer for 16 years and its editor from May 2001 through April 2005, wrote in a 2004 fund-raising brochure, "They had a wonderfully absurd notion—that a magazine could save the world. And who is to say they were wrong?"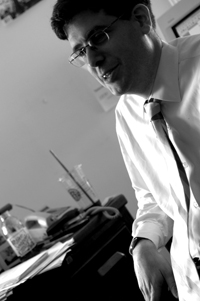 Editor Mark Strauss convenes a kitchen-table meeting.

Mark Strauss, who succeeded Rothstein as editor this past spring, left his Washington, DC, job as Foreign Affairs senior editor "on a Friday and started here on Monday." He shares the founders' sense of the publication's importance and their hopes for its continued life. Despite the circulation and financial challenges that shadow any small, nonprofit publication, the bimonthly Bulletin has a lot going for it, says Strauss, a Macalester College graduate who has a master's degree in journalism from Columbia University and another in Middle East studies and international economics from Johns Hopkins's Paul H. Nitze School of Advanced International Studies.
"There's a reason I'm here," he declares, sitting at a 1940s desk littered with manuscripts and Diet Snapple bottles. "People are very apprehensive about the times we live in, bombarded" by doomsday scenarios featuring weapons of mass destruction, usually "presented without context. The Bulletin provides that context—it helps separate fact from fiction, what is possible from what is plausible.
"There are certain things we ought to be more concerned about than others," Strauss continues, and the Bulletin "has proven itself consistently ahead of the curve" in identifying those dangers, for example an article warning readers that terrorism was being taught in Pakistani madrassas, which appeared nine months before 9/11. Although its paid circulation is small—about 10,000, with another 5,000 or so copies on sale at newsstands—"it has an impact that is larger than its size," says Strauss. He expects to build on that influence: "We want to get it into the hands of more people, particularly the media, so that it becomes the source they turn to for global security issues."

Editor Mark Strauss is joined by (clockwise from
upper right) Assistant Editor Josh Schollmeyer,
Managing Editor Catherine Auer, and Assistant Editor
Jonas Siegel.

The Bulletin of the Atomic Scientists may never be a household phrase, but Strauss doesn't worry that the title's scholarly tinge might keep readers away. Noting the Bulletin's ubiquitous tagline, "The Magazine of Global Security News and Analysis," he draws a parallel to another meaty periodical for the general reader. In the same way that the Economist "is not about economics," he says, "and you don't have to be an economist to read it," the Bulletin is not about atomic science per se, and a Ph.D. in physics is not a prerequisite for readership.
Take the September/October 2005 issue. Its cover story, "Requiem for an Office," reassesses the 1995 decision to dismantle the federal government's scientific advisory body, the Office of Technology Assessment. Other features include "The DroneWars," a look at unmanned aerial vehicles; "EMPty Threat," analyzing the odds that a terrorist-released electromagnetic pulse (EMP) could create a catastrophic blackout; and "Warheads aren't Forever." The topics are hardly lightweight, but the approach—underscored by a July/August redesign—is crisp and jargon-free. The expanded opinion and reviews sections (including government, multilateral, and nongovernmental organization reports and pop culture reviews, as well as the standard books and journals) have a similar feel. Also new is a back-page department in which readers are invited to submit their "Proposals for a Safer World." Called "Turn Back the Clock," it is a reminder, he says, "after page after page of rather gloomy assessments, there are constructive ideas out there."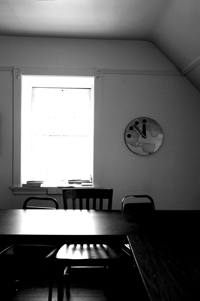 The magazine may lack name recognition, but the same can't be said of the Doomsday Clock. Almost as old as the Bulletin, the clock has appeared as part of every cover since June 1947 (see sidebar), coming to represent the nuclear age. Every shift of its minute hand nearer to, or further away from, the midnight of global disaster gets reported around the world. The clock's count down dial—currently set at seven minutes to midnight—is silk-screened onto a limited-edition T-shirt, and Doomsday Clock coffee mugs litter the desks of the Bulletin's staff.
To see the icon itself requires a trek up two flights of stairs to the boardroom, a white-walled garret furnished with several folding tables (including a collapsible ping-pong table), unmatched chairs, half-filled bookcases, and worn, orange carpeting. On the east wall hang three incarnations of the clock. To the right of an arched window, the latest version is in full view at each semiannual meeting of the board of directors—a 17-member group chaired by Victor Rabinowitch, whose father edited the Bulletin from the first issue until his death in 1973 and hired the artist who created the clock. The question of whether it's time to reset it is always a board agenda item.
"Most days," Strauss admits, "people don't come up here." Far from being dismayed, he likes the solitary image: "One of the most famous global icons is up in the watchtower, keeping vigil."
That vigil depends heavily upon philanthropic support. Circulation has never been enough to fund the enterprise, even in the first two years of publication, when the initial 500 subscribers rose to nearly 5,000. By the mid-1960s circulation had passed the 20,000mark, and in 1987, when the Bulletin won a National Magazine Award for best single-topic issue ("Chernobyl: The Emerging Story"), circulation reached what has so far been its apogee: 25,000 paid subscribers in 73 countries. As the first wave of readers grew older and academic libraries faced cuts in acquisitions budgets, the number dropped to 17,000 by 1990 and still hovers in that area.
"The goal," says Strauss, "is to triple [circulation] during the course of the anniversary year." Even a 300-percent increase in paid subscriptions leaves room for fund-raising. The Educational Foundation for Nuclear Science was incorporated in 1949 as the publication's not-for-profit, parent organization, officially changing its name to the Bulletin of the Atomic Scientists in 2003. That year only 25 percent of the Bulletin's annual operating revenues came from subscription and newsstand sales. With 10 percent from investments and 12 percent from individual donors, the lion's share—almost 53 percent—came from foundation grants.

While the Doomsday Clock keeps its vigil in the third-floor boardroom, day-to-day life at the Bulletin features big questions (left) and Atomic Fireballs (right).

"I always want the Bulletin to be nonprofit," Strauss says. "That's important for independence and editorial integrity. But we can try to be marketable, to reach a much wider audience."
Central to the Bulletin's marketing effort is its online presence. Since its 1995 debut, the Web site (thebulletin.org) has grown in offerings and usage—in 2004 the site recorded 1.5 million visits. Subscribing to the print version includes access to a digital archive that lets the user search, browse, and download every issue. Other online-only content is available for free, including links to government agencies, national laboratories, research institutes, and information on nuclear proliferation, environmental and nuclear security, and treaties. Access to a Web log and the monthly BulletinWire are meant as a service to current readers and an enticement to new ones.
The site also promotes Bulletin initiatives like the Rieser Fellowships. Named in memory of longtime board chair Leonard Rieser, they provide $2,500–$5,000 for projects that "explore the connections between science, technology, global security, and public policy." The Rieser competition is limited to U.S. undergraduate students, but this year's More than Minutes contest was wide-open, inviting designs for a virtual museum that will "open" in late fall and showcase events, sights, and sounds that recall each time the clock's minute hand moved.
An organization that focuses on geopolitical issues can expect charges of being politically biased. Over the years, some critics have viewed the Bulletin's mission, "to provide a reliable, high-quality global forum for diverse international opinions on the best means of reducing reliance on nuclear weapons as guarantors of security and as symbols of political status," as disingenuous. The Bulletin sees it differently. "The issues we deal with," editor Ruth S. Adams told the Chicago Tribune in 1984, "are not partisan, political issues." But she made it clear: "The Bulletin does not believe that security rests in nuclear weapons, and its writers don't believe that such weapons should be used." Twenty-one years later, Strauss echoes the observation: "From my view, there is only one true WMD—and that's nuclear weapons."
United by a common cause, the Bulletin staff—the editorial side of the masthead includes a managing editor, two assistant editors, and art director, while the business arm, led by acting executive director Linda Rothstein, includes an associate director, development/marketing director, Web designer, and executive assistant—has a purposeful camaraderie. Their nook-and-cranny offices feature bookcases filled with titles like Review of Dose Assessments at Three Mile Island and Countdown to Terror, leavened by bits of posted commentary (a 1947 news clipping shows an admiral's wife in towering chapeau, cutting into the mushroom-cloud icing of an "atomic bomb cake. Any similarity between the cake and Mrs. Blandy's hat is believed to have been coincidental.")
Although the offices at 6042 South Kimbark look as if the Bulletin has been in the house since Day 1, it actually moved there November 7, 1987. Before that, the staff migrated from one University-owned building to another, with nominal rent a welcome constant. The Social Sciences Research Building, Kent Chemical Laboratory, and the Lorado Taft House next to Midway Studios have been among the addresses on the masthead, and another move is drawing near. Blair Archambeau, AB'81, MBA'90, Chicago's associate provost for planning, says that the Bulletin's current home lies "in the footprint of a mixed-use building" for parking, offices, and retail space. With a fall 2008 or fall 2009 completion date scheduled for that component of the University's South Campus master plan, the Bulletin staffers will move house again sometime within the next year or two. The things they'll carry with them are certain: Atomic Fireballs, the Doomsday Clock, and a belief in the power of a magazine to save the world.