It may sound like the start of a joke, but it was the birth of improv comedy.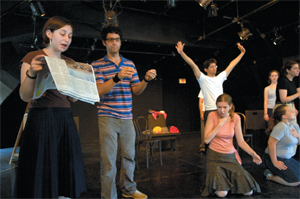 Off-Off Campus recreates the Compass Players' original show.
On July 5, 1955, in a long-gone tavern once located near campus, improvisational comedy was born. Imagine a world without Second City or Saturday Night Live; a parallel universe without the talents of John Belushi, Bill Murray, or Tina Fey; a modern cultural landscape without This is Spinal Tap or Monty Python's Spamalot. These comedic institutions all took their direction from the Compass Players, a small group of University students and their friends who changed the course of comedy one summer night 50 years ago.
To honor the golden anniversary of improv's birth, Compass cofounder David Shepherd returned to campus—50 years to the day—to participate in a celebration that included a performance by Off-Off Campus, University Theater's improv and sketch comedy group and a Compass progeny. With a little help from Shepherd, who coached them through the final rehearsals using techniques he and Paul Sills, AB'51, developed for the Compass Players, the students recreated the first show.
Performing on a sultry July evening before a sold-out audience at the Reynolds Club's Frances X. Kinahan Third Floor Theater, the nine actors riffed on headlines from the Chicago Tribune, creating humorous skits in the same vein as Compass actors did a half-century earlier. Third-year Dana Kroop, a history and philosophy of science major, read bits of stories about Russian politics and Biosphere breakdowns that served as the launching points for semi-improvised scenes, punctuated by tongue-in-cheek lyrics belted out to the 12-bar "Tribune Blues."
Next on the trip down memory lane came "The Game of Hurt," an improvised short based on a one-page scenario written by Sills, in which a husband sells his wife to a steelworker he meets in a bar. Audience members provided the plot for the rest of the show by offering random suggestions for scenes—the phrase "you're too late" and, as a suggested setting, "a cookout for elementary-school teachers"—that Off-Off Campus members turned into skits performed on the spot.
"It's an honor for me to be here and see this," said the 80-year-old Shepherd as he cut into a Compass birthday cake at a post-show reception. "It's really just spectacular."
For Shepherd, who continues to lead improv workshops throughout North America, the evening offered proof—if more proof was needed—of the vitality of the theatrical form that he and Sills had envisioned in the early 1950s. The Compass Players evolved as the beat scene was blossoming, challenging relatively conservative and formulaic forms of literature and art. Leaving New York because he found theater there too "anemic" and geared toward a limited audience, Shepherd came to Chicago in hopes of creating a cabaret-style theater with mass appeal, one that would reach factory workers and shop clerks—shows for the quintessential Everyman.
In Hyde Park he met Sills and began to study with him and his mother—actor, director, and teacher Viola Spolin. In 1955 Sills and Shepherd adapted some of Spolin's specialized theater exercises—like Emotional Symphony, Gibberish Relay, Animals, Building a Story, and Building a Song—to an idea they had for a new kind of theater. Partly inspired by German playwright Berthold Brecht, it would be politically and socially relevant: Compass Players.
Today Off-Off Campus students use the same types of improvisational exercises as they create their sketches—techniques also used by Second City, Saturday Night Live, and actors and comedians the world over. Though improv now seems to be on every campus, Chicago still stands out. Off-Off Campus alumni include Pulitzer Prize–winner David Auburn, AB'91, writer of Proof (see "On Screen"); Greg Kotis, AB'88, author of the Tony Award–winning Broadway musical Urinetown; and recent Second City alumnae Abby Sher, AB'95, and Tami Sagher, AB'95 (now a writer for Fox's MADtv). Other alumni of the U of C's improv community include Mike Nichols, X'53, Bernard Sahlins, AB'43, and Ed Asner, X'48.
To cement the relationship between improv and the U of C, Shepherd has donated his life's papers—flyers, photos, production stills, diaries, newspaper articles, and audiotapes—to the University's archives, housed in the Special Collections Research Center. "It feels funny letting go of some of that stuff—it's my life," Shepherd says over a slice of birthday cake. "But if it belongs anywhere, it's this University. This is where everything happened."
Note: This story was corrected online, 9/28/05.