Job search 101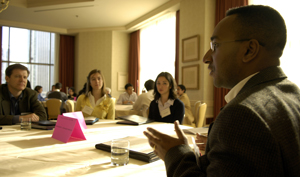 Fortune Brands manager Tony McClendon, AB'94, offers advice at Taking the Next Step.

In 1995 College placement counselors worked in cramped offices with four interview rooms tucked into the Reynolds Club. Then CAPS moved to two floors of Ida Noyes Hall. With the new space came fresh approaches to helping students find jobs. Though the acronym has stayed the same, the name, like the program behind it, has changed. In mid-2004 Career & Placement Services became Career Advising & Planning Services.
"'Placement' implies that we have a drawer full of jobs and, as students come to see us, we match them with a position," explains CAPS Director Liz Michaels, AB'88. "Our role is to prepare students for their search, be it job or internship." To better prepare undergraduates, College officials have bumped up their goals. "Much of the support we used to provide was, let's help you think about what you want to do after graduation," says Bill Michel, AB'92, assistant vice president for student life and associate dean of the College. "Now, once they have a clear idea of what they want to do, we try to help them get there."
One valuable tool has been a survey, begun in 2003, that all graduating students take in May, when they sign up for convocation tickets. In the Class of 2005, 22 percent planned to enter graduate or professional school, 39 percent had gotten jobs, and 39 percent did not have firm plans. Of those without a job, 67 percent began their search spring quarter.
Two years earlier, June grads without plans stood at 44 percent. The five-percent drop, Michel says, means "we're headed in the right direction." Of the Class of 2003's jobless students, 65 percent waited until spring to look. Part of career advising, Michel says, is telling students that it takes six to nine months to find a job.
Getting out the "plan ahead" mantra is a four-year effort. First-years heard the message at January's Venture to Adventure: Exploring Summer Opportunities, where more than 100 third- and fourth-years described their internships and work experiences. "The data show that students who have chosen to do something over the summer that fits with their professional goals," Michel says, "are 35 percent more likely to know what their post-graduation plans are in June." Fourth-years get an update at a back-to-school barbecue. "We remind students of the resources available to them," Michel says, "and give them statistics from last year to help set some expectations."
The survey data have sparked new programs. English and history majors, Michaels notes, are more likely to graduate without securing either grad school or a job. So last year CAPS launched What Now, a program to help students prepare for a career while studying their passions. Aided by CAPS, undergraduate faculty chairs, academic-adviser liaisons, and a graduate assistant, students learn what careers are open to them, hear from alumni, and attend job-search events. What Now has been replicated in Faculty and Student Engagement (FASE), a program for other humanities and social-science majors.
Chicago Careers in Business began because one in five graduates expressed interest in a business career yet could not land such jobs. Linda Choi, MBA'96, assistant dean of pre-business advising at CAPS, and a small army of GSB students work with undergraduates such as fourth-year Hoiyan Karen Tam, a human-development mayor who says CCIB helped her pursue consulting jobs that she otherwise would have never considered.
This past September CAPS began Careers in Journalism, coordinated by former U of C Benton Fellow Kathy Anderson. Fourth-year Emily Alpert, a history major, says, "Until this year, I was frankly disappointed by CAPS's offerings for students interested in journalism. But Kathy has been a wonderful resource." In April Alpert begins an internship with the Point Reyes Light, a Pulitzer Prize–winning weekly newspaper in California.
In helping students plan ahead, the College is in line with its peer schools, says Michaels, citing in particular Penn, Brown, and Harvard. "We've learned a lot from each other," she says, also crediting the GSB with providing ideas and assistance.
Many CAPS strategies pair students with the larger U of C community. "We're trying to send the message to students that they're part of a community of 150,000 alumni, staff, faculty, and students that is viable and real," Michel says. That network figures into CAPS's longest-running programs. Taking the Next Step, an all-day affair for third-years, marked its ninth year January 7. Featuring 14 career or graduate-school panels and 25 lunch roundtables on different industries, the Chicago event attracted more than 150 College alumni and almost 500 students. The Metcalf Fellows internships, meanwhile, were established in 1997. From eight internships, the program has grown to 100 and draws 400 alumni volunteers as mentors, interviewers, and reviewers.
Through the Alumni Careers Network (alumniservices.uchicago.edu), more than 14,000 alumni have volunteered to speak with students. For instance, Benjamin Recchie, AB'03, asked an alumna at the U of C Press about a job posting there. Believing he was better qualified for another position, she e-mailed him when it was next posted, and he was hired. "I might have been hired as a production controller," Recchie says, "but I wouldn't have been nearly as happy with my job as I am now as an editor."
Those are the stories Bill Michel likes to hear. "We've tried a lot of things over the past few years and are beginning to see positive numbers," he says. "Now we're bringing it all together in a successful overall strategy."