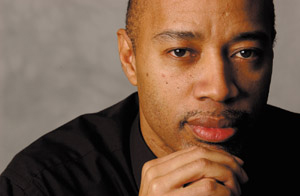 NAME:
Kenneth Warren
TITLE:
Fairfax Cone distinguished service professor in English language & literature
DEGREES:
AB in history and literature, Harvard; PhD in English and American literature, Stanford
NEW TITLE AS OF OCTOBER/05:
Deputy provost for research and minority issues
HOW HE GOT THE GIG:
After discussions with senior ad--ministrators and other faculty members—in particular Provost Richard Saller and Cathy Cohen, then director of the Center for the Study of Race, Politics, and Culture—we felt it was important to begin consolidating and enhancing the University's efforts to recruit faculty and students—hence the creation of the Provost's Initiative on Minority Issues. What quickly became apparent to the students, faculty, senior staff, and administrators who constituted PIMI was that to continue our progress we needed a senior-level position to provide appropriate monitoring and accountability.
WHY THE POSITION IS PART TIME:
All of the deputy-provost positions are part time so those of us who fill these posts can continue our work as scholars and teachers. Balancing these responsibilities will be a challenge, but I'm encouraged by the fact that the other faculty members serving in similar posts have managed to succeed in carrying both loads.
WHY "RESEARCH" IS IN THE TITLE:
It's im--possible to be a major research institution while maintaining a posture of indifference to ongoing problems of inequality in our society and the world. While it would be wrong to say that all research agendas are significantly shaped by social issues, there's no denying that our institutions of higher learning have benefited immensely from having brought more women and minorities to campuses as scholars, teachers, and students.
TOP PRIORITIES:
My most immediate goal is to make the campus more self-reflexive about our re--cruiting and hiring practices and in setting research priorities. Equally important, we need to identify and address the issues that make some of our students feel less welcome than others and that limit the kind of success these students have during their careers here.
HOW CHICAGO STACKS UP TO ITS PEERS:
Chicago is doing reasonably well, relative to our peer institutions, in attracting students from some demographic groups—not so well with others. We're particularly concerned about low numbers of African American male undergraduates. Unfortunately, most elite institutions aren't experiencing spectacular success in recruiting minority students, so it's not enough to try to match our peers or to persuade a student to choose Chicago over, say, Stanford. We have to be more involved in efforts to increase the number of qualified students from minority and lower-income groups.
HIS RACIAL EXPERIENCES IN ACADEMIA:
I haven't faced discrimination that has prevented me from doing the things I've wanted to do. But I certainly have had experiences, particularly back when I was a student, of being stopped by campus police for no legitimate reason or overhearing disparaging racial remarks.
HOW CHICAGO HAS CHANGED SINCE HE ARRIVED IN 1991:
The most significant change has been our ability to bring in talented junior faculty in the humanities and social sciences, and to tenure them. It's exciting to be able to share ideas with a dynamic group of younger scholars.