Manifest photography
Through the lenses of William Bell and Timothy H. O'Sullivan, America's frontier wilderness appeared anything but inviting. The two photographers accompanied survey expeditions across the Western territories during the 1860s and '70s, hitching small darkrooms to teams of mules and snapping landscape shots that were "in the old sense of the word, sublime," says art-history professor Joel Snyder, SB'61. "Scary, breathtaking, beautiful—but you don't want to be there. These photographs are not pretty; they sometimes make the land look god-forsaken." Snyder curated a Smart Museum exhibit running through May 7 that showcases albumen prints of more than 60 Bell and O'Sullivan images, including 38 recently donated to the museum.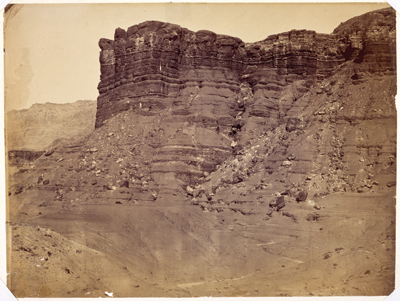 William Bell, Canyon and Headlands of the Colorado and Paria Rivers, 1872, Courtesy the Smart Museum of Art
Among the photographs—many rare, some unexhibited since the 19th century—is a pair of five- and six-panel panoramas ("Unheard of," declares Snyder) that offer sweeping views of gouged-out canyons and chiseled cliffs. (Bell's Canyon and Headlands of the Colorado and Paria Rivers, above, is part of one multi-panel panorama.) "We forget," Snyder says, "that an immense part of the United States was uninventoried, unexplored." Bell and O'Sullivan's photographs contributed to the ambitious cataloguing of the West, but not in the way contemporary viewers might imagine, says Snyder: "These images were made primarily to serve as models for lithographic illustrations," which were easier and cheaper to reproduce. "They were to geology what anatomy books are to biology." Trying neither for science nor art, Bell and O'Sullivan would likely be surprised, he says, at the place their work now occupies in the history of photography, inspiring artists like Ansel Adams.