Sometimes it pays to raise your sights.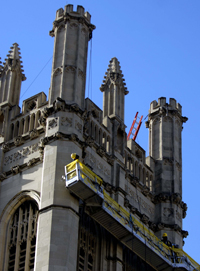 Mitchell Tower gets a limestone facial.
Campus pedestrians often walk with their heads in the clouds and their eyes on the ground. Others stare straight ahead, avoiding chance eye contact with approaching colleagues. Even those who concentrate on their surroundings tend to focus on the eye-level environment. Then, every once in a while, you look up.
One recent morning I looked up to see a bright-yellow scaffold suspended halfway up Mitchell Tower. From their perch, construction workers in matching yellow hard hats (right) were repairing the tower's limestone exterior. All in a day's work for them, but for me the unexpected sighting made a welcome gift.
A scholar and a gentleman
In January 1989 I came to Chicago as an applicant for the job as the Magazine's editor. I arrived with some baggage besides an interview outfit: a very healthy respect for the University. Two things kept respect from morphing into fear. First I opened the door to my Quadrangle Club lodgings, where the decor (now updated) featured a leopard-skin velour bedspread and one of those European streetscapes that used to be sold at the back of the local Woolworth's. "I think I have enough class for this place after all," I told my husband, after dialing him on the room's rotary phone.
Equally reassuring, but for far different reasons, was meeting Edward W. Rosenheim, AB'39, AM'46, PhD'53. Ned, who died in November at age 87 (see Deaths), was a member of the Magazine's advisory board, one of his many campus civic activities in the midst of a distinguished career as a literary scholar. As we talked in his book-lined office about universities, alumni, and how university magazines could serve them both, he made the process seem more conversation than interrogation. When it was time for the next appointment, he insisted on escorting me the few steps to the Administration Building, bidding farewell with a twinkling smile and warm handshake—and leaving the firm impression that Chicago was a place one would want, like Ned, to call home.
Moving up the masthead
Amy M. Braverman is now managing editor. Amy, who joined the staff in June 2002, has written award-winning features, overseen the Magazine's UChiBLOGo Web log since it began in January 2004, supervised the "Chicago Journal" department, and functioned as the Magazine's second-in-command. Her change in title recognizes her expanding role.