Robot roost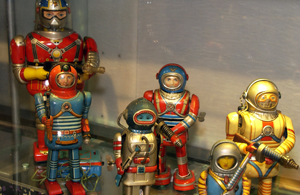 Courtesy Scott Brownell, Museum of Science and Industry

From the Czech words robata (forced labor) and robotnik (serf), the term robot evokes both benign domestic helpers (The Jetsons' Rosie the Robot) and crazed automatons (H.A.L. from 2001: A Space Odyssey). The Museum of Science and Industry exhibit Robots Like Us: Featuring the Robert Lesser Collection of Robots and Space Toys presents the more innocent ancestors of modern Hollywood's evil robot uprising. Showcasing some 200 toys issued between World War II and man's first step on the moon, the collection features astronauts, rocket ships, and whimsical creatures such as Chime Trooper, a small robot who emits "the sound of a lovely chime" while walking.
Among the novelties that Robert Lesser, AB'50, AM'53, a New York playwright and author of two books on comic and pulp art, has collected since 1978 are a whale spaceship, space elephant, and a combination robot-tree. A massive talking Robby the Robot replica from MGM's 1956 sci-fi classic Forbidden Planet greets museum visitors.
"The toys," he booms, "tell an interesting story about what the future looked like back then." Much of the vision—including dozens of blue-eyed astronauts donning protective suits with American flag insignias—was manufactured by leading Japanese toymakers. The exhibit runs through summer 2006.