Artist Mary Ott communes with nature one blade at a time.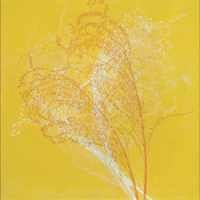 Bouquet of Grasses XIV, Mary D. Ott © 2004.

I'm always picking things up off the street," confesses Mary D. Ott, SM'67, PhD'71, "off the sidewalk." From loose seeds, nuts, branches, grasses, and flowers, she creates one-of-a-kind prints, mixed-media pieces, and fabric screen designs. A resident artist at Montpelier Arts Center in Laurel, Maryland, Ott has exhibited works in more than 120 solo and group shows across the country. Her most recent exhibition, Nature Imagery, held at Washington, D.C.'s Touchstone Gallery in November, featured a series of photograph-like grass paintings rendered blade by blade with paint-soaked embroidery yarn. Grass is also the subject of her "Bouquet of Grasses" series, designed using dried ornamental grasses, printing ink, and a hand-operated etching press.
Raised in a family of engineers and educators, Ott earned a master's in physics and a PhD in education at Chicago long before putting her first pods to paper. After completing her doctorate, she headed east to Cornell University, where she developed physics courses, followed by nearly two decades in educational research. She settled in Silver Spring, working at the University of Maryland. But those days were numbered. Hungry for a change, Ott began Spanish and painting classes in 1991. She bid adios to language lessons after a few years, but the art stuck. She soon moved into printmaking and eventually the life of a self-employed artist.
Although Ott insists her physics training plays no role in her art, her monotypes—paint and ink designs created on a glass surface, then pressed on paper—require scientific precision. Made by arranging leaves, branches, and other bits of nature on an inked Plexiglas plate, each creation requires careful placement and leaves little room for error. Once she transfers the design to paper using an etching press, only small amounts of ink remain, so plates seldom yield more than one print. Leftover ink can be used to create a ghost, or a lighter-colored design that retains parts of the original print. The ghosting then serves as a tool to add secondary layers to the original print or, if the ink is heavy enough, start a new one.
Other methods offer better reproduction possibilities. With intaglios, for example, Ott can permanently etch an image onto a plate using photopolymer films attached to copper plates. When ultraviolet light shines onto the film through a transparency containing the image, the plate picks up the design, which can then be inked and printed multiple times.
The grass-painting series, she says, provided a new set of challenges. Made with embroidery thread and acrylic paint, the pieces forced Ott to devise an "invented design resembling something from nature" rather than working, as she does with her etchings, from directly observable seed pods, grasses, and hickory nuts. Each blade was created using a repetitive dragging motion to produce a photograph-like effect. Ott is now experimenting with different canvas types and proportions for a new series of grass images to be featured in April at Maryland's Metropolitan Center for the Visual Arts.
Dividing her time between painting, printing, and scouring the outdoors for subjects, Ott cites gaining exposure and marketing her work as the most difficult parts of being a full-time artist. Since her solo debut at a 1994 Unitarian church art show in Maryland, however, she has managed to build a name and forge a life in the arts. She credits the University's "liberalizing atmosphere" for aiding her transition into the field 15 years ago. "When I told some people that I was leaving," recalls Ott of breaking the news to fellow University of Maryland education researchers, "one was a U of C graduate who said, 'Well, that's a very Chicago kind of thing to do.' I agreed." As her ever-expanding portfolio of nature studies confirms, it's a leap she's successfully made.