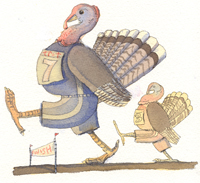 1911
Noting an influx of American teachers moving to the Philippines—including Frank R. White, a 1901 graduate serving as director of education there—the November issue reported on the islands' Baguio Teachers' Camp, where teachers gathered for some R&R. "[T]his company is one of unusual strength and of high character," declared the Magazine, noting that "the misfits and failures and immoral ones," such as teachers who "crossed the Pacific...because they thought they might have freedom for irregular love with attractive maidens of a weaker race," or those "who had no graces of figure, face, and soul," had already fled back to the States.
1956
Political science is "the one branch of the social sciences that may be withering away while the others flourish," opined social-sciences professor David Riesman in a February article marking the Social Science Research Building's 25th anniversary. Political science, Riesman argued, was on its way out because isolated study of the state was no longer a strong enough basis for research, predicting that new specialists would emerge who drew from psychology and sociology rather than pure political science. "A quarter century is long in the life of a working man," remarked the Magazine, "but relatively brief in the evolution of an academic discipline."
1981
More than 80 percent of U of C students participated in at least one of 46 intramural events, noted the Winter issue. Peter Bernstein, AB'81, MBA'85, discussed what inspired students to play IM: "You may have a 3.8 G.P.A.; you may have inherited your uncle's Trans-Am and his Wendy's Franchise; but I've got a damn good chance of winning Independent Coed Doubles Ping-Pong." Events included some unconventional activities such as the Turkey Trot, a mile-long, cross-country race the week before Thanksgiving, with frozen turkeys for the winners. It was also a year of unusual team names: the Pork Belly Futures, the Sick Dogs, the Dead Popes, the Complete Greek Tragedies, and Norval's Criminals.
1996
After writing her SSA thesis on what it would take to start a coffee shop benefiting the homeless, Jennifer (Wiener) Kihm, AM'94, profiled in the February issue, founded the Living Room Café. A place where the homeless could eat restaurant-style meals and receive skills testing, job training, literacy workshops, and help with substance-abuse problems and health care, it's still going strong today.