The University of Chicago—smart and good-looking.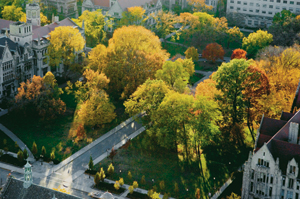 The Magazine's first issue began with a letter to the editor—from University President Harry Pratt Judson.
At his October 15 press conference ("Chicago Journal," page 18), the University's latest Nobel laureate, economist Roger B. Myerson, admitted he's not quite sure what makes the University so conducive to world-changing discoveries: "I've only been here six years. I'm still trying to figure out what the secret is."
What makes Chicago Chicago is something the Magazine staff thought about a lot this year as we put together a book of photographs by Contributing Editor Dan Dry. Dan's previous book of Chicago images, produced for the University's centennial, had long since sold out, and we decided there was no better way to celebrate the Magazine's own centennial than to create a new book of institutional images. Providing a counterpoint to Dan's images are quotations from past and present members of the University community: musings on theory and practice, questions and answers, work and play, the singular and the collective—and Chicago.
The 160-page hardbound book is offered as a special thank-you to readers who make a birthday gift of $100 ($75 tax-deductible for U.S. donors) or more to the Magazine. You'll receive more details by mail, but you also can make a gift online.
New leaf, new leave
Zak Stambor joined our staff the day after Labor Day. Zak, who has a bachelor's in psychology and a master's in journalism from the University of Illinois, has worked as senior editor of a trade magazine and daily e-newsletter, a columnist for the alt-weekly Washington City Paper, and a staff writer for the magazines Monitor on Psychology and gradPSYCH. At the Magazine, he'll be writing features and editing "Chicago Journal."
Managing Editor Amy Braverman Puma, meanwhile, is on maternity leave, getting to know Jackson Walter Puma. Born on Wednesday, September 27, Jackson had his first Dan Dry photo shoot the following Tuesday. As the photographer's assistant, I can report that Jackson didn't need Dan's magic to look adorable. Amy returns to the office in January.