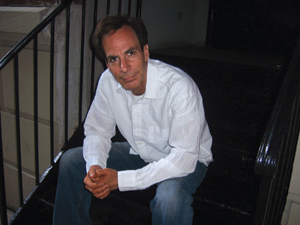 David Blum took over the Village Voice reins in September.
Credited with coining the term "Brat Pack" in a 1985 New York Magazine profile, journalist David Blum, AB'77, has written for the Wall Street Journal, the New York Times Magazine, The New Republic, and Esquire. His first book, Flash in the Pan: The Life and Death of an American Restaurant (Simon & Schuster, 1992), chronicled the 14-month ride of a failed Manhattan eatery. His second, Tick...Tick...Tick...: The Long Life & Turbulent Times of 60 Minutes (HarperCollins, 2004), took a behind-the-scenes look at the CBS newsmagazine. In September Blum, who also teaches at Columbia University's Graduate School of Journalism and is working on a novel, became editor-in-chief of the Village Voice, New York's alternative weekly (Norman Mailer was a founder). The paper's recent rocky history—a 2005 merger with New Times paired with three editors in less than a year—has all eyes on Blum.
Weep not that the world changes: It's been challenging, but people have been very welcoming of the idea of change and anxious to have the Voice become a significant part of New York journalism again. It's going to be a long building process. ... People are glad the turmoil is over.
The Voice's voice: It's not beholden to any specific constituency. ... It's still committed—under me, I hope even more committed—to long-form narrative journalism, which is where it achieved its greatness initially, and it certainly also has a prominent place as a cultural arbiter in its team of critics.
What the Voice is not: It's not a yuppie bible that has to provide a lot of service material about where to get the best pasta.
Blum's goal: To bring some humor to it in terms of liveliness and visual style that it hasn't had in a while, to make it compelling to people so what they get in the articles is a real bonus as opposed to something that just accompanies the listings.
Print lives: There's still a great audience out there for print and for the kind of stories that can only be done by reporters who are paid to go out and find them in places where nobody else is looking. It's something newspapers and magazines have to offer that the Internet and blogs can't—journalism where reporters spend weeks investigating a topic and getting close to it. ... I'm not feeling very cynical or depressed about the state of journalism today.
His toughest subject: The 60 Minutes book was difficult in that a lot of the people involved were very suspicious of journalists. Writing about journalists is always difficult because they're the ones who are most skeptical.
His dream interview: Everyone always says Nixon. I never really had a great desire to talk to him. ... I wondered recently whether anybody could get past Bill Clinton's charm. ... It would be a challenge.
TomKat begone: I'm happy to not be covering or writing about the entertainment business at this point in my life. ... It's become too protected an environment for journalists to be able to do substantial and interesting stories. It's very processed and manufactured.