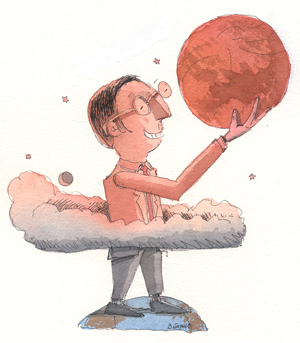 1912 Following the establishment of the Inter-Fraternity Association in 1911, the Magazine noted that rushing "almost forcibly prevented" the most popular boys from studying, often leading to "disastrous" consequences—such as the expulsion of the freshmen class president two years in a row. First-year fraternity hopefuls were also notorious for the "stunts" they performed as hazing, including "wearing green caps with long green ribbons, proceeding always at a run on the quadrangle, climbing trees," and "running races on hands and knees."
1957 "University of Chicago girls are pretty. Furthermore, University of Chicago girls have always been pretty," the February issue insisted, weighing in on an issue raised by undergraduate Ray Caparros, who sparked a heated debate about the school's female population in the November 24 issue of the Maroon: "I am beginning to see why Macbeth is such a favorite at the University of Chicago. Where else would it be so easy to find three hags to play the 'witches'?" The Magazine ran pictures from its back files of "some Chicago beauties, past and present," in support of its pro-pulchritude stance.
1982 The winter issue of the Magazine profiled husband and wife Edwin A. Bergman, AB'39, and Betty (Lindy) Lindenberger Bergman, AB'39, who had amassed a serious collection of surrealist and contemporary art, including works by Miro, Ernst, Dubuffet, Brauner, Magritte, Nevelson, Matta, Tchelitshev, Gork, DeKooning, Masson, and Arp. "Once, back in the fifties Ed came back from a business trip with a picture as a present," Betty Bergman recalled. "That was it. We realized we could own a piece of art."
1997 Johnathan Barnes, SB'98, had his head in the clouds—all the way to outer space, reported the February issue. The third-year worked on the Alpha Proton X-ray Spectrometer, a device designed and built by U of C scientists to explore the Martian landscape. The spectrometer was one of the instruments aboard the Mars Pathfinder, scheduled for a July 4 landing. Barnes created computer simulations to process any information relayed back to Earth and also modified software to analyze the space material.