The Magazine publishes a selection of general-interest books by alumni authors. For additional alumni books, see In Their Own Words.
The Holy Vote: The Politics of Faith in America, by Ray Suarez, AM'93, Rayo, 2006. Conservative "Red America" and liberal "Blue America" have increasingly diverged over the last several election cycles. Suarez, senior correspondent at The Jim Lehrer News Hour, examines America's political and ideological polarization through the lens of religion. This glimpse into religion and politics explores the belief structures that guide and fuel Americans' voting patterns.
Off the Books: The Underground Economy of the Urban Poor, by Sudhir Alladi Venkatesh, AM'92, PhD'97, Harvard University Press, 2006. In Maquis Park, a poor black neighborhood on Chicago's South Side, individuals make their livings through unregulated and untaxed work. These ventures—including a mechanic who works in an alley and a preacher who provides meditation services—constitute the ghetto economy and create an intricate web connecting the neighborhood's residents. Venkatesh provides a portrait of this community while exploring the sociology of America's poor.
The Nation's Region: Southern Modernism, Segregation, and U.S. Nationalism, by Leigh Anne Duck, PhD'00, University of Georgia Press, 2006. In the early 20th century the U.S. South's close-knit, traditional communities were the country's picture of a romantic past. After the Great Depression, however, as the nation modernized, the South's racially segregated society threatened the country's progressive identity. Using the works of Southern writers such as Thomas Dixon, Zora Neale Hurston, and William Faulkner, Duck explores how their literature confronted ideas of a "monolithically archaic South."
The Political Economy of Virtue: Luxury, Patriotism, and the Origins of the French Revolution, by John Shovlin, AM'92, PhD'98, Cornell University Press, 2006. At the dawn of the French Revolution, a period of economic and moral decline, excess wealth flowed into the hands of a small upper class, motivating midlevel elites to reimagine the role of economic activity in reviving France's patriotic spirit. Shovlin illuminates the social and economic forces that incited the revolutionaries and inspired them to establish a commercial society that encouraged both wealth and virtue.
Six Arguments for a Greener Diet, by Michael F. Jacobson, AB'65, et al., Center for Science in the Public Interest, 2006. Not only can eating more plant-based and fewer fatty animal products lead to a longer, healthier life, but this diet can also improve the environment, argue the authors. Presenting both scientific research and practical advice, Jacobson offers alternatives to America's current food system that can improve public health, the environment, and animal welfare.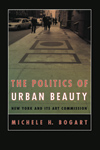 The Politics of Urban Beauty: New York and Its Art Commission, by Michele H. Bogart, AM'75, PhD'79, University of Chicago Press, 2006. Since its 1989 founding, the Art Commission of the City of New York (ACNY) has determined what works of art can be displayed on the city's property (defined as everything from parks to trash cans). Bogart traces the history of the commission and, as former vice president, provides an insider's perspective on the role of the ACNY and public art in shaping New York City's urban identity.
Hurricane Blues: Poems about Katrina and Rita, edited by Philip C. Kolin, AM'67, and Susan Swartwout, Southeast Missouri State University Press, 2006. Containing 111 previously unpublished works by 95 emerging poets, including Mark Jarman, Linda Pastan, and John Kinsella, this volume explores the physical and emotional destruction wreaked by 2005 hurricanes Katrina and Rita. Covering the moments before the storms broke to rescue and recovery, these poems act as eyewitness accounts. All proceeds go to Gulf Coast hurricane relief efforts.
Jewish Tradition and the Challenge of Darwinism, edited by Geoffrey Cantor and Marc Swetlitz, PhD'91, University of Chicago Press, 2006. Darwin's theory of evolution has been extensively explored from the Christian perspective, but rarely in light of Jewish philosophy. This collection of case studies investigates the intersection of Jewish faith and ideology with evolutionary theory in specific historical contexts, including how social Darwinism has been adopted by both Zionists and anti-Semites in the past as a way to characterize Jews as a "race."
Christian Moderns: Freedom and Fetish in the Mission Encounter, by Webb Keane, AM'84, PhD'90, University of California Press, 2006. This cross-cultural ethnographic study explores a century of Christian conversion—from the colonial Dutch East Indies to post-independence Indonesia. Examining Christianity's ideology and practices, Keane situates the religion's relationship to language, materiality, and morality within the larger picture of modernity.
Racial Transformations: Latinos and Asians Remaking the United States, edited by Nicholas De Genova, AB'90, AM'92, PhD'99, Duke University Press, 2006. The black-white dichotomy has been the prevailing way to approach the production of race in America. De Genova's essay collection challenges this racial binary by highlighting the American experiences of Latinos and Asians. Such accounts show how these communities have helped to shape the U.S., as well as how they confront and transform the identities imposed on them by American political and social processes.