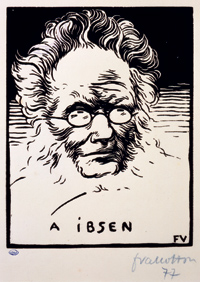 To Ibsen (A Ibsen) by Félix Vallotton (1894); courtesy the Smart Museum
Uncle Vanya
Through February 11. Court Theatre, 773/753-4472. Director Charles Newell brings Chekhov's classic work to the Court as Uncle Vanya blurs the line between tragedy and comedy, looking at ordinary people and events to reveal emotional webs that lie beneath the surface.
Scott Short
Through February 18. Renaissance Society, 773/702-8670. In Chicago painter Scott Short's first solo exhibition, the artist challenges awareness of color through intricate black-and-white paintings that reproduce the effect of repeatedly photocopied sheets of colored construction paper.
The Image as Homage: Portrait of the Artist
Through April 8. Smart Museum, 773/702-3121. This exhibition explores the complexity behind 19th-century portraits of artists by other artists. These depictions, works of veneration and respect, take on a variety of forms and styles, immortalizing the portrayed artist in a new light. The exhibition highlights European and American works from the Smart Museum collection.
Physics, Philosophy, Physiology: Three Paths, One Spirited Product
January 26. 9 a.m. The Martin Marty Center. 773/702-7049. Part of a continuing conversation with three Georgetown University professors (including Karl Pribram, SB'39, MD'41), this one-day conference explores the possibilities produced when the sciences and religious studies converge. The intersection of physics, philosophy, and physiology raises questions about the human person as both material and spiritual, the implications of which will be examined.
Generations—Estes, Sykes, and Sims
February 2. 7:30 p.m. Rockefeller Memorial Chapel, 773/702-7059. This concert, cosponsored by Canti Classics and the DuSable Museum, features Metropolitan Opera star Simon Estes, Sony recording artist Jubilant Sykes, and award-winning vocalist Robert Sims performing freedom songs, spirituals, and Broadway show tunes. Tickets may be bought in advance: $50 for priority seating, $25 for general admission, and $15 for students.
University of Chicago Folk Festival of Traditional Music
February 2–4. Mandel Hall and Ida Noyes Hall, 773/702-9793. The 47th annual folk festival offers a weekend of concerts, free workshops, dancing, and jam sessions. See the Folklore Society's Web site, www.uofcfolk.org, for artists, ticket prices, and additional information.
Divinity School Wednesday Lunch: Tomomi Yamaguchi
February 21. 12 p.m. Swift Common Room, 773/702-8200. Tomomi Yamaguchi of the Center for East Asian Studies, the Department of Anthropology, and the Department of East Asian Languages & Civilizations will speak on "Conservative religious groups and feminism: the current backlash in Japan" at the Divinity School's weekly lunch series. Vegetarian fare will be served; reservations strongly suggested.
University of Chicago Presents: The Venice Baroque Orchestra
February 23. 8 p.m. Mandel Hall, 773/702-8068. Director and founder Andrea Marcon and violinist Giuliano Carmignola lead the VBO in a performance that includes 17th- and 18th-century concertos by Tartini and Vivaldi.