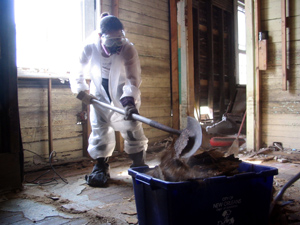 Rachel Berg, 08, shovels debris in the Miro Street House."
Driving into New Orleans on Interstate 510, the remains of a Six Flags amusement park on our left signaled that we were getting close. Two white spires of a busted drop-tower ride, a rusty roller coaster, and a faded Ferris wheel stuck out from a flat, treeless plain. On our right we saw vacant apartment buildings with broken windows, and on billboards, "We tear down houses" and "Hiring all positions."
I went with four friends—Rachel Berg, '08, Hannah Moots, '08, Liz So, '10, and Laura Eberly, '10—to New Orleans during spring break to volunteer for Common Ground. The New Orleans–based organization provides health and legal services and does house-gutting, hoping to bring residents back after Hurricane Katrina in 2005.
To reach St. Mary of the Angels—the former Catholic school where hundreds of volunteers now sleep on cots—we had to get off the interstate and navigate the many one-way streets and no-left-turn signs of the Ninth Ward. I had volunteered there last year, as had Rachel and Hannah. We looked for changes, but much seemed the same. The majority of houses remained uninhabited, the signs rescue workers spray-painted on their fronts still a conspicuous reminder of the storm. "TFW"—marked on nearly every building—stood for "toxic floodwater." Above those letters a scrawled "X" showed that a search had been done, with the rescue organization's initials, the date (usually in mid-September 2005), and a number designating the bodies found.
Although the Ninth Ward still looked battered, some people had begun to return. Residents gathered on their porches, home-owners pushed lawn mowers, and a few children toddled over storm-split sidewalks.
We arrived at Common Ground on Sunday night, along with about 200 students from Howard University. These volunteers were part of a group of more than 500 graduate students and undergrads Howard had sent to New Orleans for its Alternative Spring Break program. Sandra Edmonds Crewe, associate professor and associate dean for student affairs at Howard's School of Social Work, said that because the Ninth Ward is a historically black area, Howard students felt an exceptional pull to help there.
Monday morning I sat on St. Mary's steps with Crewe, waiting for the day's assignment. She talked about her impressions of the city so far. Some of the most thought-provoking en--counters, she said, had been with locals who believed Katrina was "God's will," perhaps even punishment for a city blighted by poverty and one of the nation's highest homicide rates. It was a view she wasn't sure she could share, she said, because plenty of other cities have high rates of poverty and violence—but no hurricane.
Tuesday morning my friends and I formed a crew with three undergrads from Boston University. We donned protective suits, respirators, goggles, gloves, and rubber boots to shield ourselves from the toxic mold growing in the houses, a result of the oil- and chemical-infested floodwater that stagnated for weeks. Then we were given a map and a street address: 2500 North Miro.
It was a one-story blue house on the corner of Miro and Arts. Across the street a group of men sat on the porch of their home, a FEMA trailer in their driveway. They offered to let us park there.
When we entered the house, we found that most of the small belongings had been removed. We lugged a barber's chair and an old-fashioned hair dryer from the front room. Next came couches, a bed, mirrors (one intact), and a stiff stack of posters stuck together by standing water.
Once the space was cleared, we brought in hammers, crowbars, and a heavy plumber's wrench to knock the plaster off the walls. As in most Ninth Ward homes, the plaster was permeated with splotches of black mold reaching almost to the ceiling. We shoveled the plaster into a wheelbarrow and dumped it out a window, creating a pile that reached above our heads. A man and his father came around collecting scrap metal and pulled the large pieces from the pile.
On Thursday three women from the University of Maryland and two women from the University of Kansas joined us. Taking turns, we stood on a ladder and knocked down the moldy ceiling with a shovel. We pulled up layers of carpet, linoleum, and particleboard, then took out what seemed like an inexhaustible supply of nails. I found a stack of amateur oil paintings in the closet and a lone men's shoe in the fireplace.
The last task was to sweep and resweep the floors, removing the mass of debris we had generated. When we felt we had done as much as we could, we sat down in the backyard, taking off our sweaty masks and goggles.
As if on cue, a middle-aged man in jeans approached us. He was living in a FEMA trailer one block down Miro. "They messed up and gave me handicapped-size," he said, "but I'm not complaining." He inspected the empty rooms of the house, wearing none of the protective material we had on. "You've done a lot of work," he said, "but there's a lot left to do."