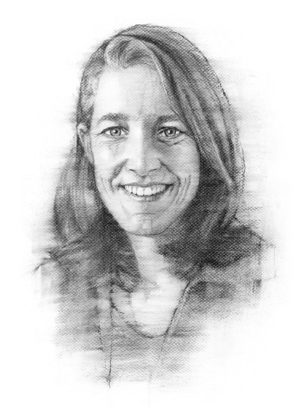 NAME: Kathleen D. Morrison, professor of anthropology and of social sciences in the College, director of Chicago's Center for International Studies (CIS) since 2003.
DEGREES: AB'84 (Notre Dame), AM'86 (U of New Mexico), PhD'92 (UC–Berkeley).
UNDER THE CIS UMBRELLA: International studies; the committees on African & African American studies and on Central Eurasian studies; the Human Rights Program; and, starting in fall 2007, the Program on the Global Environment. The center also coordinates five area-studies centers: Middle Eastern, European and Russian/Eurasian, Latin American, South Asian, and East Asian studies.
IT'S ALL INTERNATIONAL: All of our programs relate to issues of broad global importance—human rights, national security, the environment, and international relations—and are issues that require multidisciplinary and global approaches. As such, no traditional discipline or area-studies program can really address these critical issues in their entirety. We don't see our role as replacing disciplinary or regional studies but as providing an intellectual and institutional setting for bringing them together to forge new kinds of approaches.
A NEW ENVIRONMENT: The global-environment program, directed by senior lecturer Mark Lycett, will house a revised College major and minor in environmental studies and will engage with graduate students, faculty, and the public through conferences, speakers, and other events, and the graduate Workshop on the Global Environment.
ALSO ON THE CIS AGENDA: Public outreach and teacher education are important parts of the center's mission, made more so by the fact that as a Department of Education National Resource Center, we now have an explicit mandate to conduct public outreach.
In addition to designing and conducting teacher-education workshops and classroom visits, CIS staff help the area centers manage and coordinate those outreach efforts. This past fall, for example, we launched chiasmos, a Web resource. We are also proud of our World Beyond the Headlines lecture series, cosponsored with International House and the Chicago Council for Global Affairs. Podcasts of outreach and academic events reach a wide audience: Wired magazine recently named the CIS's Web site one of its top three academic podcast sites.
FEDERAL GRANTS HELP: We are pleased to have been named one of nine National Resource Centers for international studies in 2006. These four-year grants are very competitive; not only is there a financial benefit, but NRC status also gives us a more credible role in national debates about international research and education. I serve as the University's senior international officer in the Committee on Institutional Cooperation consortium of Big 10 universities and the U of C, and I also attend the national meetings of NRC directors, a group that closely monitors federal policies and funding and lobbies lawmakers on issues relating to language training and education.
GLOBAL INTERNSHIPS: The Human Rights Internship Program connects both undergraduates and graduate students with nongovernmental organizations, government agencies, and international organizations on human-rights issues. This summer we'll be sending graduate students to Cambodia to work on issues of gender-based violence and Namibia to work with UNICEF on a violence-prevention program. Undergraduates will do internships on HIV prevention and education in South Africa, labor rights in China, and women's rights in Pakistan, among others.
TORTURE AT HOME: Human Rights Program and CIS faculty, students, and staff have worked for the past two years with lawyers and community activists to create the Chicago Police Torture Archive, which documents the systemic torture of African American men and women by Chicago police officers between 1972 and 1991. The Web site archive (humanrights.uchicago.edu/chicagotorture) is an ongoing project, and our program continues to work with the Chicago Committee Against Police Torture to investigate how international human-rights mechanisms can bring greater world and local attention to these cases.
ANTICIPATING THREAT: The CIS and Argonne Joint Threat Anticipation Center supports research on national-security threats and investigates the value of computational social-science models for understanding national-security issues. The center helps broker relations between computational modelers at Argonne and social-science and area-studies experts at Chicago. We've also supported the training of several political-science graduate students in agent-based modeling. One unanticipated consequence of this program is that my Argonne codirector, Chick Macal, and I spend some time in Washington trying to convince government decision-makers of the importance of understanding history, culture, language, and religion in thinking about national security.
LET'S TALK TRENDS: Anything to do with the contemporary Middle East is in demand these days—Arabic-language enrollment has mushroomed, as has interest in the Middle East MA program. New areas of interest have emerged, like Central Asia. The center coordinates a relatively new Committee on Central Eurasia, headed by Professor John Woods. We've been successful in getting our area centers to work together to support languages such as Khazak, Uzbek, and others that cross traditionally de--fined regions. The world is a changing place, so it's probably a good idea not to get too attached to our existing divisions of space.
PROPS FOR U OF C: In Foreign Policy's March–April/07 lists of international-relations departments, Chicago ranked as the seventh-best undergraduate program. This speaks to the strength of our BA program, run by Jim Hevia, PhD'86. One exciting development is our new winter-quarter international-studies program at the Chicago Paris Center, where students can work with French students and professors and, in particular, engage with UNESCO staff in addressing areas of international interest. [Chicago also ranked fifth-best PhD and 12th-best master's, programs CIS doesn't run.]
MISSION MORRISON: I spent many years studying agricultural and environmental change in southern India between about 1300 and 1600 CE. Now I have new excavation project in India, where we are investigating the beginnings of large-scale rice agriculture and its relationship to new forms of institutionalized inequality, urbanism, and religious change. I plan to be in the field again next year, excavating a site called Kadebakele.