Taking to the stage, students tackle race and a ravaged mind.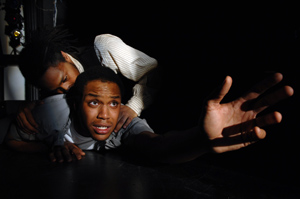 Actors Osiris Khepera (front) and Aaron Rodriguez grapple with a Vietnam veteran's terrifying memories.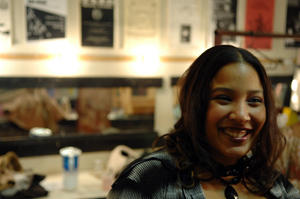 Playwright Kristiana Colón hangs backstage on preview night.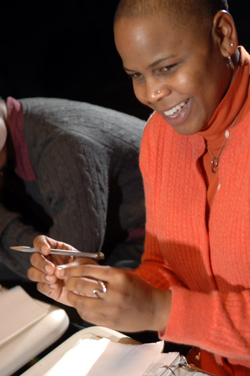 Director Tiffany Trent leads the table read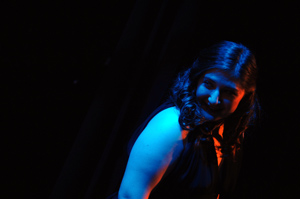 Tamara Silverleaf brings humor to the controversial genevieve.


Makeup ages Aaron Rodriguez (drummond) and Jacob Marshall (marshall).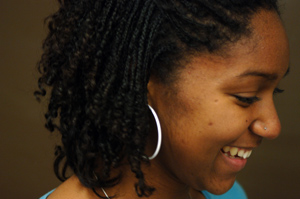 E'lana Jordan plays crystal.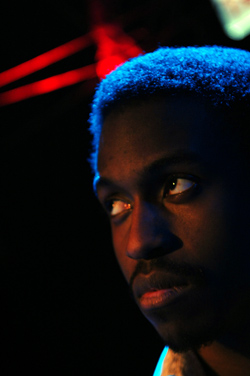 Jamil Barton as marvin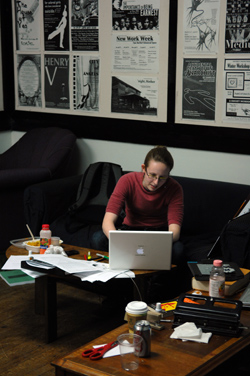 Stage manager Katherine Greenleaf finalizes cues.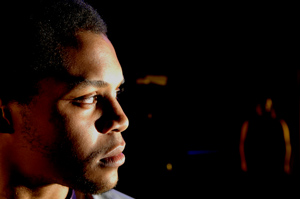 Khepera explores beau willie's mind.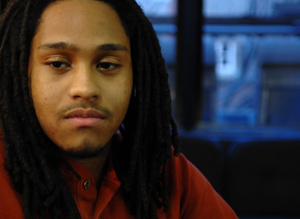 Rodriguez preps backstage.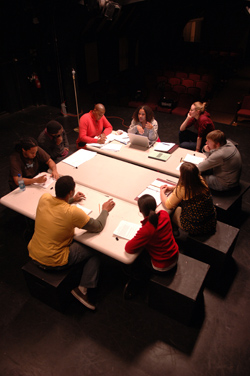 Trent, Colón (behind her ever-present laptop), and the cast discuss the play at an early table read.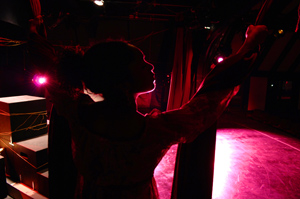 Actress E'lana Jordan (crystal) stands in the window where the children fell to their deaths.
A rusty radiator spews heat into the 137-seat theater. Osiris Khepera dives into a forward lunge, then springs into a one-arm side balance. February wind whips through the open windows but fails to cool the stage. Sweat splatters as Khepera jumps back up to his feet. Suddenly his face goes dark; the spotlight appears five seconds too late. With a line of 50-plus theatergoers snaking up the staircase to the Francis X. Kinahan Third Floor Theater —and six minutes until doors open—it's an unacceptable glitch.
"Run the dance again," yells stage manager Katherine Greenleaf, '09, from the back of the house.
"The whole thing?" asks Khepera, eyes wide. Greenleaf nods; Khepera curses. The show's director, Tiffany Trent, AB'91, intervenes, proposing a slower walk-through version to let the actor catch his breath. (A U of C lecturer who has directed at Chicago Dramatists, Pegasus Players, and other local theaters, Trent is an expert at defusing tension when a cast gets edgy.) Greenleaf agrees and then races down the aisles, doing a last sweep for stray papers and soda bottles. After the production team tweaks the light cue, Trent teaches the cast their bows and they scurry backstage.
"I hear my mother," says playwright Kristiana Colón, as a woman's laugh rings out just beyond the theater door. For the first time since rehearsals began six weeks ago, Colón is without her laptop. For her the script is still a work in progress, but there will be no edits tonight. Decked out in a black sleeveless dress, she's only here to watch.
"Kristiana, you're making the room tense," says assistant director Naima Booker, seated a few rows back.
"Do I look less than calm to you?" laughs Colón.
"I can feel it, baby," says Booker. Fidgeting with the program, Colón smiles. After all, this show almost didn't happen.
Colón doesn't usually sit in the audience. A Chicago native who's spent summer breaks touring the U.S. and abroad doing performance poetry, she's opened for Grammy-winning Latin rock band Ozomatli and in 2005 competed on HBO's Def Poetry Jam. That same year she released a spoken-word CD titled Who Haunts Eden. Tonight's show, but i cd only whisper, is her first stab at playwriting.
The script started in 2003 as a biographical poem about beau willie brown, a character from Ntozake Shange's play for colored girls who have considered suicide/when the rainbow is enuf. When the piece hit seven minutes—nearly twice the length of an open-mike slot—Colón set it aside. The poem sat on her hard drive until fall 2004, when she decided to put beau in a room with a criminal psychologist. Monologue became dialogue, and two years later, after playwriting classes at the U of C and Chicago Dramatists, Colón had a script in hand.
She asked Trent, who taught her Drama 101 course, to read it, then enlisted her to direct the production. In October University Theater (UT) http://ut.uchicago.edu/index.shtml did a concert reading of the play, a one-night affair with minimal rehearsal.
Tonight Trent sits in the seventh row. "I hope my scribbling doesn't bother you," she says to the young woman on her left. She's trying to pretend it's just another rehearsal. It's actually free-ticket night; the real opening comes tomorrow. Unlike some of the more than 30 shows she's directed, there haven't been any 11th-hour catastrophes: no tardy actors, imploding sets, or emotional outbursts. With five minutes to go, nearly every seat in the theater is filled. "Should I sit or stand, sit or stand?" she asks Booker. Still sitting, Trent taps a pen against her notebook as the houselights dim.
"I need your blackness," pleaded the e-mail that popped up in fourth-year Jamil Barton's in-box this January. Across campus, first-year Aaron Rodriguez opened the same message. University Theater was putting on a show with three black male roles, but only one black student—a female—had shown up for auditions earlier that day. Within hours Colón had e-mailed every black man on campus she'd ever met, plus several she hadn't. Back in October she had beaten out three other contenders for a winter-quarter show slot. The proposal process had included one-on-one interviews with UT committee members and a public Q&A. Telling the story of Vietnam veteran beau, her script addressed the stigmatization of mental illness in the black community. The production, says UT director Heidi Coleman , also meshed perfectly with the organization's theory-meets-practice, cocurricular approach, pairing promising writing with a seasoned director and presenting an exciting challenge for the design team, who would have to replicate the play's abstract world. Yet if no one responded to this e-mail, Colón's "play for black men" would have to be cast with black women—or reinvented entirely.
Reading the e-mail, Rodriguez deliberated. He'd attended a performing-arts middle school in Milwaukee, but then his family moved to Nashville. At his new school he got roped into playing a little angel in a Christmas production that, he says, "nearly killed legitimate theater." He hadn't returned to the stage since.
Barton had never set foot on one.
"He has dropped his children out of the window, and they are dead." Nervous laughter trickles through the group as Trent introduces the play's main character, beau willie brown. It's the second round of auditions, two days after Colón's impassioned missive; Rodriguez, Barton, and a dozen others, auditioning for both male and female roles, sit in the third-floor theater. Trent finishes explaining what will become known as "baby-drop day" and invites the actors on stage, shoes off. She turns up the volume of a New Age instrumental playing on her computer. With stage directions requiring beau to metaphorically "die in the moment of realization" at the play's finale, she needs to see who can move.
As Trent leads the warm-up, actor Osiris Khepera stands out immediately. "Every part of you is brand new, every limb," she instructs the auditioners. "Find the one you respond to most and let it lift you." While a few actors shove hands in pockets, Khepera contorts his body into a ball, then extends his hands slowly, swaying with the music. A professional actor with ballet training, he met Colón on Chicago's performance-poetry circuit and played beau in the UT reading of whisper. She'd invited him to audition but wasn't sure he'd be willing to commit a month and a half of rehearsal time to a university production. He has credits from Victory Gardens, Pegasus Players, and other local theaters, but beau willie brown is a role that intrigues him—misunderstood, confused, and "maniacally insane"—even if taking the gig means no pay and working with student actors.
After ten minutes of movement exercises, Trent ushers the auditioners out of the theater; they're called back in pairs to read. "That was dry," says assistant director Booker after one couple stumbles through a romance scene between crystal, the mother of beau's two children, and beau's friend marvin. Trent sighs. "That was so dry." Next Khepera reads for beau with Rodriguez playing drummond, a black criminal psychologist. As Rodriguez nails drummond's frustration and Khepera beau's bemusement, Trent shoots Colón a silent thumbs-up. Two roles down, four to go.
Though he's never acted before, fourth-year Barton quickly captures the character marvin's jaded sensitivity. "Check out the board tomorrow," Trent encourages him as he leaves the theater. Relieved to have found their men, Trent, Booker, and Colón discuss the two women's roles. Fourth-year E'lana Jordan, a UT veteran, is the favorite for crystal. She's got dance experience, a plus for the movement scene depicting her relationship with beau. Picking genevieve, beau's white mistress, isn't so easy. Seven actresses, many with theater experience, audition and give solid readings. Still, points out Colón, only first-year Tamara Silverleaf, a self-described theater nut with a sincere smile, makes the foul-mouthed character likeable. The next day her name, along with the rest of the cast, is posted on the UT announcement board in the Reynolds Club.
At the first rehearsal in the third-floor theater, Trent preps her actors for the worst. "We're going to say things that are offensive. ... We risk having our emotional responses to what this show has to say," she cautions, peering at Khepera, Rodriguez, Barton, Jordan, Silverleaf, and Jacob Marshall, '09, who, coincidentally, plays marshall, beau's army sergeant. "They say the n-word a lot," warns Trent. Colón, seated with them at a block of large tables on stage, knows it's not easy material, but her play means to offend. As an artist, she says later, her job is to make people uncomfortable. Today she types quietly on her laptop as Trent tries to put the cast at ease.
No sooner do they get to page three of the script when Rodriguez raises one of those sensitive issues. How concerned, he wonders, is drummond about how whites perceive him? A criminal psychologist, he must determine whether beau is fit to stand trial. At first Colón sidesteps the question, insisting she doesn't want to step on Rodriguez's impulses as an actor. Trent ventures that although drummond works in a predominantly white profession, he might have a black-militant streak. Colón disagrees and finally speaks up. "That actually really contradicts who I imagined drummond to be," she says. "For me, he really is an assimilationist."
"Glad you cleared that up," says Khepera. "I was going to say something less nice."
"You were going to call him an Uncle Tom sellout?" guesses Trent.
"Yeah."
"That's OK," she nods. "We can say that in here."
It's not the only race issue to crop up. Later that night, Khepera asks about beau and crystal's relationship. He was 20, she was 13 when they started dating, explains Colón; it's a neighborhood where girls grow up fast. At a later rehearsal, Trent fears Khepera's twitches depicting beau's heroin withdrawal reflect some of the "animalistic" ways black people have been portrayed in the past. For her role Silverleaf must overcome an initial revulsion toward genevieve, a character who spouts some of the play's most offensive lines: "Besides you know how these colored women can be / not a care in the world except for money and whats between a man's legs," genevieve tells detectives as she tries to pin the children's deaths on crystal. She's not malicious, Silverleaf reminds herself again and again. "She just grew up in a very different environment than I did." The mantra works. During the rehearsal process, the character gets progressively funnier, says Trent, as Silverleaf plays up genevieve's flip-flops between mouthing outrageous racial slurs and invoking Martin Luther King Jr.'s plea for, as the character puts it, "peace and understanding."
Such levity helps the cast push through the script. Botching his lines one night, Barton, as marvin, informs beau that crystal's been hanging around with "some slick cat look like he mixed up with the Pink Panthers." Khepera and Trent burst out laughing. "I'm writing that script in my head," says Khepera. For the rest of the evening, Barton can't say the Black Panthers line with a straight face.
As the cast rehearses, set designer Drew Dir, '07, constructs the inside of beau's head. Dubbed a "curtains and cubes," the UT term for a show in between workshop and mainstage, the production must work with minimal set elements. Black cubes serve as drummond's office chairs, interrogation seats, and even beau and genevieve's bed. As beau jumps back and forth in time, revisiting his early relationship with crystal, his trysts with genevieve, and his tour of duty in Vietnam, the stage transforms from apartment to office to Southeast Asia. At each front corner of the stage sits another black cube where marvin, crystal, genevieve, marshall, and drummond step into a spotlight for their police interrogations.
To conjure beau's memory, the set blurs the line between reality and fantasy. Stringing silver twine between columns of red curtains, Dir evokes the Vietnamese jungle, urban power lines, and cranial nerves. Aesthetics aren't the only consideration; the set must also be actor-proofed. When Khepera moves around the stage in the final scene, grabbing at curtains, twisting the wires in his hands, every stitch and nail must hold tight.
Halfway through rehearsals, with the show less than three weeks away, Jordan struggles with crystal's window scene. Marked by two hanging curtains, it's where her character's children plummeted to their deaths. Trent sets the scene: "You see the window. It jumps at you and frightens you." Jordan looks up, uncertain. "Play with it," urges Trent. The window, argues Colón, is also where crystal finds her freedom. Paired with beau since she was 13, crystal has never had a life of her own. Now that beau's detained in prison and the children are gone, she can finally breathe. Having that space alone, explains Trent, is what keeps crystal from "rolling on the floor and calling to Jesus." Her only show of grief is a single wail.
"It's just me," says Jordan. "I don't wail. I don't yell." Part voice coach, part therapist, Trent has the actress take deep breaths and exhale on an "ah" sound. It's normal, she reassures her as they repeat the exercise several times, to find wailing difficult. "Babies just cry and scream and wail, and they don't get a headache. We get a headache," she says. "Pretend you're yelling to a friend across the quad." By the fifth try, Jordan's "ah" fills the room. On the sixth, she falls to her knees with a haunting lament.
Colón knows her decision to contain crystal's grief to this one moment has been controversial. Attendees at last October's reading found the mother's apparent detachment troubling. After the wail, the scene continues with three more pages of dialogue between crystal and marvin, drawing the audience away from crystal's grief with a discussion of beau's affair with genevieve. A few days after Jordan perfects the scream, Colón cuts the ensuing dialogue. It was overkill, she decides, trying too hard to convince the audience why crystal doesn't spend the entire play in mourning. The scene now ends with the wail.
As Act One closes on preview night, sound designer Catharine Kollros, '07, rushes over to Trent, who has been jotting notes from her audience seat. The jazz snippet marking beau and genevieve's first meeting came up too loud, and the music slated for the act's final scene never played. "The lines were perfect," says Kollros, shaking her head; someone up in the booth missed a cue. Trent debates whether to mention it to the tech team but decides against it. No sense in making them more nervous mid-show. She plans to give the cast and crew notes afterward.
The audience doesn't seem to have noticed the error. Gasping in the expected places, like genevieve's racial invectives, crowd members also laugh at lines no one anticipated. "I think some of them forgot crystal was 13," says dramaturg and English doctoral student Kalisha Buckhanon http://www.kalisha.com/, AB'99, referring to a scene where crystal reveals her sexual naiveté when she first kisses beau. Audiences are always rowdier on free-ticket night, adds Kollros, who has been through four years of UT shows. Whatever the misunderstandings, they don't end up hurting the reviews; the Maroon http://maroon.uchicago.edu/online_edition/ lauds the play's "intense and realistic dialogue" and "outstanding acting," and after each show Colón's fans gush about the script.
The four-day run will soon be over. In May Colón must turn in a revised script, along with an essay about the production process, as her English BA project. By fall she hopes to start an MFA writing program in Chicago or elsewhere, and shop whisper around to local theaters. Trent will finish teaching her winter Drama 101 and directing courses, work with Chicago high schoolers on three theater-outreach projects, and direct a show at the South Side's eta >Creative Arts Foundation. One day after whisper's close, Khepera starts rehearsals for The Ash Girl, a children's play at Chicago's Vittum Theater http://www.vittumtheater.org/index.html. Silverleaf, Marshall, and Rodriguez—his bad high-school theater experience forgotten—all plan to be back on UT's stages next year. Come spring, Barton and Jordan graduate; he'll consult at Towers Perrin and she hopes to have a job by then too.
Yet tonight, as the lights come up for Act Two, tomorrow doesn't matter. "You ever seen a piece of crystal? A real one?" asks beau, stepping to the front of the stage. "Take pieces of light / all kinds / take a piece from the sun / from the street light / take a piece from the match i use to light a square / yeah it take some from the liquor store sign n even from the pigs siren / crystal take all kindsa pieces of light / the pretty and the ugly kinds / take it inside / n put out a rainbow." His nostalgia grows violent, his mind muddled with the horrors of Vietnam—and memories of how his crystal couldn't fix his splintered pieces—as he flings both arms into the air.
The theater's radiator pipes start to pop and sputter, lending an eerie sound cue to beau's monologue. Minutes later, crystal's wail pierces the space and mingles with the wind knocking against the theater windows. The yellow lights melt into a deep red as beau drags the audience to the cusp of his nightmare realization. "He kicked the screen outta the window / & held the kids offa the sill," recounts crystal, her voice monotone, eyes blank.
"Tell me its gonna be alright daddy," beau says, his breath speeding up as he remembers, for the first time, his daughter naomi's plea. As he wakes to his crime—the letting go, the drop from the window, the children dead—beau's denial, maintained until this moment, shatters. Hidden in the stage's darkness, crystal cannot save him as he crashes to the ground with screams of grief. As lights fade to black, the wind tapers outside; beau's low moans lie heavy in the silent theater.
"No manicured news anchor will bring this to your living room with red lips twisted in well-rehearsed concern," concludes psychologist drummond as he types up his final report on beau. "This is the story that bleeds in the dark." Behind him beau appears and, without a sound, dances through his horrific awakening over and over.
"He is destroyed only to be destroyed again, with no relief," reads the stage direction. The light chases beau as he crosses the stage, grasping in vain at the wires, the curtains, and the lives he snuffed out. He freezes and stares into the audience. Gone are the boisterous monologues, the careless smile; his face turns to stone. As the radiator lets out a final shriek, the stage lights fall, and beau's nightmare evaporates into a standing ovation.