Artist Stephanie Bacon copes with data overload through collage.
A 2002 University of California study estimated that the amount of information available in print, film, and other storage media had increased by five exabytes in the past year. That's roughly equivalent to the Library of Congress's 17-million-book stockpile—multiplied by 37,000. Electronic information delivered via phone, radio, TV, and Internet totaled 18 exabytes, more than three times the print-film-storage media rate. To grapple with the information onslaught, says artist Stephanie Bacon, AB'87, people necessarily filter out data they deem irrelevant to their daily lives. She hopes to shed light on the neglected.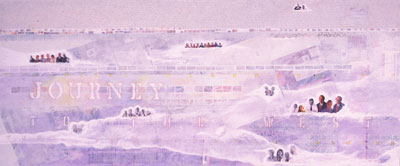 Bacon's Journey to the West, a 4'x10' collage, explores
the notion of a career-oriented hemisphere.
"We are perpetually surrounded by multiple simultaneous streams of language which we do not read," says Bacon, a typography specialist whose work has been exhibited around the country. From large-scale collages to foreign-language prints, the Boise State University associate professor draws attention to text's visual form—and its ignored information—by playing with viewers' expectations.
In 2001, for example, Bacon tackled the idea of Internet "overwhelment" by combining her graphic-design students' lecture notes and Web printouts—text rarely viewed as visual art—into an 18-foot-long collage titled Dark Continent. Assigned to mock up a prototype for a unified African currency, students unearthed plenty of isolated facts about African nations, says Bacon, but little that gave a sense of the continent's cultural diversity. While students searched for more in-depth information, she pasted excerpts from their findings in rows alongside photographs, fabric, and drawings, producing the first in her six-collage collection of ten- to 18-foot pieces.
The collage was a contemporary turn for Bacon, who, after earning her MFA at Brooklyn College in 1994, painted variations on works by Flemish artists such as Rogier van der Weyden. She describes the project as "a strange adaptation of Renaissance art" that played with historical styles. A group of figures in a landscape that, at first glance, seemed to depict a familiar story like the homecoming of Odysseus or the journey of the three Magi would, on closer examination, prove too vague for that particular narrative. The work, says Bacon, was "all about evasion...evoking a story you feel you should know but you don't."
Then 9/11 hit. Doing "ahistorical" work no longer seemed appropriate. Moving house shortly afterward, Bacon found herself packing up articles, letters, and other clippings that prompted her to think about the contemporary flood of information.
Her conclusions often focus on the political ramifications of ignoring certain texts. In addition to a self-professed "ecological agenda"—the handmade paper she creates incorporates scraps of plastic, hair, and other refuse—she sees dangerous implications in information overload. "People have a tendency to ignore information that they feel they can't do anything about," says Bacon, who believes the nation is in a time of political crisis.
Her current project grapples with the controversy over Guantánamo Bay prisoners. Last year several news sources announced that the government would publicly release names of those being held. Yet when Bacon tried to track down the list, her requests to government officials went unanswered. "The prisoners' names were made public, but what does this mean?" asks the artist, who finally located the roster through a public-advocacy organization. "Does it make a difference to have this information?" It's a question she hopes her next collage will force viewers to consider.