Work in progress
Whether stocking shelves, guarding artwork, or pouring java, student employees keep the campus machinery rolling. Photographer Lloyd DeGrane stakes out undergrad staffers in situ.
Fourth-years Andrew Miragliotta and Ashley Bourne watch out for swimmers as Ratner Pool lifeguards.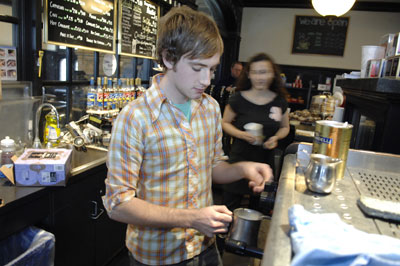 "Besides serving, we're also DJs; we set the music mood here," says barista Neal Curley, '09, mixing a coffee at Hallowed Grounds on the Reynolds Club's second floor.
In the Regenstein Library stacks, Gwen Smuda, '09, pulls books for interlibrary loan.
Cara Clifford, '07, keeps paintings, sculptures, and other artwork safe as a Smart Museum guard.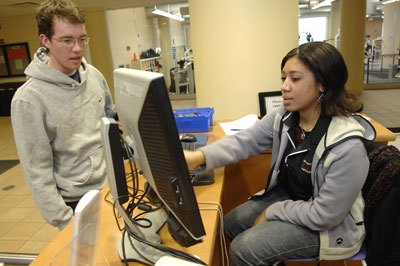 As a veteran visitor-control attendant at Ratner—she's been doing this job for three years—Tsunami Turner, '08, mans check-in and sells memberships.