It turns out undergraduates will get to spend another year in the Shoreland. In April the University renewed its lease with Chicago-based developer Kenard Corp., which bought the 689-bed former hotel overlooking Promontory Point in 2004. The renewal gives the University more time to complete the residence hall under construction at 60th and Ellis. Originally a "fast-track project"—designed and built simultaneously—the new dorm was to open in stages, with 685 beds ready in August 2008, replacing those in the Shoreland, and the rest following later that year. Now former Shoreland students, first-years, and other undergraduates all will arrive in September 2009.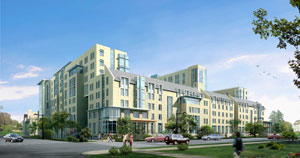 An updated artist's rendering shows the new dorm from 61st and Ellis. The complex is divided into eight houses.
Spiraling construction costs forced the University to revise its plan for the new dorm, originally intended to house 885 students. By fall 2006 projections had risen above $165 million, well over the $125 million budget trustees had approved in October 2005. While price escalators are factored into every major building project, according to Vice President of Strategic Initiatives David Greene, "construction costs have gone up dramatically in the past few years." The city of Chicago, Greene says, presents "the added challenge of a very active construction market that, in the short term at least, raises labor costs and limits the number of companies available to bid on construction packages."
To rein in the finances, a team of construction managers, students, engineering-firm consultants, staffers from the Dean of Students and Residential Life offices, and architects from Boston-based firm Goody Clancy met in late fall to review hundreds of budget items. Their goal was to ensure that "the amount projected over $125 million would be both necessary and affordable," says Cheryl Gutman, deputy dean of students in the University for housing, dining, and transportation. In April the trustees approved a new budget of $165 million.
Even with the increased budget, the building needed to be scaled down. Both Gutman and Greene say the team's main concern was making sure the dorm could retain a significant number of beds. "Students prefer to live closer to the center of campus," says Gutman, and the College doesn't "have enough housing situated near the center," a problem administrators hope this dorm will partially solve. Initial plans called for the 885 beds to be divided into nine houses—students united under a resident head and assistant—and a 14-story central tower flanked by two eight-floor towers to the east and west. The revised plan drops five floors from the center tower and keeps 812 beds and eight houses. Architects avoided greater bed loss, Greene says, by turning some of the common areas into bedrooms.
Budget constraints led to other, smaller changes. A planned late-night eatery has become a convenience store. A central USITE computer facility was axed. Talks with a student advisory committee, with representatives from Inter-House Council, Student Government, and Green Campus Initiative, revealed that students prefer computers scattered around a residence, particularly in house lounges, rather than concentrated in one space, says Greene.
Construction began on the as-yet-unnamed dorm in summer 2006. By this past May crews had poured concrete for five floors of the west tower. Passersby could almost envision the coming residence in the once-barren lot. Every house, composed of undergrads on four stories, centers around a two-floor lounge. In response to student requests for lots of sunlight, the dorm has many windows, a glassed-in communal library, and two central courtyards. Also in response to student requests, rooms are different shapes and sizes, featuring greater variety than those in Max Palevsky: singles, doubles, and four-person suites with kitchens and bathrooms—not unlike the Shoreland. The University won't exceed the $165 million budget, Greene says, but "we should be able to get a great building for that price."