Amid journal shifts and staff changes, a new director takes over the U of C Press.
The University of Chicago Press's new director, Garrett P. Kiely, arrives September 1 amid much change. Besides former director Paula Barker Duffy stepping down June 30 after seven years, this past spring the American Astronomical Society announced that after more than 100 years at Chicago's press, it was moving its two journals and a supplement to a new publisher.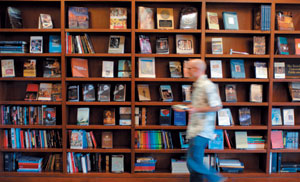 Publicity Manager Levi Stahl scans Press books. Kiely joins the office in September.
Yet even with the 40 employees the Press will lose when those journals finish their transition in November 2008, decreasing its staff to about 310, Chicago remains the nation's largest academic press in terms of revenue, bringing in $61 million in 2006–07. It's also one of the most influential, leading in distribution and technological innovations. As the publishing industry faces challenges such as digital media and other advances, open access to texts versus commercial models, one of Kiely's goals, he says, is to "keep that dialogue open" among publishers "and keep Chicago as a leading voice in those discussions."
An academic publishing veteran, Kiely spent more than 20 years in New York at Palgrave Macmillan, formerly St. Martin's Press Scholarly and Reference Division. As president there for eight years, in 2000 he oversaw St. Martin's merger with the UK's Macmillan Press. Earlier he served as U.S. publisher of the Encarta World Dictionary and president of Grove Dictionaries.
Chicago, Kiely notes, was a founding member of the Association of American University Presses, and he plans to continue working with "colleagues of the university-press world." At a time when production costs seem to dominate industry discussions, he hopes not to "lose sight of the real value of a university press. I've been approached already by many of my now-colleagues," he says, "who are passionate about that: that libraries, for example, understand what university presses do, how connections with the academy are our lifeblood. We have to make sure that we lead, whether in technology areas or taking stands on copyright and other important issues of the day."
Such leadership was important to the search committee that selected Kiely. "Every book and journal that has 'The University of Chicago Press' on its spine is an ambassador of the University," says Martha Roth, dean of the Humanities Division and chair of the committee, which included members of the faculty, the Press, the library, and the Board of Trustees. They sought "a steward of the mission of the Press," Roth says, "and an outstanding administrator and leader for a complex business." As Roth told the Chronicle of Higher Education in its August 17 issue, "We want a unifier...someone who will integrate the different units while understanding that they operate in different business worlds and have different priorities."
Those three units—the books division, the journals division, and the Chicago Distribution Center—have all attempted to keep up with innovations. The distribution center, which the Press opened in 1991 to warehouse its titles, is now one of the largest distributors of academic and scholarly books with 59 client presses. The center oversees BiblioVault, which Chicago began in 2001 with a grant from the Andrew W. Mellon Foundation. BibioVault has digitized 14,000 book titles for more than 50 presses, says Chris Heiser, the Press's interim director, to allow for short-run digital printing or other Web uses.
The books division, meanwhile, plans to expand its digital-media group, Heiser says, "to support both electronic marketing and electronic content delivery." In partnership with Amazon BookSurge's print-on-demand offering, for instance, the Press will scan out-of-print books to make them available in either electronic or print form. Other digital innovations include the online Chicago Manual of Style. The searchable site launched last year and adds new features in September, Heiser says, so editors can "create annotations to the Manual, develop style sheets, and collaborate with others, all within an online work environment."
In the journals division, the astronomy society's move was ultimately a financial decision, but the process began when the Press sought to update its peer-review and electronic-hosting abilities. Because the two publications made up 25 percent of the journals staff, the Press had developed customized software for them: "we did a lot of in-house work," Heiser says, creating and managing a system to electronically send out manuscripts for peer review, and then to electronicaly host the journals.
"Over time," he says, the software "was less transferable to other journals," so in spring 2006 the Press decided to outsource those functions, for all of its 40-plus journals, to Atypon Systems by this September. The American Astronomical Society wanted to keep the systems in-house, and after soliciting bids announced in April its move to the British-based Institute of Physics. The nonprofit institute, says Chicago's journals-division manager, Nawin Gupta, "could provide the same services at a lower price than the U of C Press could offer." The Press, Gupta says, was "saddened by the decision, especially because it affects the livelihood of 40 people," and is helping to find those workers new jobs.
During Kiely's interview process, about a week after the society's announcement, he heard "many times how gut-wrenching" the loss was. "We have to evaluate what happened with those journals, see what factors were involved there, and learn from it." Meanwhile, Gupta points out, in July the Press began publishing the 38-year-old American Historical Review and the new Journal of Human Capital, run by the University.
Despite competition from commercial presses and some nonprofits, Kiely remains optimistic about the journals division's—and the Press's—future. "One of the key appeals" of a university versus a commercial press, he says, is "the mission to disseminate information as widely as possible in a cost-effective way, and to maintain connections to the academy. We have to stress to [academic] societies the inherent importance of what a university press does, what it's about." Reins handed over, Kiely has his chance.