In late July several hundred Hyde Park community members gathered at International House to hear plans for a combined Marriott Hotel and Fairfield Inn and Suites, which would replace the vacant Doctors Hospital at 58th Street and Stony Island Avenue. Fifth Ward Alderman Leslie Hairston, U-High'79, and University Vice President of Community and Government Affairs Hank Webber hosted the meeting, which featured speakers from the University Medical Center, proposed hotel operator White Lodging Services, and architecture firm HOK.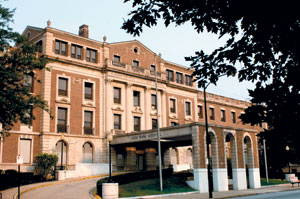 Doctors Hospital, at 58th and Stony Island, will be razed to make room for two hotels.
At a foreclosure sale in September 2006, the University purchased the abandoned hospital for $10.1 million. Administrators expect to lease the space for an undisclosed amount into the foreseeable future. The hotel will sit on a portion of the lot, and the University will hold the remainder for possible later use.
At the community meeting Harvey Golomb, AB'64, chief medical officer at the U of C Medical Center, explained that the need for a local hotel stemmed largely from the center's prominence. Noting that the medical center has again landed on U.S. News & World Report's Best Hospitals honor roll, Golomb said that families "who come from 50 foreign countries and all 50 states...need a place to sleep while their loved ones are getting treatment at the hospital."
Besides offering a place to sleep, the 250-unit Marriott and 130-unit Fairfield Inn will have a ballroom, conference rooms, gym, pool, coffee shop, and two restaurants. The current design proposes 15 stories, though that number may change.
The question-and-answer session revealed some community concerns. Jonathan Fine, president of Preservation Chicago, a nonprofit organization committed to protecting historic buildings, criticized panel members for "presenting a precast concrete replacement" for Doctors Hospital. The City of Chicago's 1995 Historic Resources Survey found that the hospital, built by the Chicago firm Schmidt, Garden, and Martin for the Illinois Central Railroad in 1914, "possesses some architectural feature or historical association that made [it] potentially significant" to Hyde Park. Fine urged the decision-makers to consider the building's historical importance and "the waste of taking a perfectly good building and dumping it into a landfill."
July's meeting was a first step toward developing a viable plan for the community, Webber said in his opening remarks. In an interview three weeks later, Associate Vice President for Community and Government Affairs Susan Campbell noted, "[White Lodging Services] is still responding to public concerns about the project and is continuing to work on improving the design."
Planners will hold another public meeting this fall. Construction is tentatively expected to begin in spring 2008 and conclude in fall 2009, although, Campbell noted, "we have to get through the public process first."