Presentation day finally came for high-school juniors and seniors in GSB Professor Waverly Deutsch's summer course, Elements of Entrepreneurship. On July 30 the five teams of four students distilled two weeks of classes, business-plan revisions, PowerPoint slides, 30-second commercials, and interviews into five-minute presentations before ten Goldman Sachs employees and a crowd of 40 well-wishers. Rather than millions in start-up capital, laptops would go to the team with the best business plan in the Collegiate Scholars Program (CSP) course.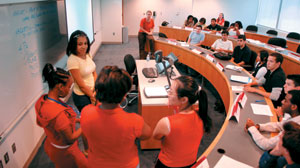 The Skills to Succeed team practices its presentation in Deutsch's summer class.
A rising junior at North Lawndale Preparatory High School, Crystal Adams began by recounting her unemployment over the past two summers, despite having applied for several jobs. Her team's nonprofit organization, Skills To Succeed, would teach basic clerical skills and grant credentials to the chronically unemployed inner-city youth of Chicago's West Side, where Adams lives.
In two weeks Adams worked harder than ever before: "Two hours before [the presentation] I was practicing," she recounted. "I was really nervous. But standing up there, because I am passionate about the idea, it made me less nervous because it is something that I already know and I want to do. It was really great."
Although so timid at first that she was afraid of Deutsch's booming lectures, Adams impressed both the audience and judges at the presentation. "When she first came here she could hardly speak up, and now, wow," Deutsch noted after the presentation. "Crystal is like a different person."
The University began the Collegiate Scholars Program in 2003 to prepare promising students in the Chicago Public Schools for study at the nation's top colleges and universities. The three-year program provides academic advising and enrichment activities, including summer classes at the College, for its participants. When Goldman Sachs approached the program about an entrepreneurship course in 2005, director Kim Ransom saw a match.
The course combines two of the Goldman Sachs Foundation's programming goals—cultivating gifted youth and promoting entrepreneurship education—with Ransom's goal of paying Collegiate Scholars to study at the University as if it were a summer job. Entrepreneurship students earned a stipend of $10 per hour for attending the 9 a.m.–4 p.m. course five days a week. Admission is decided by an applicant's merit, personal background, and financial need—for example, seven of the 20 students receive free or reduced lunch during the school year, a common measure of poverty for public-school students.
Ransom wants the students to have an opportunity to succeed, something she did not always have growing up. "When I was their age I might have heard about an MBA right alongside the NBA, I guess, but I didn't know really what that was," she said. "I try and do everything possible that I would do for my kid or that I would have wanted done for me."
This summer, treating the students as her own kids included "fighting with" Collegiate Scholar and rising Whitney Young senior Shareef McDonald, Ransom said. McDonald came to her office determined to lighten his summer-course load to make room for jobs selling hot dogs at the Taste of Chicago and working for the Chicago Park District. Instead, Ransom encouraged McDonald to apply to the entrepreneurship course.
His initial reaction was subdued, Ransom said, but once he learned about the stipend and attended the course orientation July 12, "he came up to me and said, 'Ms. Ransom, I gotta shake your hand. This is the best opportunity, and I'm going to do my very best,' and on and on and on. He shook my hand like five times."
Outgoing and a natural entrepreneur, McDonald has "always had a passion for business," he said. "I have always sold things on my own. I went from selling shoes in school to candy in school to throwing parties." He hopes to attend a top college and eventually found his own law firm.
For its Goldman Sachs presentation, McDonald's team proposed Sweet Creations, a dessert bar on 53rd Street and Cornell Avenue. The team argued that Hyde Park's relatively well-to-do and University populations were underserved by the current sparse dessert offerings. Sweet Creations's specially made chocolate bowls would, according to the slogan, "indulge the sweet tooth's ultimate desire." The team began its presentation by giving the judges such bowls filled with ice cream and covered in rainbow sprinkles.
Despite the competition from Sweet Creations, an organic restaurant, a sports league, and a recycling business, Skills to Succeed carried the day. Adams and her teammates each won new Hewlett-Packard laptops. It was her family's first computer. "Crystal now has the skills to succeed," Deutsch said after distributing the prizes. "She just came a million miles in two weeks."