Tradition, Tradition!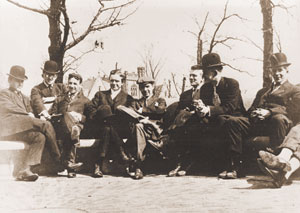 It could be the bitter Chicago winters, or that Chicago students are too wrapped up in books, but the mortality rate for University traditions is high.
Historically, Chicago's homegrown traditions have become endangered species. The "C" Bench outside Cobb Hall, for example, was once an exclusive spot, restricted to varsity lettermen (at right) and their dates. That custom, invented for the Class of 1903 gift, fell into disregard in the 1960s.
Social events meet their maker at Chicago as well. Washington Promenade, a dance held on George's birthday, began in 1893 with a social and speeches making light of scholarly seminars. Dropping the parody but retaining the ball, the prom thrived from 1894 until 1970, killed by lack of interest. Its more ribald successor, the Lascivious Costume Ball, a blend of irreverent debauchery and nudism, died an unnatural death, discontinued in 1984 when substance abuse and fighting led President Gray's administration to cancel it.
Perhaps the saddest loss was the mustache race, an annual event held at least until 1940, in which male students competed to determine whose lip fuzz was superior. An anonymous undergrad, complaining about Chicago's lack of traditions in the 1920 inaugural issue of The Phoenix, described the contest, which began at the "C" Bench with students "announcing the rules of competition and then firing a starting pistol. After several weeks of tonsorial abstinence from the upper lips, the competitors again assemble; the winner is proclaimed and awarded a shave and a prize."
The same writer defined tradition as "an intangible something [...] which has grown up spontaneously and for which there is no definable reason. It is, simply because it is." Using that logic, Chicago has some fine traditions, including Scav Hunt, Shake Day, and Kuviasungnerk's Polar Bear Run. But, like all U of C customs, their continued existence is precarious.
If you have memories of other campus traditions, e-mail uchicago-magazine@uchicago.edu, subject line "Chicago traditions."