Chicago's Odyssey initiative is designed to ease the burden of undergraduate debt—and let students pursue their dreams.
As a research assistant to physicist Cheng Chin, second-year Ryan Bax spends two afternoons a week and six hours each Saturday inside an underground Gordon Center laboratory, firing lasers at cesium atoms. "Professor Chin wants to see what the quantum behavior is like," Bax explains. "It will help shed light on what the universe was like in the beginning." The project is Bax's work-study job: helping decipher the early universe by trapping minute particles in an infrared latticework that cools them to within billionths of a degree of absolute zero. As cesium—an alkali metal that turns to liquid at room temperature and tends to explode when it touches ice—approaches minus-459.67 degrees Fahrenheit, its atoms take on a behavioral harmony not unlike what may have existed in the extreme heat of the big bang's aftermath. "Really exciting," sums up Bax. The job grew more exciting this past summer when Chin had him build a laser system on his own.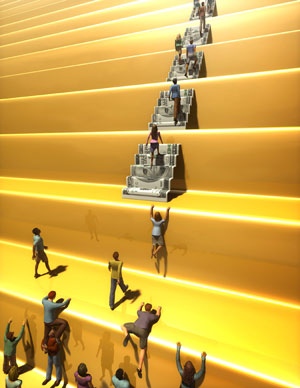 Bax came to the University to study physics. During his junior year at Hoffman Estates High School, 30 miles northwest of Chicago, an AP course spawned an affinity for vectors, potential energy, and the laws of motion. Soon after, Chicago's reputation for "hard-core academics," and its litany of Nobel laureates—27 of them in physics, with names like Enrico Fermi, James Franck, Luis Alvarez, SB'32, SM'34, PhD'36, and James Cronin, SM'53, PhD'55—lured Bax to Hyde Park. "I like it here," he says. "I mean, if I went somewhere else my grades would be higher, but a Chicago degree is worth it." When he thinks about money, though, sometimes he wonders if he made the right choice. A year before Bax's high-school graduation, his father, a maintenance engineer at a hospital near the family's home, died from lung cancer, and now Bax, the younger of two siblings (his brother is 34), begins every quarter by marching to the bursar's office with $4,000 in tuition money taken from his inheritance. "I can't say that doesn't hurt," he says. The University's financial-aid office picks up a "decent amount" of his remaining College costs, and his work-study job in Chin's lab helps, but Bax, who turned down a full scholarship at the Illinois Institute of Technology and considerable financial support at the University of Illinois, still takes out $7,000 in loans every year. His mother, holding down two jobs as a waitress and a high-school cafeteria worker, borrows at least $5,000 annually. "When I graduate, I think she's going to be $20,000 or $25,000 in debt," he says. "She's pretty worried about paying it back."
Bax is one of about 1,200 Chicago undergraduates, roughly a quarter of the College's student population, who stand to benefit from Odyssey scholarships, a new financial-aid program that will reduce or eliminate low- and moderate-income students' loans. Announced this past May after an anonymous donor's $100 million gift, the scholarships will take effect during the 2008–09 school year, when Bax is a junior. If they demonstrate need, families earning less than $60,000 annually will see their student loans replaced entirely with grants, while families with an income between $60,000 and $75,000 will have half their loans erased. University officials plan to raise another $300 million to fully endow the Odyssey coffers. "This is a momentous step for Chicago," says Michael Behnke, vice president and dean of College enrollment. "The Odyssey scholarship has gotten people to reimagine how we might relate to low-income students."
Chicago is not alone in this act of reimagination. In embarking on the Odyssey initiative, it joins a growing number of colleges and universities that have found the means, over the past decade, to ease the burden of undergraduate debt for poorer students. Princeton became the first, abolishing loans for low- and moderate-income undergrads in 1998 and then for all financial-aid recipients in 2001. This past year Amherst and Davidson followed suit, announcing they would replace all need-based loans with grants. A dozen others—Harvard, Yale, Stanford, Penn, Rice, the University of North Carolina, and the University of Virginia among them—have initiated some form of loan relief for low- and moderate-income students. "It really does change things," says Robin Moscato, Princeton's director of undergraduate financial aid. Since 2001 the percentage of Princeton students on aid has risen from 38 to 55. The number of incoming freshmen with a family income of less than $55,000 has more than doubled. "When you get right down to it, it's fundamentally a great thing," Moscato says, "in terms of access to the university and openness of the applicant pool. I think all of us who have set off down this road are going to see lasting benefits beyond the college experience, as far as students having more choices after they graduate because they're not weighed down by undergraduate debt."
That benefit is what the Odyssey scholarships' benefactor, a College alumnus fittingly nicknamed "Homer," had in mind. In a written statement this past spring, he explained, "I give this gift," the largest in University history, "in the hopes that future generations of students will not be prevented from attending the College because of financial incapacity and may graduate without the siren of debt distracting them from taking risks and fulfilling dreams." When he announced Homer's gift, President Robert J. Zimmer declared that ensuring low- and moderate-income students access to the College "comports with our highest values." The move, he said, is "central to our mission."
Last year 46 percent of Chicago undergraduates, or 2,183 students, received some need-based financial aid. Typically, says Alicia Reyes, director of College aid, those students contribute between $9,000 and $11,000 out of their own pockets each year, from summer work, school-year work, and student loans. (The amount of money their families contribute varies widely.) At $35,169 for the 2007–08 academic year, Chicago's tuition, like its peers', is about $10,000 higher than the national average for private four-year colleges and universities. Adding room and board, fees, and books raises the total cost of attending the College to roughly $50,000. "There are so many kids I grew up with," says second-year Zainab Raji, a Chicago native also in line for an Odyssey scholarship, "who are smart enough to do very well at this school, but as soon as you start talking about finances, they're like, 'No.'"
Such automatic reactions provide ample evidence that, although universities and colleges like Chicago have worked to become more inclusive, barriers for students—and work for institutions—remain. "Everyone had hopes that there really is social mobility in America, and that low-income students go to college and change their lot and send their kids to college," says Ted O'Neill, AM'70, dean of College admissions, himself a first-generation college graduate. "But people didn't pay very much attention to the fact that many such students didn't go to certain kinds of schools. They just didn't show up." What changed? Evolving notions, he says, of fairness and justice, and the influence of affirmative-action programs. "The more selective you become—and we all become more selective over time—the more some of these kids fall by the wayside because they don't have the attributes we say we're looking for." Those attributes, he says, "include high test scores, which mitigate against low-income students, the ability to take lots of AP classes, lots of language classes, study abroad, read lots of books. It takes a constant reminder that this is important and doable."
Almost certainly, the recent trend in financial-aid offerings among top-tier schools can trace part of its history to a 1991 federal consent decree, a legal agreement barring Ivy League institutions from comparing notes on financial-aid packages for jointly admitted needy students. Among some elite schools, the practice had been an annual tradition for 40 years. At its final meeting in 1990, the so-called Overlap Group included not only the eight Ivies but 15 other institutions as well (Chicago was not among them), most from the East Coast. College administrators called the annual exchange an act of cooperation, a way to keep financial aid out of the bidding war for talented students. The Justice Department called it collusion and price-fixing. In the years after the practice ended, financial-aid packages became one of the enticements institutions use to attract smart but cash-strapped applicants. Competition for these students, as for all talented students, can be fierce, and although Chicago has traditionally sought out and enrolled more low-income students than its peers, Behnke says, the Odyssey program "gives us a significantly more compelling message for an important portion of our inquiry pool" of potential candidates. "We can now say to a large number of our prospective students and their families: 'No loans.' That's a very simple message, and I think it will be heard."
Michael McPherson, AB'67, AM'70, PhD'74, has heard it. A scholar of higher-education economics and president of the Chicago-based Spencer Foundation, which focuses on educational research, McPherson was overjoyed, he says, to hear about Homer's gift. But he cautions Chicago against what he sees as the more worrying aspects of financial aid's shifting tides. "In the competitive environment where the University of Chicago exists, this is a move it has to make, and all told, the U of C's doing this makes the world a better place," he says. What gives him a twinge are what he calls the "unhealthy" tendencies of higher education's financial-aid system. "There's been a leapfrogging effect," he says, and he fears the emerging dynamic "will be to focus more and more on intensely bidding for the very best students" among low-income high schoolers. Admissions officers, especially at schools that can't afford to enact blanket debt-relief programs, may begin sacrificing need-based aid to fund merit-based scholarships for a few desirable students; indeed, at some institutions, although not Chicago, that trend has already begun. "Even the school where I was president"—Macalester College in St. Paul, Minnesota, which McPherson left in 2003 to head the Spencer Foundation—"is no longer need-blind. We had to turn down some kids because they needed too much aid." McPherson also remains unconvinced of the wisdom in sweeping away all loans for every financial-aid recipient. "Is it really the best thing," he wonders, "not to ask young people, who are going to benefit tremendously from going to an elite institution, to contribute toward that benefit at all?"
It's not, agrees John Boyer, AM'69, PhD'75, dean of the College, who doesn't foresee eliminating all financial-aid loans on the University's horizon. The College provides "a very important education, a very effective education," he says, and borrowing a certain amount to obtain it strikes him as fair. At the same time, he continues, "You don't want students carrying a load of debt that's crushing, that forces them to pursue careers they don't want, or to work extra jobs during term-time and neglect their studies, or miss out on student life or foreign study." The Odyssey scholarship is designed to rescue students from those straits. "But some level of debt is reasonable," Boyer says. "It's an investment, and it's good to have an investment."
The benefit that programs like the Odyssey initiative offer individual students is undeniable. Study after study suggests that debt affects the classes students take as undergrads and the careers they choose as alums. Nationwide, college graduates leave school averaging roughly $20,000 in debt; at Chicago the average is closer to $17,000. Burdensome loans drive working-class students out of four-year institutions, and many of those who enroll in two-year colleges with the intention of transferring elsewhere to finish their bachelor's degrees never follow through. Debt compels undergraduates to forego history courses and fine-arts majors. Last year the State Public Interest Research Groups found that up to 40 percent of college graduates leave school too deep in debt to support themselves on a starting teacher's salary. An extra $10,000 in student debt reduces the likelihood by five or six percent that a graduate will take a job in education, government, or nonprofit work, reported Princeton economist Cecilia E. Rouse in a study released this past May.
One fourth-year sees herself in some of those statistics. Working her way through the College, she expects to graduate with as much as $60,000 in debt. "It's a little staggering," she says, "the thought of being indentured to these loans for the rest of my life." Double-majoring in comparative literature and German, she would like to go to grad school someday; for now, though, she must get a job that will make a dent in her loans. "Probably consulting, at least for a year," she says. "It seems like I'm forced into doing that, with the interest payments and everything."
An only child, the fourth-year—who asked that her name not be used—immigrated to the United States with her family when she was six years old and graduated from high school in Kansas. Back in India, both her parents had been college professors; now her mother stays home and her father works as a quality-control manager for industrial-products manufacturer Ingersoll Rand. She describes her financial-aid package as "one of those middle-ground cases," adding that she has undertaken both hers and her parents' expected contributions. She could have attended the University of Kansas for free—as a high-school senior she earned a National Merit scholarship—but, she says, "I figured my biggest investment is probably going to be my education. And I was looking forward to going to a place where I could relate to people, where I would be humbled." She applied early to Chicago.
University grants and a federal scholarship cover about half of her tuition. Her parents help out with day-to-day expenses, but she carries the bulk of the load by borrowing and working. The College financial-aid package doesn't include a work-study job, so she finds other employment on her own. Usually she restricts herself to about 20 hours a week in the Oriental Institute's membership office, but for a quarter during her sophomore year she took on a second job at Eckhart Library's circulation desk. Altogether she was working 35 hours a week. "I didn't really have a social life," she says. "I was taking classes I loved, but I was stressed all the time." She's since "mellowed" about her financial future, she says, but even during her most anxious moments, she never considered switching majors. "I came to the U of C because I wanted to deeply probe into a subject I was interested in, not major in something because it was practical," she says. "I could have done that at KU and gotten into some great law school."
Such academic steadfastness, on the part of students from all financial backgrounds, demonstrates for Boyer an important element of the Odyssey initiative. Homer, after all, majored in humanities too, and every statement he's released about his motivations has mentioned the College's curriculum and its powerful effect on his life. "He gave us this money," Boyer says, "not simply because he wants to help people from modest family circumstances, but because we have a particular kind of educational program, the core curriculum." Odyssey scholarships aim to give as many students as possible the chance at a Chicago education. "This is not a generic gift to a generic college," Boyer continues. "It's a gift to remind people what a University of Chicago education is all about. If you come here you are going to get a great education; if you come here you will be asked to explore all areas of human creativity.
An undergraduate curriculum that leaves no subject unexplored is democratic. It doesn't presume any particular expertise or exclude those who don't have any, and it doesn't elevate one type of learning over another. Learning is learning, and all of it matters. "Our curriculum's origins," O'Neill says, "are in the belief that students from whatever background can start at the beginning and learn everything. You don't have to go to a fancy prep school to do the common core; you just have to do the common core. What it takes is the proper willingness to work."
Tied up as it is with the essentials and essence of the common core, Homer's gift, in Boyer's view, brings with it an obligation to maintain—and restrengthen—the College's curriculum. For Boyer, that means not only raising $300 million more for Odyssey scholarships, but also finding the funds, for instance, to double the number of Foreign Language Acquisition Grants (FLAG) handed out to students going abroad. This past summer 150 students traveled on FLAG grants. "We could make it 300," Boyer says. He'd also like to double to 300 the number of Metcalf fellowships, which fund summer internships in research, government, social change, business, and the arts. "For every student who got a Metcalf, we probably had two or three kids who applied," Boyer says. "All these things are hydraulically connected."
The Odyssey gift, says President Zimmer, will help recruit "those students who can most benefit from, and contribute to, Chicago's uniquely powerful and rigorous education—whatever their financial circumstances." To that end, the gift is closely bound to a 23-year-old program designed to prepare some incoming first-years for the College's rigors. "These are talented students, at the top of their classes," says Susan Art, the College's dean of students, "but many of them come from high schools where they didn't have the same opportunities"—schools that don't offer AP classes, for instance, or that don't teach much math and science. "That's often where school systems fail students." The Chicago Academic Achievement Program (CAAP) fills the gaps by inviting 25 Chicago-area students to spend seven weeks over the summer sharpening their skills in math, chemistry, writing, and humanities. Then during their first year, CAAP students attend study sessions four nights a week. They don't take jobs, and the University forgives them the money they would otherwise owe from work-study wages. "We expect them to devote all their time to academics," Art says. "Everybody learns to speak up, argue for their positions. They build confidence that they can participate fully in the classroom."
Without CAAP, Brittney Cleveland reckons she'd be "in a black hole somewhere." A second-year who went to a small, private high school on Chicago's West Side, Cleveland worried at first about keeping up with the College's demands. "High school was routine," she says, "but nothing's routine here." In CAAP's classes and study sessions she learned to understand, not just memorize, lessons and realized the importance of reaching out to professors. Cleveland's first-year roommate, Zainab Raji, says the invitation to CAAP sealed her decision to attend Chicago. "I was scared," Raji says. "That summer I was like, 'I can't write this paper, I can't do this math.' But then I did it." During her first year she earned a spot on the dean's list. "Just because you don't know something doesn't mean you're dumber," she says. "It just means nobody taught it to you yet."
With funds from the Odyssey initiative, CAAP will widen its scope, expanding to include 50 or more students from across the country and, likely, around the globe. The program also will stretch to eight weeks and house students on campus instead of having them commute.
Above all, Behnke argues, news of the Odyssey gift carries the important message that financial aid exists for students who need it most. "The fact is, the University of Chicago does meet the needs of its students," he says. "The College, along with other institutions like it, offers need-blind admissions." Still, he says, "Getting low-income students to apply is very hard." Often their high schools lack good guidance counseling, or their parents are leery of debt. Many simply don't imagine that aid exists. Publicity from the Odyssey gift, O'Neill says, "might convince people that an expensive college is within reach."
For students like Bax, an Odyssey scholarship means not having to reach quite as far. Bax figures the grants will save him between $20,000 and $24,000 during his last two years at Chicago. The money has got him thinking that maybe he could move off campus as a junior, even though renting an apartment would cost more than remaining in the dorms, because he'd like to adopt a dog. He's already found a shelter and started shopping. "I've always had a dog," he says. Perhaps he'll name this one Homer.
The Odyssey scholarship's anonymous benefactor discusses financial urgency, harebrained schemes, and his own College experience.
When the news broke this past May that the University of Chicago had received a $100 million gift—the largest donation in University history—to strengthen its undergraduate financial-aid program, the next logical question was: from whom? The donor, however, wished to remain anonymous. "A $100 million mystery," declared a May 31 Chicago Tribune headline, while the Sun-Times reported finding "few clues" to the anonymous benefactor's identity. University officials offered a handful of details: dubbed "Homer" because his gift had launched the Odyssey initiative to replace College students' loans with grants, the donor is a late-1980s College alumnus who came from a "modest background" but did not require financial aid. In a statement, Homer described himself as someone who'd fallen "far from the academic vine" but whose life had been profoundly influenced by his time at Chicago. "My education in the College," he wrote, "convinced me that I was in fact, as Hanna H. Gray declared at my graduation, somehow a worthy citizen of an ancient and honorable community of scholars." In an e-mail exchange with the Magazine this summer, Homer answered questions about his donation and the effect he hopes it will have on Chicago.
Why are you making this gift now?
The simple answer is, because I can afford it. Despite having lived poor, although not poorly, for most of my life, I always imagined a windfall day. But fast cars and limousines, large houses, and liveried servants never occupied my imagination. Instead, my mad greed—which financial success has only made more mad, and maddening—always assumed that I would give everything away. Reality is not quite so altruistic, but I'm going to make an honest effort to squander my good fortune on what, to me, are worthy causes.
Why financial aid?
The College should be a venue not only to find one's place in an intellectual tradition, but also to respond to that tradition. I believe that allowing students who face the greatest threat from the whip of financial necessity to get through the College without going into debt is a cause worthy of significant investment. My hope is that some of the students whom my gift benefits will be able to ignore the economic urgency that seems to grip every moment of our lives and face the real fears that clash with—and too often thwart—our best aspirations and our hariest-brained schemes.
What is it about your College experience that you hope your gift will help provide to future students?
College was the first time I was on my own and away from my family. It was the first time I challenged myself to meet the standards that every reference book and film clip I had seen as a grade-schooler confirmed were world-class. My first months in the College delivered constant disappointment, but they also provided the excitement of struggling to defy disappointment in each next assignment, quiz, test, or classroom interaction.
I think every student admitted to the College should have the freedom to undertake the epic struggle of finding a place inside or outside this made-up civilization of the mind without wondering how to pay the bill.
You make particular mention of noncitizen and expatriate students as potential beneficiaries of your gift. Why?
One reason is the frightening xenophobia in the United States today. Another is the remarkable role noncitizens and expats have played in the University's history and, of course, the paucity of current financial-aid funding for these students. I won't argue about the benefits of an international community, diversity, and all the rest, but I'm willing to aver that encouraging diversity is a good idea.
How do you hope this gift and the resulting financial-aid reform at Chicago will change the College as a whole?
Mine is a conservative gift. I do not seek to change the College. As best I can tell, the history of the College illustrates how students of all economic, social, racial, national, and ethnic backgrounds have benefited from and contributed to the scholarly community. By lowering the financial threshold for entry, my gift is intended to enable the College to continue that important tradition.