Belief in medicine
Faith does not necessarily make physicians more likely to help the poor, according to a survey by University of Chicago researchers Farr Curlin, John Lantos, Marshall Chin, and the Yale New Haven Hospital's Lydia Dugdale, MD'06. They discovered that 35 percent of nonreligious physicians they surveyed worked in underserved communities, while 31 percent of self-identified religious ones did. Researchers published their findings in the July/August Annals of Family Medicine. The survey also asked physicians whether they viewed medicine as a calling; religious doctors who said yes were no more likely to practice in poor areas than those who answered no.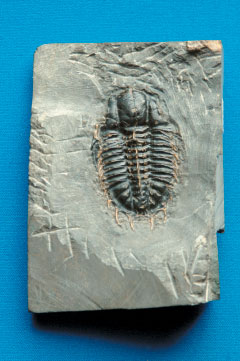 A 500-million-year-old trilobite fossil
Extinct evolvers
Paleontologist Mark Webster combed through dozens of published trilobite studies to find that the creatures, which died out 250 million years ago, reveal an evolutionary pattern. His analysis found that after the Cambrian period, trilobite characteristics' variation—for example, differing head shape and spine placement—dropped from 70 percent of species to 13 percent, according to Webster's study in the July 27 Science. He records how higher variation within a species fuels more rapid evolutionary developments. Scientists disagree over whether ecological change or internal processes in the organism lead to patterns like those Webster found—his research reopens the question for further study.
50 atoms thick, but still strong
Using an experimental material composed of gold particles, Chicago physicists discovered the resilience of nanothin sheets. The scientists suspended the sheet over a tiny hole and, despite being only 50 atoms thick, the material endured poking from an atomic-force microscope's ultrathin tip, even at temperatures of some 210 degrees. Physics professor Heinrich Jaeger; Argonne researcher Xiao-Min Lin; graduate student Klara Mueggenburg, SM'04, PhD'07; and Xavier University undergrad Rodney Goldsmith published their findings in the July 22 Nature Materials. The sheet's strength might make it a useful pressure sensor in highly precise technology or as a component of nano-objects.
Judicial race matters
Law School scholars Thomas Miles, AM'96, PhD'00, and Adam Cox found that judges' race and party affiliations correlated to judicial decisions made since the 1982 Voting Rights Act. Looking at more than 300 cases determined under Section 2 of the act, which makes racial discrimination in voting and elections illegal, the researchers discovered that Democratic judges were more likely than Republicans to rule for liability. When Cox and Mills compared cases based on race, white judges were half as likely to see liability as African American judges. Cox and Miles's work, published in the fall Columbia Law Review, also found that more diversity affected judges' rulings; sitting on the bench with at least one African American made white judges 20 percent more likely to find Section 2 violations.
Juice helps the medicine go down
For cancer patients saddled with high drug costs, there may be a way to use less medication more efficiently, simply by taking pills along with the right foods. After analyzing a study of food's effect on the breast-cancer drug lapatinib, oncologists Mark Ratain and Ezra Cohen discovered that the research revealed more than the problems that food and medicine combinations could cause. Their commentary in the July 16 Journal of Clinical Oncology suggested that some foods and drinks, such as grapefruit juice, may aid drug absorption, increasing patient benefits while lowering costs. Lapatinib was also 325 percent more effective when taken with a high-fat meal. The scientists have already begun conducting a study on the relationship between rapamycin, a drug used to prevent organ rejection in transplant patients, and grapefruit juice.