In the wake of Amadou Cisse's shooting death, Chicago pledges to increase the University police presence and reexamine its dissemination of emergency information.
Shortly before 1:30 a.m. Monday, November 19, Amadou Cisse, a 29-year-old chemistry graduate student from Senegal, was walking to his off-campus apartment when he was fatally shot in the chest on the corner of 61st Street and S. Ellis Avenue. The shooting was the first time a student has died from a violent crime on or near campus since July 1977. It was also one of four similar incidents that occurred within an hour and a few blocks of each other—two undergraduate women were robbed by a man who said he had a gun, a male Chicago employee was chased and shot at, and an unidentified Chicago student reported being robbed by a man with a gun.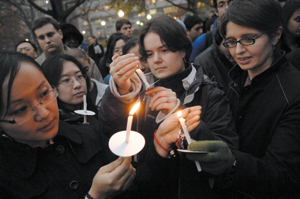 Students and faculty commemorate Amadou Cisse's life during a candlelight vigil.
A teaching assistant for general chemistry classes, Cisse had successfully defended his doctoral dissertation on November 1. His research, done in chemistry professor Steven J. Sibener's labs, examined how molecules diffuse and migrate through thin polymer films. He had come to the United States at age 16 after winning a scholarship to a United World College in New Mexico's Sangre de Christo Mountains. United World College is part of an organization of international schools that aims to unite students from far-flung cultures. Two years later, he enrolled at Bates College in Lewiston, Maine, where he graduated in 2001 with a BS in chemistry, physics, and mathematics.
Nine days after the shooting, Illinois state prosecutors charged 16-year-old Eric Walker as an adult with first-degree murder, as well as attempted armed robbery, armed robbery, and aggravated discharge of a firearm in connection with two of the other incidents, after he confessed to the crimes. The following day investigators charged 17-year-old Demetrius Warren with two counts of armed robbery and one count of aggravated discharge of a firearm. A judge denied both teens bail.
Police arrested Walker and Warren after detectives linked them to a four-door sedan with two red doors on the driver's side. The distinctive car was identified from campus security cameras near the incident. After his arrest, Walker provided detectives with the names of his alleged accomplices. All are juveniles, but police plan to charge them as adults. The crime spree occurred, according to a Chicago Tribune report, because Walker and his accomplices needed money and were looking for people to rob.
On November 26 President Robert J. Zimmer sent an e-mail message to the University community reporting the efforts already taken to increase security. He pointed to the bolstered numbers of police patrols, as well as University outreach to local, community, and city officials. For instance, Zimmer met with Mayor Richard Daley to ask for support "in finding ways to further reduce crime in our community." Zimmer also steered concerned students to one of two security forums sponsored by Student Government in partnership with the University of Chicago Police.
Both issues of security and safety were addressed the night following the shooting when vice president and dean of students Kimberly Goff-Crews and vice president for community and government affairs Hank Webber convened a community gathering of students and staff at Reynolds Club's McCormick-Tribune Lounge. At the meeting, they acknowledged the normalcy of the community's grief, outrage, and fear. Webber noted such short-term safety improvements as increasing police patrols and adding two more late-night vans for students. Then Webber and Goff-Crews opened the floor to the audience's questions, comments, and suggestions.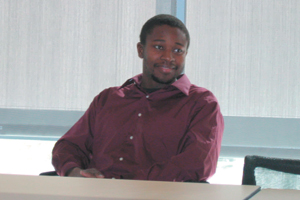 Amadou Cisse.
A week after the shooting, a temporary substation opened at 61st and Drexel Boulevard. It will remain in place until May, when the University police relocate to a new headquarters currently under construction at the same location. After the move, a visible substation will also remain at the police's 56th and Ellis Avenue location. Longer-term plans include doubling the University police department's coverage between 55th and 64th streets and hiring some 20 new officers. Zimmer also appointed a safety- and security-working group composed of faculty, staff, students, and community representatives to review internal policies, including how emergency information is circulated to students.
Exactly one month after Cisse defended his dissertation—and a week before he was scheduled to graduate—more than 200 people gathered at Bond Chapel for a memorial service. "Amadou would be grieving for that child who has been charged with his death," said Czerny Brasuell, director of multicultural affairs at Bates College. "Amadou would ask, 'How does it come to pass that no one taught this young man another path?'He would ask of us, 'How can we save this child?'" On December 7, the University awarded Cisse's degree posthumously.