Stacy Garrop, AM'95, is a composer who, like a politician or CEO, could benefit from media training. An intensely emotional composer, Garrop wrote her 2004–05 piece, String Quartet no. 2 (Demons and Angels), about an ex-boyfriend who changed greatly after the couple parted: he became mentally ill, founded a tiny cult, and murdered five people. It was the stuff headlines are made of, and even an otherwise nuanced Chicago Reader story about Garrop got topped with a tabloid headline, "Love, Death, Murder, and a String Quartet." "He really wasn't a serial killer," Garrop says of the work's media coverage. "I always cringe when I see that, because I don't want him labeled in that way." Garrop, an associate professor of composition at Roosevelt University, now speaks about the work in a more circumspect manner. Demons and Angels has drawn not only controversy but also consistently favorable reviews. Wrote the Cleveland Plain Dealer in 2006: "The work is a striking act of catharsis, full of fierce and yearning gestures that evoke emotional combat."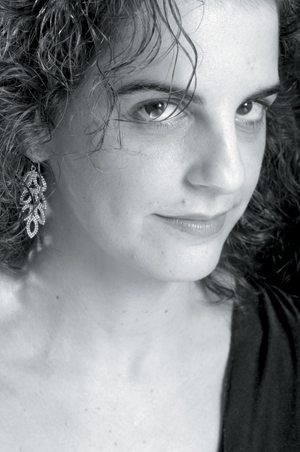 Demons and angels: In my whole catalog, I think the string quartet is probably the strongest in dramatics and form. I really had a tale to tell. I look at that piece and think, how am I ever going to replicate that? How can I tell another story so convincingly that isn't completely my own?
Sight reading: I'm a very visual person. When I compose, I tend to use charts to graph out the tension level of the piece. The line for the beginning of the Medusa piece [Garrop's work-in-progress] starts really high, at a level of tension. Then it drops really low because I go back and introduce Medusa in a quiet, lovely way. My studio is the most colorful room in my apartment.
Pencil and paper: It probably marks my generation. When I started undergraduate school in 1988 [at the University of Michigan], I was writing all my final copies of pieces on vellum using India ink. Many years later, I'm looking at college applications from kids who have never used a pencil and paper. They go right to the computer and play stuff into it. I have to start on pencil and paper to slow myself down enough to make all the connections I want to make. After a certain point, I do the orchestration on the computer, because it would take me forever to write it out by hand.
Sound tracks: It would be great to do movie music someday. A lot of reviewers have said my work sounds like movie music, but then they qualify it: "in the best sense of the word." I think people can really sense the story line. I'm a composer who likes to tell a story, so it really is fine if people call it movie music.
Discouraging words: At Michigan a dear faculty member I loved studying with was getting close to retirement. So at the end of my sophomore year I asked, "Do you have any advice for me as a composer?" He said, "This is a great career for you to have, because when you get married and have kids, you can still do this on the side." I just stared at him. He didn't even consider that I wanted to be a full-time composer.
The sound of silence: My mom loved musical theater; she was in a lot of shows. But we didn't play much music in the house. The very first musical experience I had was seeing West Side Story. I didn't discover the radio until about 1982. For someone born in 1969, it seems like, well what was I doing all those years? Now I'm going back and listening to Bruce Springsteen, U2, Kansas, the Eagles, the Rolling Stones—artists I should have been familiar with. And I'm realizing, oh my gosh, look how inventive they are with the format they were using.
World music: I've always been curious about pitch. I have what they call perfect pitch. But when I listen to different tuning scales in other countries, I wonder, if I had been imprinted with that scale, would I have perfect pitch in that system?