Daniel Biss, an assistant professor in mathematics, is an unlikely candidate for a seat in the Illinois House of Representatives.
Daniel Biss wants to represent the 17th District, which encompasses parts of Chicago's northern suburbs of Evanston, Glenview, Golf, Morton Grove, Northbrook, Northfield, Skokie, Wilmette, and Winnetka, in the Illinois House of Representatives. In the midst of his campaign, his calls to overturn Springfield's current state of affairs sound familiar to nearly anyone who has ever encountered a political candidate, but his delivery does not. Biss speaks in didactic, if passionate, prose that seems more at home in a University classroom than on the floor of the Illinois State Capitol. And that's to be expected; when Biss isn't engaged in glad-handing, fund-raising, or other campaign-related politicking, he's teaching two courses and doing research on topology—an advanced form of mathematics that brings together elements of geometry, algebra, and combinatorics, the study of finite objects. So when he leans back in his chair and looks out over the mounds of academic journals, books, and papers that cover a creaky wooden desk in his Eckhart Hall office, he takes a professorial tone as he discusses how Illinois has dropped the ball on environmental issues.
Daniel Biss is following in the footsteps of Chicago faculty members who have run for office, like Barack Obama and Paul Douglas.
"We could have passed the California emissions standards," he says, delving into the history of the law, which then–California Gov. Gray Davis signed in 2002. "Illinois could be the straw that breaks the camel's back, because 11 states other than California have already passed similar laws," Biss notes. "But somehow we haven't had the political will to make it happen. Meanwhile, we're investing in coal plants since we are a coal state, but the bottom line is we shouldn't be building any more plants."
Since it's a local race, the campaign is a far cry from Democratic presidential contender (and senior Law School lecturer) Barack Obama's 2000 congressional, 2004 senatorial—or even Obama's 1996, 1998, or 2002 state senatorial—campaigns; Biss has no staff, and his headquarters is his condominium's basement. But in spite of his staffing shortfalls, Biss has garnered coverage in the Wall Street Journal and the influential progressive blog DailyKos, as well as in the local media, because of his successful fund-raising base; by mid-November, the campaign had used traditional fund-raising tactics, its Web site, and Democratic political fund-raising sites like ActBlue.com to raise more than $125,000 via some 1,000 contributions. "I'm coming from a pretty different place than most state-representative candidates," says Biss. "Most were recruited to run, and the fact that I wasn't, and that I'm not motivated by personal gain, is energizing people."
---
Biss, a Bloomington, Indiana, native, is a 30-year-old assistant professor in mathematics and the College. He has a long, narrow face and raven hair with a speckle of white. He grew up the son of professional violinists who taught at Indiana University and the older brother of Jonathan Biss, a 26-year-old concert pianist who has appeared as a soloist with the Baltimore Symphony Orchestra, New York Philharmonic Orchestra, and in the University of Chicago Presents series. Although Daniel also played piano as a child, to carve out his own niche he embraced math. By age 13, he knew wanted to be a mathematician. "Math was a different language that could be my own," he says. His love of geometric ideas and algebraic language led him to Harvard University, where he graduated summa cum laude with a bachelor's in mathematics after three years. The following fall, he attended Hebrew University in Jerusalem before enrolling at the Massachusetts Institute of Technology, where in addition to his graduate course load, he began taking notes, writing essays, and developing the skeleton of a still-unpublished book that aims to communicate the "spirit of mathematics" to a lay audience.
Biss was always interested in, and avidly followed, politics. He read the newspaper and watched the news. Then came 9/11. In the months that followed, President Bush launched a war in Afghanistan and began leading up to a preemptive war in Iraq, which enraged Biss. "I felt betrayed enough [by the Bush administration] that it didn't really make sense to stand back. I didn't feel comfortable throwing myself into math 24 hours a day anymore."
When he joined the U of C faculty in 2002, he began posting on progressive blogs like DailyKos and volunteering for local progressive candidates, such as Debra Shore, now a commissioner of the Metropolitan Water Reclamation District of Greater Chicago. He also got involved with Sen. John Kerry's (D-Mass.) presidential campaign, eventually cochairing the Illinois Kerry Travelers, a grassroots group that sent Illinois citizens to battleground states to knock on doors and spread the Kerry gospel. While the day-to-day work of grassroots campaigning was "very dull," he nevertheless found the net result of his efforts, such as winning converts, invigorating. After months of considering whether to volunteer for another slate of candidates or how else to concentrate his efforts, on March 31 he entered the race to take on Republican Rep. Elizabeth Coulson, who has held her seat in Illinois's 17th District since 1997.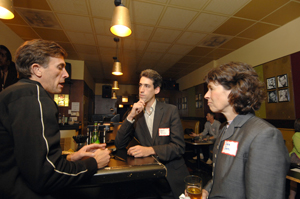 Daniel Biss listens to a potential voter's concerns, as Chicago Water Commissioner Debra Shore looks on.
Biss believes that too often local Illinois politicians foster a culture of public indifference and disengagement by keeping issues obtuse and failing to question or challenge the constitutional, and institutional, centers of power—namely the governor, speaker of the house, and majority leader. The resulting apathy is to blame for a number of Illinois's problems, he says, such as the state ranking 48th in the nation in funding per-pupil educational expenditures despite ranking 13th in state personal income per capita, according to the most recent U.S. Census, or the more than 1.75 million Illinois residents who lack health insurance, according to the Henry J. Kaiser Family Foundation. To fix Illinois's problems, Biss has big ideas, like developing a state-based single-payer Medicare-for-all system to provide health insurance. At the same time, he advocates smaller steps, such as finding ways to expand health-insurance coverage and reduce health-care costs. "Politics in Cook County and the state seem like a circus—they're fairly machine-driven," he says, "but we have an opportunity to build a community of people who can, in a small way, change the way we do local politics."
---
Ever since Silicon Valley entrepreneurs Joan Blades and Wes Boyd grew so frustrated with Congress's impeachment hearings of President Bill Clinton that they launched an online petition to "Censure President Clinton and Move On to Pressing Issues Facing the Nation," the Internet has played a key role in bringing together political communities. The impeachment petition quickly morphed into MoveOn.org, as Blades and Boyd found that they could use their site to wage similar campaigns for both candidates and issues. In the 2004 presidential election, candidates like Howard Dean and General Wesley Clark tapped the Internet's ability to build so-called net-roots communities that generated high-volume, low-dollar donations. Yet, for the most part, grassroots Web-based fund-raising has failed to trickle down to local races. Biss is among the first to change that. For a race in which the average candidate spent $181,764 per campaign, according to the National Institute on Money in State Politics, Biss says that Web fund-raising enables him to gain an advantage over Coulson, who does not raise money online, yet raised $212,642 in the 2006 election and has raised an average of $332,563.57 over the last three cycles.
Biss is using the fund-raising potential of Web sites like ActBlue, which allows supporters to set up individualized pages. ActBlue's customizable pages can feature a personal note or testimonial from a supporter who aims to bundle donations free-of-charge for the candidate's campaign. For instance, in August Biss's wife, Karin Steinbrueck, a doctoral student in history at Northwestern University, raised $1,582 from 40 donors after sending an e-mail asking supporters to send a $30 donation to commemorate his 30th birthday. Altogether, more than 750 supporters have raised nearly $50,000 for Biss's campaign on the Internet. Another way the campaign has gained traction is via pranksterish campaigning. Author John Green, a friend of Biss, has posted video-blog stunts online, in which he has vowed to wax the hair off one leg and eat a liquefied Happy Meal if viewers reach particular fund-raising goals, such as at least 200 donations to Biss's campaign. When the goals were met, Green followed through.
Biss has also used the flexibility inherent in his workload—about the only University-related commitments that can't be adjusted are his classes, which both meet on Tuesdays and Thursdays, and department meetings—to do the only campaign commitment that can't be adjusted, meeting potential voters. Nearly everything else, such as conducting research, grading papers, holding campaign events, and even sleep, is malleable. "So much for sleep," he says, noting that his waking week is long, with most of his waking hours spent doing either campaign- or math-related work. "It's hard, but right now with no paid staff and running my campaign out of my basement I have to make do."
Yet he's more than making do, says one supporter, Ruth E. Krugly, JD'83, an attorney with SchiffHarden LLP who lives in Wilmette. Krugley met Biss in May. "I was so bowled over by him that I wrote him a [$500] check on the spot," she says, noting that she was impressed by his passion, intellect, and in-depth knowledge of issues "vital to the state and country." Three months later, she held a Biss fund-raiser and by November was helping to develop a campaign finance committee. The group's plan is for each of its 20 members to contribute or raise $500 by the end of the year. The modest goal aims to draw more people into the process than is typical of Illinois candidates'campaigns, in which only 10 percent of 2006 contributions were $499 or less (another seven percent were unitemized), according to the National Institute on Money in State Politics.
---
On a spring-like night in early November, a jukebox blares Al Green and Frank Sinatra, and stale smoke fills the air at the Holiday Club in Chicago's Uptown neighborhood. Although the campaign event is out of Biss's district, three volunteers collect contributions as they sit behind a table littered with red-and-white nametags, a blue Sharpie, and purple campaign brochures. Biss, in a dark-gray suit and blue open-collar shirt, stands gawkily as he talks with Chris Douglas, one of the event's organizers. Sitting in a nearby vinyl booth, a pair of attendees talk about the news that no other Democratic candidate entered the race by the Illinois State Board of Elections'November 5, 2007, deadline. It's good news for Biss, letting him avoid a primary. Another mentions that the candidate still has an "uphill battle" since he's facing a long-term incumbent.
"It's all about November 4 now," Biss says to James P. Madigan, JD'00, one of nine supporters in the dim room. "It's a two-year term and it's crazy, but the race takes up three-quarters of the term itself, which seems like a big waste of time."
As the night continues, a handful of people trickle into the room, including Shore, the water commissioner. Biss makes his way around to talk at length with most, if not all, of the attendees. With nearly every group he approaches, he leans forward and tilts his head, listening in. When he speaks, he does so with the protracted drone of a math professor. But by the time Biss walks away, many, like Madigan—whom Biss talked with for several minutes, despite his not being in his district—while not immediately bowled over like Krugley, find they like Biss's nonpolitical style and that they are in line with Biss on most major issues, like his call to protect women's right to reproductive freedom. And since the 17th District has traditionally voted Democratic for most offices, many suggest that it might be an opportune time for someone with Biss's grassroots credentials to make a run.
The most important part of the campaign, says Biss, is that the campaign is not about Daniel Biss. Instead it's about ideas and principles. "I'm a nobody," he says. "There's no reason to get that excited about me or any other candidate. But people should get excited about being part of something that is seeking to make a difference."
---
Although the strain of a campaign has put stress on his path to tenure, which Biss says is "still in the process of figuring out with the department," he is a multitasker accustomed to juggling different responsibilities, says Steinbrueck. For instance, before entering the race, Biss served as cochair of the Illinois Committee of 100, a progressive grassroots organization aimed at electing Democrats in Illinois, while also conducting his research, which he has published in journals such as Inventiones Mathematicae; teaching at the University; and volunteering at North Lawndale College Preparatory High School, a charter school on Chicago's West Side aimed at readying at-risk youth for college.
Despite his background in mathematics, Biss's candidacy is following a path well paved. Throughout the years, a number University faculty members have run for political office, and several have been successful, including Obama; Charles Merriam, a political-science professor and Chicago alderman, mayoral candidate, and presidential advisor; and Paul Douglas, an economics professor, Chicago alderman, and U.S. senator from 1949 to 1967. If he's elected, Biss aims to follow Obama's model of carrying a part-time assignment at the University that would allow him to be in Springfield for its session, which typically runs from January to May.
Neither Biss nor many of his supporters think that beating Coulson will be easy. Even if he wins, Biss doesn't believe that as a first-term representative with few ties to the capitol's power bases of House Speaker Michael Madigan; Majority Leader Barbara Flynn Currie, AB'68, AM'73; or Governor Rod Blagojevich, he'll have much influence. "At first, I'll probably have no opportunity to make an actual difference," he says. But he hopes his election can be a first step to stopping Springfield's "bickering that is getting us nowhere."
It also means he'll go into office "without owing anyone anything." That grassroots method, he hopes, will show other potential candidates "a different way of doing it." And many of his supporters believe that with time, Biss will make his mark in Springfield. "There are legislators who make a great deal of difference, and there are some who make zero difference," says Paul Kelly, a Biss volunteer, "and I think our current legislator is making little difference. But Daniel will work with anybody if it makes sense; he won't let things that need to be changed go unchanged. … Given the state of Illinois politics and the power structure, I'm not sure we'll see a difference right away, but I know that he'll be trying. And he won't rest until he makes it right."
Biss spends days solving mathematical quandaries. He's currently collaborating with three other researchers to find ways to express geometric ideas in algebraic language and algebraic ideas in geometric language. To the novice, when he attempts to convey the ideas behind the trio's intersection between geometry, algebra, and combinatorics, it sounds bewildering. Yet in online evaluations, his math students have rated him excellent.
Perhaps it's the same for his supporters. When Biss expounds on education he says things like: "We need a better return on our investments, but we don't get it because the state doesn't mandate it. We could set up grants, we know the impact of class size, but we don't heed the research." Many of his supporters do know about the relevant research and inherently agree with their findings. As a candidate, his job is to convince everyone else. So much for sleep.