An art salon emerges in Hyde Park.
Don't say Immanuel can't," sings music PhD student David Bashwiner, "'cause he can." The crowd giggles as Bashwiner strums his guitar and continues the Kantian wordplay: "Don't say Immanuel won't..."
Tall and thin with a brown wavy moptop, Bashwiner has already played a wistful tune on piano and a folksy one on guitar—both also well-received by the 30-plus U of C community members gathered in the living room of physics professors Sidney Nagel and Young-Kee Kim on a January Saturday night. Since July 2006, several months after moving into their three-story, 1920s-era home at 49th and Kimbark, the husband-and-wife team has hosted monthly salons featuring musical performances, lectures, readings, art installations, and anything else participants want to do.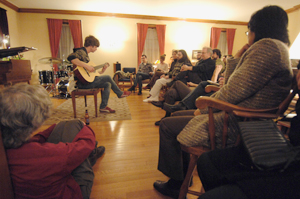 Not a coffeehouse: music doctoral student David Bashwiner plays a tune at physicists Sidney Nagel and Young-Kee Kim's Hyde Park home.
At previous salons, for instance, Nagel discussed his research on drops (liquid and oil-water emulsions), Kim read Korean poetry, and Leon Shernoff, PhD'06, talked about a couple of mushroom explorers who, in New England four years ago, rediscovered a type thought extinct. Shernoff, a musical composer with a dark beard and hair that reaches halfway down his back, edits Mushroom, the Journal of Wild Mushrooming. His talk "brought the house down," says Majel Connery, AM'04, who's gone morel hunting in the south suburbs with him.
Connery, an opera singer and ethnomusicology PhD student, sparked the idea for the salons when she began teaching piano to Nagel and Kim in spring 2007. In her studies, she says, she was "always reading about rich women who sat around drinking absinthe and reading poetry." She hoped to create a modern version of those 19th-century Parisian sessions in Hyde Park. When the couple agreed to open their home and supply wine and pizza, Connery e-mailed some friends. Soon the list grew, and she was planning the events every month. "It's been interesting to see," she says, "that there are a lot of really nerdy people in, say, the math department who are also really good guitar players."
The January salon is Connery's last for a while: a week later she headed to Berlin to apprentice with opera director Christopher Alden, but she hopes to return to Chicago and finish her degree. In the meantime, Nagel and Kim will continue the salons every other month. "It's a great outlet," says Nagel, "for people who don't have other ways" to showcase their skills. He and Kim have enlisted some regular attendees—including Fermilab Director Piermaria J. Oddone and physics professor Heinrich Jaeger—as organizers.
"You walk down the street in Hyde Park and think it's dead," says Jaeger, pizza slice in hand during the salon's intermission, "and then you come in here and wow." At September's salon Jaeger played cello along with Nagel's piano while Irene Hsiao, AM'03, a graduate student in English, performed a modern dance. The collaboration formed when Hsiao, giving Kim a ballet lesson in the home's third-floor ballroom, heard the two physics professors playing their instruments downstairs. "I love that combination," Hsiao says, so she suggested they team up.
At this last Connery-organized salon, the group hears mostly musical acts. A woman in front knits as she listens. Besides Bashwiner's singer-songwriter set, there are six other performances: History PhD candidate Miranda Johnson reads her own poetry and poems by writers from her native New Zealand. Ben Boye, AB'06, riffs on piano to Miles Davis and Charlie Haden tunes. Shernoff—after a quick tale about bringing mushroom-eating beetles to the Smithsonian Institution—sings Les Berceaux ("The Cradles") by Gabriel Fauré. Local musician Brennan Connors plays soprano sax. Dan Siakel, AB'05, sets feet tapping during an improvisational jazz-drum set.
Last up, Connery plays and sings Franz Schubert's An die Musik ("To Music"). Though she's never heard the song recorded or live, she says, it's been a favorite of hers on paper. She asks the crowd for feedback: play it slower, someone suggests. Vary the tempo. More voice, less piano. She sings it again, then plays three recorded versions for comparison. Connery's was best, Jaeger decrees.
Show over, Kim presents Connery with a thank-you cake. Nagel gives her a framed image of an oil-water emulsion that he photographed (and wrote about in the fall 2001 Critical Inquiry). And Oddone, who owns a small Sonoma winery and gave a talk on winemaking one salon, offers some wine he made himself. Having grown beyond the poetry and absinthe Connery imagined, the Hyde Park salons have revived an artful tradition.