The Comer Children's Hospital provides basic medical care throughout Chicago
It's 16 degrees outside, so Felecia Morelon, program manager of the Comer Children's Hospital Pediatric Mobile Medical Unit, carries space heaters into the portable hospital to drive out the chill. Then she restocks the waiting area's magazines, checks the overhead cabinets, and stows her bag as if this were the cabin of a 767 instead of a roving hospital that brings medicine to children unlikely to get it elsewhere.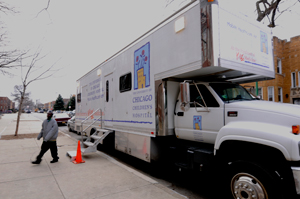 The Comer Children's Hospital Pediatric Mobile Medical Unit travels throughout Chicago to help physicians provide basic medical care to nearly 1,000 patients a year.
---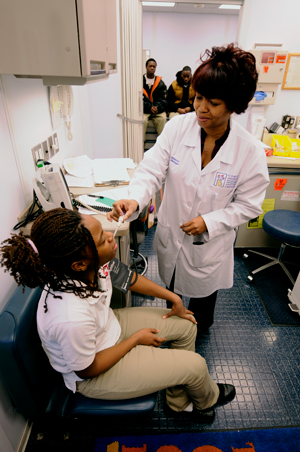 In the trailer, program coordinator Felecia Morelon takes a patient's temperature.
The unit, a 40-foot white cab and trailer with hydraulic lifts and a throbbing generator, sits outside the enormous redbrick facade of Perspectives Charter School's Calumet Campus. Shortly after 9 a.m., clusters of students hustle toward the trailer. Through the door, they step into a triage area replete with scale, blood-pressure monitors, sample vials, and digital thermometers. At both ends lie exam rooms that look like they were lifted directly from Comer.
Each year about 1,000 patients, ranging from 2 to 19 years old, receive treatment in the mobile unit. "We catch children and teenagers who have not been able to access the health-care system, other than an emergency room, in a long time," explains Icy Cade-Bell, the unit's medical director and a University of Chicago pediatrician. "Some of the kids we see do not have a doctor"—up to 25 percent, she estimates. The rest, she says, have not seen their doctors for a long time.
The door opens and closes, admitting a gulp of frosty air along with three teenagers. Each gets weighed and measured. "I'm five-11?" one young man protests. "I thought I was six-11!" Unfazed, Morelon broaches the subject of nutrition and healthy weight. For the others, there are tetanus shots, vaccinations, and blood work. The cabin hums with voices and machinery.
The mobile unit has circumnavigated Chicago's neighborhoods since 2002, when the late Gary Comer donated $1.5 million to support its purchase. At the time, Cade-Bell and other pediatrics faculty gave frequent health talks at local schools. The new vehicle provided a way to continue those talks and combine them with on-the-spot care. As medical director, Cade-Bell usually rides with the team one day a week and helps decide how to meet the perpetual demand from all quarters of the city.
At schools the trailer offers its full complement of services, from vision and hearing screening to asthma tests, with an emphasis on recommended immunizations. The staff also conducts health-education seminars for students, teachers, and parents. Besides schools, the unit visits Head Start centers, homeless shelters for women and children, and health fairs, averaging three to five stops a week. No matter where it pulls in, all services are free of charge.
At Perspectives this Tuesday, four high schoolers in hoodies and parkas enter in wary silence. They sit down to wait their turns, and soon they're watching a Lucy Liu film about HIV on the overhead DVD player. "Now, is her character infected?" one girl asks. "How can you tell?" Xavier Willis, a tall 15-year-old, climbs aboard in need of a sports physical. His long arms and strong shoulders suggest his rebounding prowess as a power forward for the Perspective Warriors. "We've got a game today. I'm starting," Willis says proudly—except that he won't play at all without a clean bill of health. Nurse practitioner Pamela Beauduy asks him a battery of questions, checks his vital signs, performs a physical exam, and then clears him to suit up for the game.
Tiffany Harston, Perspectives's program manager, knows the mobile unit helps her students meet Chicago Public Schools' requirement for physicals and immunizations. It's extremely convenient, says Harston. "Fifteen minutes and the students' medical records and care are up to date. It eliminates undue stress on parents having to take off work to take their kids to the doctor." Chicago's youth face challenges beyond school health requirements. At Perspectives and elsewhere, illnesses ranging from asthma to diabetes have spiked among teens, according to the National Institutes of Health. Like any hospital, the mobile unit evolves to meet the changing needs of its patients.
Cade-Bell and her team have responded to the uptick in adolescent illnesses by offering teens multiple services during a single visit. "Someone comes in for a physical," Cade-Bell explains, "and we assess them for other needs. For instance, if they are sexually active, we ask, 'Would you like to be tested for sexually transmitted diseases?'"
The mobile unit also expanded its staff to help meet teens' mental-health needs. With help from the Children's Health Fund, Cade-Bell recently added a social worker to screen and treat students at a local high school.
At the end of the school day, the heaters slide into cabinets and the hydraulic lifts strain upward. In all, Morelon, Beauduy, and Cade-Bell have treated about 20 students. Some will return for test results in two weeks, when the vehicle returns to Perspectives. Some may not come again until next year's physical.