Poet Stephen Stepanchev finds inspiration in everyday life
As the first poet laureate of Queens, New York, Stephen Stepanchev, AB'37, AM'38, drew inspiration from a range of adventures, from getting mugged to nibbling dim sum. "Every experience is grist for the mill," says Stepanchev, who held the honorific from 1998 to 2000. "And sometimes I just imagine things as I'm walking along."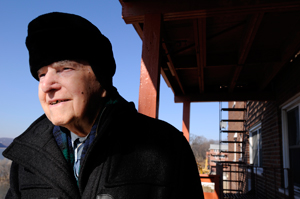 Strong life lines: at 93 Stepanchev writes poetry from his home in suburban New York.
At 93 the retired English professor hardly rests on his laureate, arising at 4 a.m. to hash out a few phrases on the page before his morning stroll. Since 1945 he has penned 11 volumes of verse, plus a critical survey of American poetry.
Born in Serbia, Stepanchev arrived in Chicago at age 7 with his mother and promptly discovered his local library on the Near North Side, hauling home stacks of poetry books. "I loved the metric schemes, the iambic pentameter," he says. He attended the University on scholarship and flourished under his mentor, Thornton Wilder. While still a student, Stepanchev had four poems published in Poetry magazine, beginning a portfolio that would include pieces in the New Yorker, Commonwealth, and the Nation. More recently, two of his haiku appeared in the March–April 2007 Magazine, and last fall MÖBIUS magazine published his poem "The Last Algonquin in Our Village."
"Stephen's poems, like his life, reflect a rich immigrant experience," says Robert Weller, his former colleague at Queens College. Stepanchev taught at Purdue University before joining the army in 1941, coming home to strike out for New York City, "the center of the writing universe." He earned a doctorate from New York University in 1950 and began a 35-year teaching career in which he proudly cites his perfect attendance.
A lifelong bachelor, Stepanchev lived in a studio apartment in Flushing, Queens, until 2003, when his recovery from open-heart surgery prompted a move to suburban Hastings-on-Hudson, where his niece, Danielle Goodman, lives. "His operation was a success, but I feared his poetry would die," she says. "He was always an urban poet." But Stepanchev found ample inspiration in the Hudson Valley, abetted by a river-view apartment accented with Eastern Orthodox icons, his sister's watercolors, and mugs bearing the Superman S emblem, gifts from Weller that wryly telegraph his admiration.
A coterie of former students, refusing to lose their mentor to retirement or suburbia, drop in regularly to feed off his wisdom and eloquence. Stepanchev, who still dons a tweed blazer, cable-knit sweater, and corduroys, enjoys the visits, which keep him plugged into a rich exchange of ideas. "Poetry is an intense experience," says Stepanchev. "It's the truth of what it's like to be alive."
Among the coterie is Richard Whalen, a former Wall Street Journal editor who also teaches at Queens College. "He has one of the best-organized minds I've ever encountered," says Whalen, who credits Stepanchev with jump-starting the school's writing program in the 1950s. "He's what every young writer needs: a critic who directs you to a very constructive rewrite." Fifty years after Stepanchev graded Whalen's final paper, he wrote his former student a letter of recommendation to join the faculty. Says Stepanchev: "I couldn't refuse."
In a 1997 letter nominating Stepanchev for poet laureate, Weller termed his poems "Whitmanesque in their reflection of universal concerns, projecting urgency about life and death, carpe diem observations," and "a zest for life." Stepanchev, who always included Walt Whitman in his curriculum, felt his spirit especially keenly after learning that he taught in a one-room schoolhouse on land Queens College later occupied. "I invoke him as a superintending angel for all of us," he says. He even gives out Whitman's Samplers chocolates to friends on birthdays. And like Whitman, a populist poet, Stepanchev writes with pointed energy. "I like to end with a rhyme," he says. "It gives the poem a wallop." From "My Grandmother's Roses": "I will need stronger lenses to see / Through this hypocrisy / Of bloom. / The roses redden an interior noon." "His poems are so finely crafted, but purely vernacular," says Weller. Whalen lauds their "crisp, clean imagery"; Weller, the driving meter with just enough variance to capture the cadence of polyglot street life.
Though he takes computer lessons at the local high school, Stepanchev still writes—and scratches and reworks—on pocket-size pads and scraps of paper. "It can take months to produce a poem that satisfies me," he says. "And with revisions, they can take years to complete." Sending poems to editors, he sighs, is "like floating them off in the river. You sometimes don't even get a response. But I keep at it."
Between labor-intensive rewrites, Stepanchev leads a weekly current-events discussion group at the library, strolls up the street to Center Restaurant for his favorite cherry pie, and continues to distill life onto the page. Says Goodman: "He's always looking for the next poem."