1908 In 1902 Chicago PhD Edwin Branson discovered an enormous "swimming lizard" in western Kansas, according to an April Magazine article titled "The Sea Serpent." Walker Museum put the 19-foot-long find on display but couldn't display an even larger specimen because of difficulties mounting it. Chicago professor Samuel W. Williston valued each one at $800, noting, "The British Museum would be a ready purchaser if they were on sale."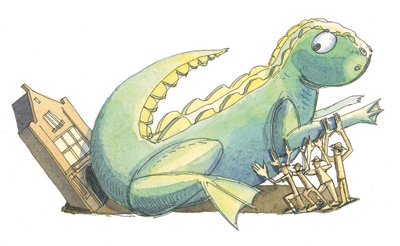 1958 The administration approved designs for a new men's dormitory on the southwest corner of 55th Street and University Avenue, the April Magazine reported. The plans called for two nine-story tower units, connected by a center section with a dining room and service facilities, and featured modern amenities such as elevators, kitchenettes, and beds convertible into davenports. The first tower, which later became the coed Pierce Hall, was estimated to cost $2.4 million. The rooms, as befits a College education, would hold at least 20 linear feet of bookshelves.
1983 For the first time, Chicago aligned itself with a non–U of C study-abroad program, giving third-year students easier access to overseas locales. According to the Spring Magazine, they would be able to study at Italy's University of Bologna under a program developed by Brown University. Students could attend without having to arrange their own credit transfer or application to the institution, as the previous process required. Dean of the College Donald Levine, AB'50, AM'54, PhD'57, hoped the new policy would "make it more convenient for students to take part in foreign programs." If the Bologna program worked well, Chicago expected to expand study-abroad opportunities to Germany, France, and Spain.
1998 The April Magazine reported the arrival of 25 tons of dinosaur bones on campus. Chicago paleontologist Paul Sereno and a team of College and graduate students brought the fossils back from a four-month Sahara Desert dig in 1997. Remains of a new species of sauropod, similar to the well-known Apatosaurus and Brachiosaurus, were among the recovered skeletons. Named Jobaria tiguidensis, the new species may have been more than 70 feet long and weighed more than 20 tons. (See "Citations" for a more recent Sereno find.)