Talking Points
Medical triage
Illustration by Allan Burch
---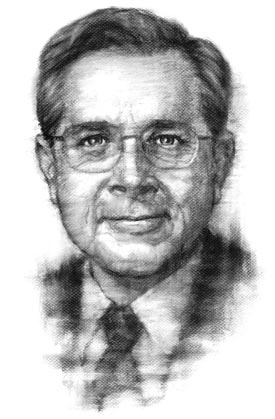 NAME: James L. Madara
TITLES: CEO, University of Chicago Medical Center; University vice president for medical affairs; Dean, Division of the Biological Sciences; Dean, the Pritzker School of Medicine; Sara and Harold Lincoln Thompson distinguished service professor.
MEDICAL HISTORY: Hahnemann Medical College (1975); Harvard's Brigham and Women's Hospital: director of gastrointestinal pathology (1980), professor of pathology (1993), and director of the Harvard Digestive Diseases Center (1994); Emory University: chair of pathology and laboratory medicine (1997); Chicago (2002).
DOWNTURN SPEEDS UP PLAN: In 2006 we formalized collaborations between the basic sciences and the clinical arena in a structure similar to that at Johns Hopkins and the University of Pennsylvania, combining the hospitals and patient-care areas with our education and research components in the Biological Sciences Division and in the Pritzker School of Medicine. The economic downturn has accelerated our efforts to combine similar functions, reduce duplication, and become more efficient.
At the same time, we have renewed our focus on the areas where we can uniquely contribute: cutting-edge scientific research and discovery; translating that research into advanced, high-technology patient care for the most serious and complex diseases; and educating the next generation of medical leaders. Given the economic pressures, we must direct our limited resources toward those activities that only we can provide while strengthening the community health-care network so that patients have good options for basic, preventive care.
OTHER DOORS OPEN: This spring's closing of the Women's Health Clinic on 47th Street, as well as part of the Zoller Memorial Dental Clinic, is the end of a decade-long process to reduce our portfolio of regional doctors' offices and enhance our relationships with community-based providers. During the 1980s and '90s many academic medical centers built networks of regional clinics to provide additional educational experiences for their students and residents and to funnel cases to the medical center. Since 2005 the Medical Center has moved away from this model, focusing instead on building a more comprehensive, but non-acquisitional, network of clinics and community hospital partners, letting us work with our community colleagues rather than compete with them.
The charity care component of the Zoller Dental Clinic will continue. Patients at the Women's Health Clinic who need care for complex problems, such as high-risk pregnancies or gynecologic cancers, also will continue to get care at the Medical Center.
IN THE NETWORK: We have relationships with Mercy Hospital and Medical Center to the north and Holy Cross Hospital to the west. Patients who come to UCMC and need hospital care but not in our high-tech, high-intensity setting can be hospitalized at Mercy, which has a dedicated 14-bed unit staffed by University of Chicago physicians. We also moved the psychiatric inpatient unit, including the faculty physicians who staffed it, to Mercy, which has more comprehensive services, including a substance-abuse unit. In April we opened a geriatrics program at Holy Cross Hospital. Our older patients who require hospitalization but not advanced, high-tech care are treated there by geriatricians from the University of Chicago.
PROVIDING FOR LOW-INCOME PATIENTS: The goal behind many of the Medical Center's proposed changes is to make the best use of scarce resources. Our decisions about treating patients at UCMC versus other community providers are based primarily on the nature and severity of the condition, not the patient's financial circumstances or insurance status.
In the most recent fiscal year we dedicated more than $125 million to care for the poor and uninsured. Of all the academic medical centers in Chicago, we are the most important source of care for patients covered by Medicaid: 35.6 percent of our inpatient admissions were covered by Medicaid in 2007, compared to a median of 12.3 percent at the nine other largest Chicago-area hospitals, as measured by revenue. Even so, UCMC can care for only about 10 percent of patients on Chicago's South Side; the other 90 percent must get their care elsewhere.
THE URBAN HEALTH INITIATIVE: The Urban Health Initiative, begun in 2006, is a collaboration among UCMC and community doctors, nurses, health centers, and hospitals to improve the long-term health of South Side residents by creating a comprehensive system in which patients can get the right care at the right time in the right place. Its cornerstone is the effort to help patients find a "medical home," a place where they establish a lasting primary-care relationship. Research has shown that patients who receive regular and preventive care from a primary physician have better health outcomes and are less likely to require emergency care.
TRIAGE AND THE ER: Although the UHI is not directly connected to proposed changes in the emergency room, those changes make the UHI even more important. By helping patients establish a medical home in the community, the UHI should reduce the number of people who rely on our ER for their primary care, and prevent complications that arise when people with chronic disease don't have access to routine and preventive care.
The original plan for restructuring the ER was designed to fix problems that have plagued it for decades: caring for more patients than we can handle, becoming more responsive to patients already under our care for serious illnesses, finding beds for patients who need to be admitted to the hospital, and connecting patients who need routine or chronic care with primary-care providers.
We have learned from experience that enlarging our emergency department is not the solution to these problems. When we tried that approach in the past, the waiting times ultimately got longer because the number of patients seeking care increased.
FACULTY CONCERNS: We have regularly consulted with Chicago biology and medicine faculty through departmental leadership and cross-disciplinary budget groups to consider how best to deliver on our missions while reducing our budget by $100 million. However, the pace and scope of the changes related to the economy meant we did not engage faculty sufficiently, and in the process there also surfaced concerns about faculty governance related to the earlier reorganization.
NEXT STEPS: Two faculty groups—one, led by Department of Medicine chair Everett Vokes, looking at emergency-department changes, and another, chaired by Human Genetics chair Conrad Gilliam, looking at governance questions—are expected to deliver recommendations in the summer.
---
---
---
ALSO IN CHICAGO JOURNAL
---
COLLEGE REPORT
---
RELATED LINKS
---
EDITOR'S PICKS